Two Loving Cocker Spaniels need responsible carer whilst our owner travels.
Gosforth, United Kingdom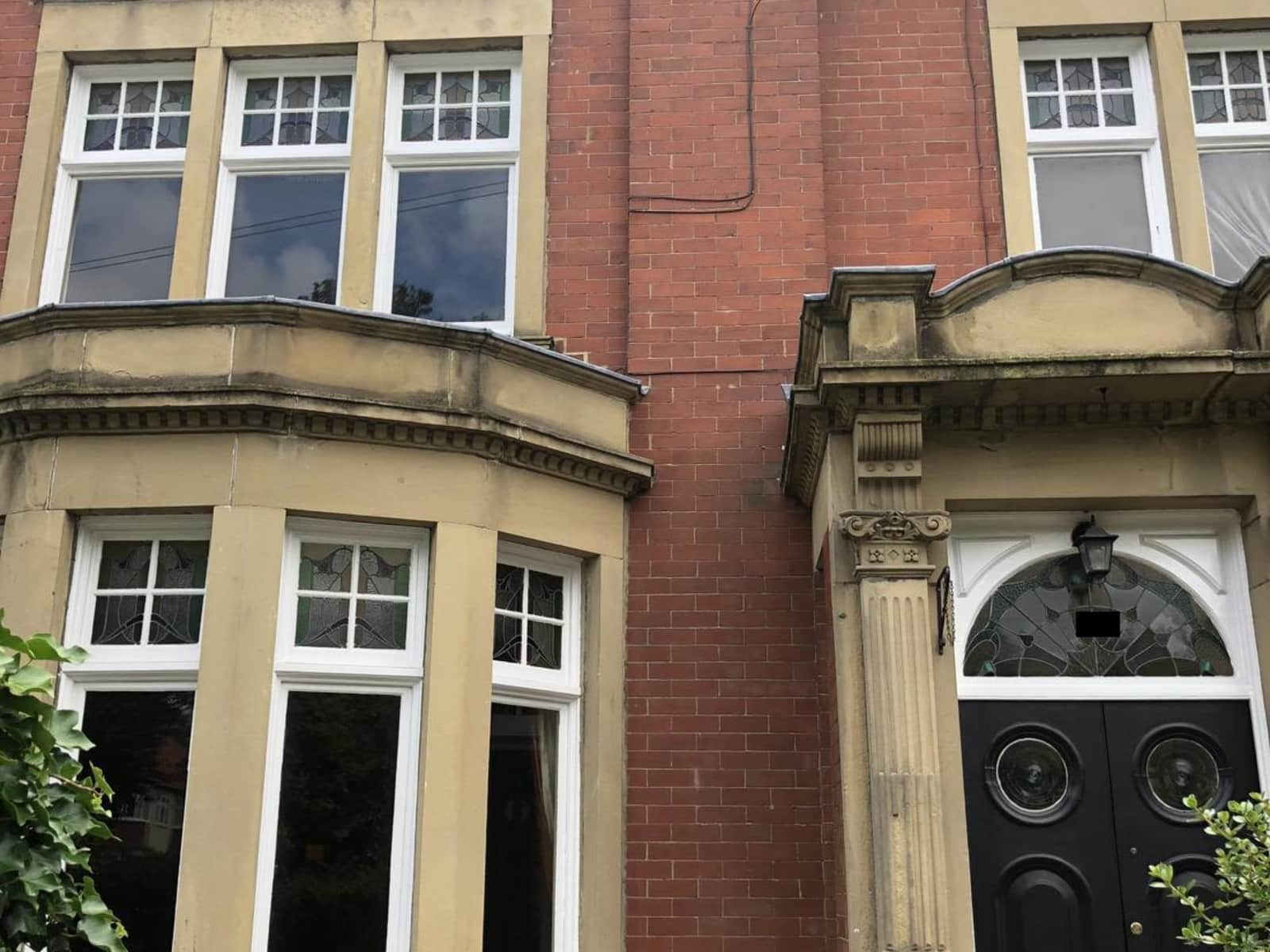 Pets
Dogs
Introduction
I am a retired businesswoman whose two children have now left home. I live alone with my dogs, however I travel often and ideally would love to find someone interested in being a regular house/dogsitter although that is not essential. I take both long and short trips
Our Home & Location
Our home is an edwardian 7 bedroomed terraced house with a small from (cobbled) garden and a tiny rear courtyard garden with shrubs and pots. The bedrooms on the first floor will not be available for sitters use. There are three decent sized bedrooms on the second floor plus a small box bedroom with a queen bed and a beautiful bathroom with shower. On the ground floor there is a sitting room with TV, full cable services including Netflix etc. There is a good sized kitchen with dining table for 4-6, a utility, a conservatory which leads to the small back garden, garage and drive. The dining room, accessed from the conservatory is used as a general messy area but has a half sized billiard table and a piano. The house is in Gosforth, Newcastle upon Tyne and is a conservation area, nearby, in fact virtually on the doorstep is Gosforth high Street with shops, restaurants, wine bar, pubs etc. and there are fantastic bus routes a few metres from us and access to the metro is about 500 metres away. We also have Newcastle Town Moors on the doorstep and the dogs like to be walked on the little moor which is closest to our house.
House
High Speed Wifi
Beach
City
Countryside
Responsibilities & Pets
Samson & Delilah joined their owner direct from the same breeder as puppies of approximately 8 weeks. They are of working lines (i.e. gun dogs) and are often known as Sam and Lilah. Sam is a very gentle and placid boy who will bring you his bed by way of a greeting! When not carrying it he likes nothing better than to take it to a sunny spot in the house and sunbathe. Lilah is described as "sparky and funny" and will bark if she sees something unusual such as person carrying a back pack or a traffic cone that has appeared in the street. They don't have toys as they will fight over them and don't really retrieve balls so these are not used either. Sam and Lilah both love their walks and lots of affection but will settle quietly when there is not a lot happening. Unlike a lot of dogs they are tolerant of loud noises and neither has any specific fears.
Samson and Delilah are fed after straight after their main walks. They are fed a complete dry dog food and have a mug supplied filled to the top in the morning and a half mug in the evening. I add a quarter teaspoon of tumeric powder to their morning food as Lilah has arthritis and cannot manage stairs and has to be lifted onto the sofa. It is unusual for them not to eat and may be an indication they are unsettled or unwell. They are allowed meat or fish scraps but must not be fed from the table. Dog treats are used as recall rewards only. They each get a dentistix at bedtime....
Fresh water must always be available. Feeding bowls and utensils should be cleaned daily.
Sam & Lilah start their day around 7 am or 8.30 am at the weekend. They go out for a walk and wee soon after. They don't often toilet in the home environment as they have a courtyard garden but on holiday they will probably be happy to toilet in a lawned garden if the host is happy with this. Lilah needs to be out for a wee by 8.30 am but Sam has a strong bladder and can hold on. They have their last wee around 10 pm. Sam likes his privacy to poo, he will hide behind a bush or find long grass, don't get too close as he will stop and start again a bit further from you and you will have to pick up twice. In good weather they will be in and out of the courtyard/garden at will throughout the day. They do like to be off for their first walk quite soon after rising and are normally walked for 40 minutes before breakfast. Their afternoon walk is around 4 pm-6pm when they will again be walked for a minimum of 20 to 40 minutes. If it is a nice day and the host wants to offer it they can be walked for longer on holiday. They are walked off-lead in safe, secure areas. Neither have any road sense so must be on lead near traffic. They may pull at little at first but will walk to heel if checked. Their owner finds they are better on a short lead but this may not be comfortable for a taller person. Off lead they like to run in short, sharp bursts and to sniff around in the under-brush. Delilah is more likely to stay close to you especially now that she has arthritis. Use their names or whistle for them in order to recall. They are rewarded with treats for good recall and hosts are advised to carry and use these. Sam and Lilah love to run on the beach or to sniff around in woods and will jump into water at the first opportunity. Do not walk them near major rivers/allow them to go in water where there are strong currents.
Where customers have requested off lead walking, this must only be done in a safe, secure area away from traffic and other potential hazards. Dogs must not be left unsupervised in the garden. Allow swimming only when no strong currents/hazards.
Dogs: Samson and Delilah both get on well with most other dogs, however Sam is best kept away from other un neutered dogs possibly because he is not neutered he will stand his ground if challenged and has a particular problem with the Lassie style Collie who is also called Sam and lives around the corner, they absolutely HATE each other and must be avoided at all costs, in fact it's best to call Sam and put him on the lead if there are unknown male dogs around.
Cats: They have no experience.
Livestock: Keep on lead as Lilah has been known to approach cows closely and to bark at them.
Birds/small animals: Like many dogs they will want to chase.
Their chip numbers are
Emergency Peter Golding 07711125562 or Ami Collins 07968073337
Insurance policy number Direct Line 50594630
Hotline 08452468246
We use Metrovets at Longbenton 2709639
SUMMARY
MICROCHIPS Sam = No. 981000002086314, Lilah = No. 985161000393669). Sam's chip is not easy to find, IT SEEMS TO HAVE GONE LOWER INTO HIS SHOULDER AREA.
*TEMPERAMENT/PEOPLE: Friendly and affectionate. Sam very gentle & placid, Lilah funny & sparky.
*FOOD: Fed twice a day – complete dry food . Dog treats for recall only,
dentisticks given nightly.
*EXERCISE: Enjoys their walks. Can go off lead when safe - recall and reward frequently. Keep out of
unsafe waters; 80 mins exercise split between 2 walks minimum - do not walk during the heat of a warm day..
*OTHER ANIMALS: Usually fine but watch out for aggression from other dogs directed towards Samson.
Keep on lead around livestock, will chase small furries etc.
*BOUNDARIES/SLEEPING: Sleep in their beds in the kitchen/downstairs.
*HEALTH/WELFARE: No medication, follow grooming regime as above. Lift Lilah in and out of cars.
House.
Please take care to lock the rear bifold doors and use the mortice lock on the front door at all times
During the summer please water the plants every couple of days.
any problems or questions please feel free to text me or use emergency numbers. + More info
Dog(s): Samson is 12 years old (Cocker Spaniel), Delilah is 12 years old