Tony P & Chris
Newport, United Kingdom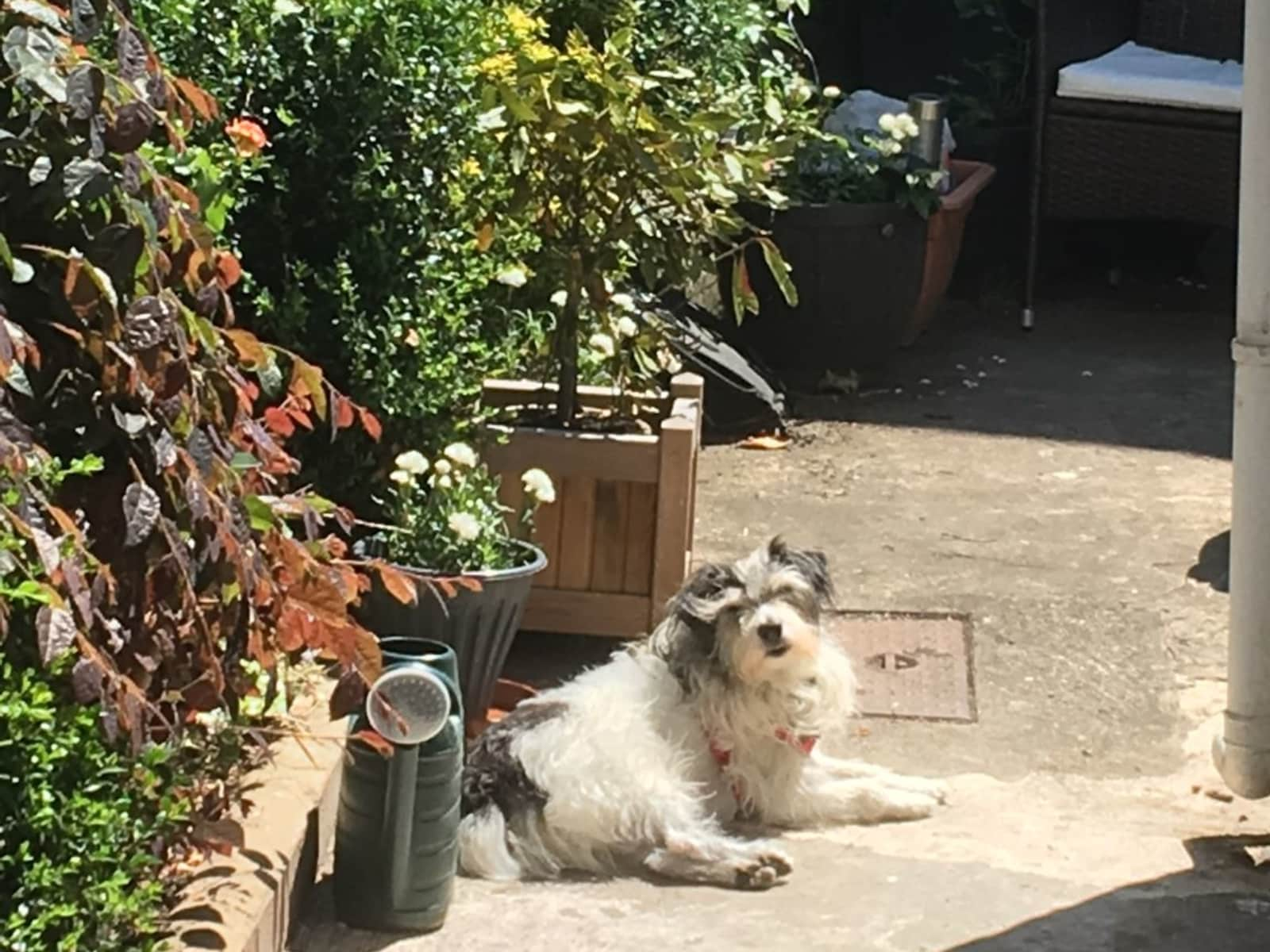 Pets
Dog
Introduction
Hi, Chris and I have recently relocated to Newport, Isle of Wight. We are almost done redecorating our home - new pics as they come. We have Muffin, a Jack Russell Cross, rescued as a pup and pretty much thinks he is the only dog worthy of existence, as they do.
Our Home & Location
Our home is walking distance from the centre of Newport - Isle of Wight's main town and as the blurb often says, an ideal location for exploring the island. Shops, theatres, cinema, restaurants and pubs, with museums, historic harbour area and a vibrant Arts centre are, as I've said, walking distance! If you don't know Isle of Wight, its easily accessible from London by train with most tickets including the passenger ferry/hovercraft fair across the Solent from Portsmouth, Lymington, Southampton or Southsea. Car ferry available too.
Our home is a late Victorian mid terrace with three bedrooms and small but very sunny back garden. On Street parking around the house is usually not too difficult to find, though we have a lock up garage close by.
We have recently had installed fibre broadband, a new gas boiler, a new walk in shower, a new fitted kitchen and utility room.
The front and dining rooms have period fireplaces. They are not in working order as yet. we are slowly renovating these and other bits of the house.

Outside the back, we are making progress with the renovations. Amazingly, the sun shines in the back all day long in mid summer. We have a new external light and power point and the wifi reaches outside too.
Its a 10 minute walk and you're in the countryside. The island is cris-crossed with foot paths and cycle routes, some passing close by. Anyway, check the island out online and then come explore.
House
High Speed Wifi
Beach
City
Countryside
Responsibilities & Pets
The House is easy, other than securing windows when going out, closing bedroom doors too, nothing quirky that needs doing.
Muffin is an inherited rescue dog, who has not been successfully socialised with other dogs (or any other 4 legged creatures) and will not tolerate any other dogs he encounters when out on the lead. Indoors, we've found him to be quite the opposite. He is affectionate with people, though mostly disinterested in folk when out on the lead. Actively avoiding other dogs is not necessary, though he does get very excited, loud and snappy if he sees any other dogs. He wears a muzzle each and every time he is out on the lead. This gives us peace of mind he can't harm other dogs....
Muffin is used to being fed early evening, he needs reminding that he is not invited to eat at the table with us, but usually afterwards.
He likes plenty of play and initiates this often, though easily pleased laying on the sofa when we watch tv or read.
He is used to his new home pretty much though he is not used to peeing in the back garden, which we are ok with. Muffin also has some separation anxiety, barks when we're about to leave. Best not to leave bedroom doors open as he takes it out on the pillows. We usually fill a Kong with soft cheese and he is suitably distracted by that when we go out. + More info
Dog: Muffin is 13 years old