House and dog sitting for much loved 10 year old border collie dog
Southampton, United Kingdom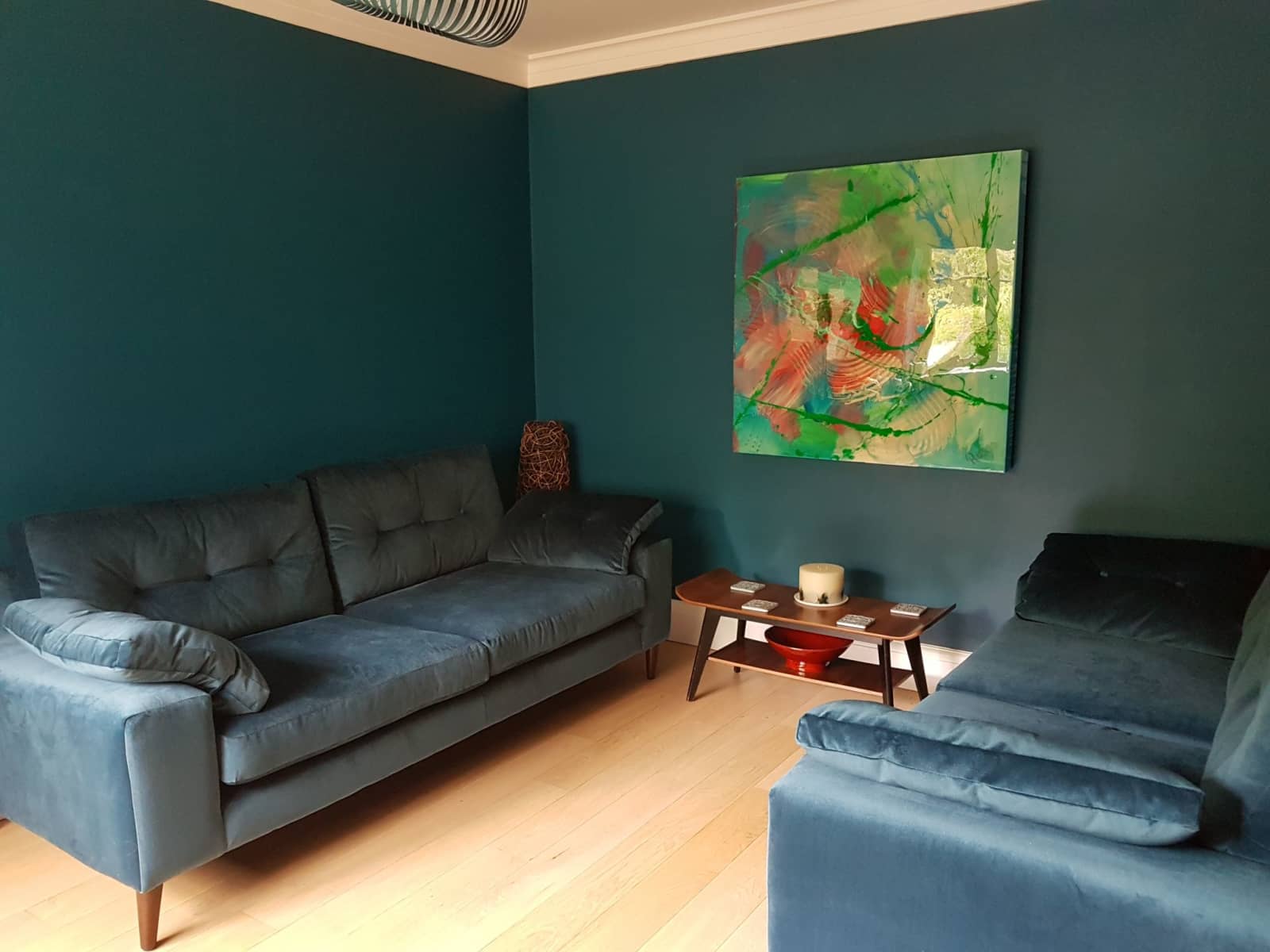 Pets
Dog
Introduction
My husband Martin and I are going on a long trip to Singapore and Australia ending at a family wedding in Melbourne. Our 21 year old son is joining us to Singapore for the first week and will then return home as it is his final term/year at Bath Spa University and he will be going atraight to Bath and not expecting to come home at all until our return. We are both energetic semi-retirees with former careers as a Commercial Director and I managed my own Marketing Consultancies for nearly 25 years.
Our Home & Location
We live in our very contemporary 5-bedroom detached house with a large garden and outdoor pool (sadly not available in the winter months). Downstairs has a large kitchen which opens out to a large sitting room with full fold back doors to the garden. We have a separate dining room and a second snug/sitting room. We have Sky and Spotify accounts. The kitchen has all appliances including wine chiller and a washer/dryer in the adjacent utility room plus 2 freezers. Upstairs we have 5 double bedrooms with the smallest set up as an office. Our house-sitters will have the large double guest room with ensuite wet-room and a whole wall of wardrobe space. There is an adjacent family bathroom with bath. The garden is fully landscaped with lawns, large patio, flower beds, 3 x seating areas and the swimming pool (electric cover and closed down for the winter). There is a large double garage to the front of the house with paved parking for up to 5 cars (we will be leaving one car on the drive or in the garage).
We are located in a small village - Burridge - which is a one mile walk from the River Hamble with the all year round pink ferry service to the lovely Hamble boating village and a 20 minute walk from Whiteley Shopping Centre which has a good selection of shops (not an undercover mall) including M&S, Boots, River Island, Topshop/Top man, Tiger etc plus a fabulous cinema (3 years old) and a range of chain eateries including Prezzo, Wagamamas, Five Guys. There are also at least 3 pubs - 5 mins, 10 mins and 15 mins walking distance and many more in the surrounding area. There are also a number of gyms and golf courses close by - we don't have any memberships! There is also a Waitrose 10 mins drive away and we have LIDL and ALDI stores within a 15 minute drive and a brand new LIDL being huilt at Whiteley ... not sure when it opens! The large city centre of Southampton is a 25 mile drive away with a large shopping, eating and state of the art cinema complex plus an IKEA and John Lewis. Southampton is also the home of the UK cruise industry and has the fabulous Mayflower Theatre and SeaCity museum including the Titanic museum. Going the other direction there is Portsmouth and the wonderful historic dockyard including the Mary Rose museum and Gunwharf outlet shopping centre with lots more great brand shops, eateries and the Emirates Millennium Tower with amazing views over old Portsmouth. The Isle of Wight, New Forest and South Downs are all within an hour for lots of walking and South coast tourist experiences, including some wonderful National Trust and Heritage sites, some of which may have some more limited winter opening hours. We have National Trust membership cards which we will leave.
House
Sitters need a car
High Speed Wifi
Family-friendly
Beach
City
Countryside
Responsibilities & Pets
The priority is the walking, company for and care of Dexter, our 10 year old border collie who we have had since a puppy. Dexter is very fit for his age and like all collies loves his walks and chasing ideally a stick or a ball. We want him to be walked for at least 90 mins each morning and he will walk for longer! Dexter is then happy to be in the garden or house to chill for the day and will find a number of his favourite places for a doze. He will need a weekly brush which he is not mad on and there is an outdoor hose for return washes which again he is mot keen on but is used to it! He has a bed in the utility room to dry off but will likely sleep upstairs. He is a great guard dog and no one will get past the front door without him barking and he is not keen on the postman or delivery drivers (seems to be high viz jackets, hats and sunglasses. He also loves to bark at the moon so will run up and down the garden When he spots it, whatever the weather! He is not overly affectionate but is very loyal and will wait by the door for your return when he will love 10 minutes of attention. He can be left for up to 5 hours but is also happy to go on outings - he is not 100% comfortable in car journeys but he gets used to it with us as we travel a lot around the UK with him so he just needs a window open. We have a local vet and Martin will ensure any Frontline and any other appointments are detailed. Dexter is not mad about going to the vet but as he has been a very fit and well dog so far it has only been routine visits so far!
We are very tidy so taking good care of our house is also important but it is an easy house to keep clean and only has carpet on the stairs/gallery landing as we have wooden floors downstairs and a tiled kitchen. Upstairs we have wooden floors in the two main bedrooms and laminate in the others....
The pool and garden will be fully wintered before we go so should not need any attention.
We have good neighbours and some other friends close by if needed. + More info
Dog: Dexter is 11 years old (Border Collie)