Family home with family pets
Stoke-on-Trent, United Kingdom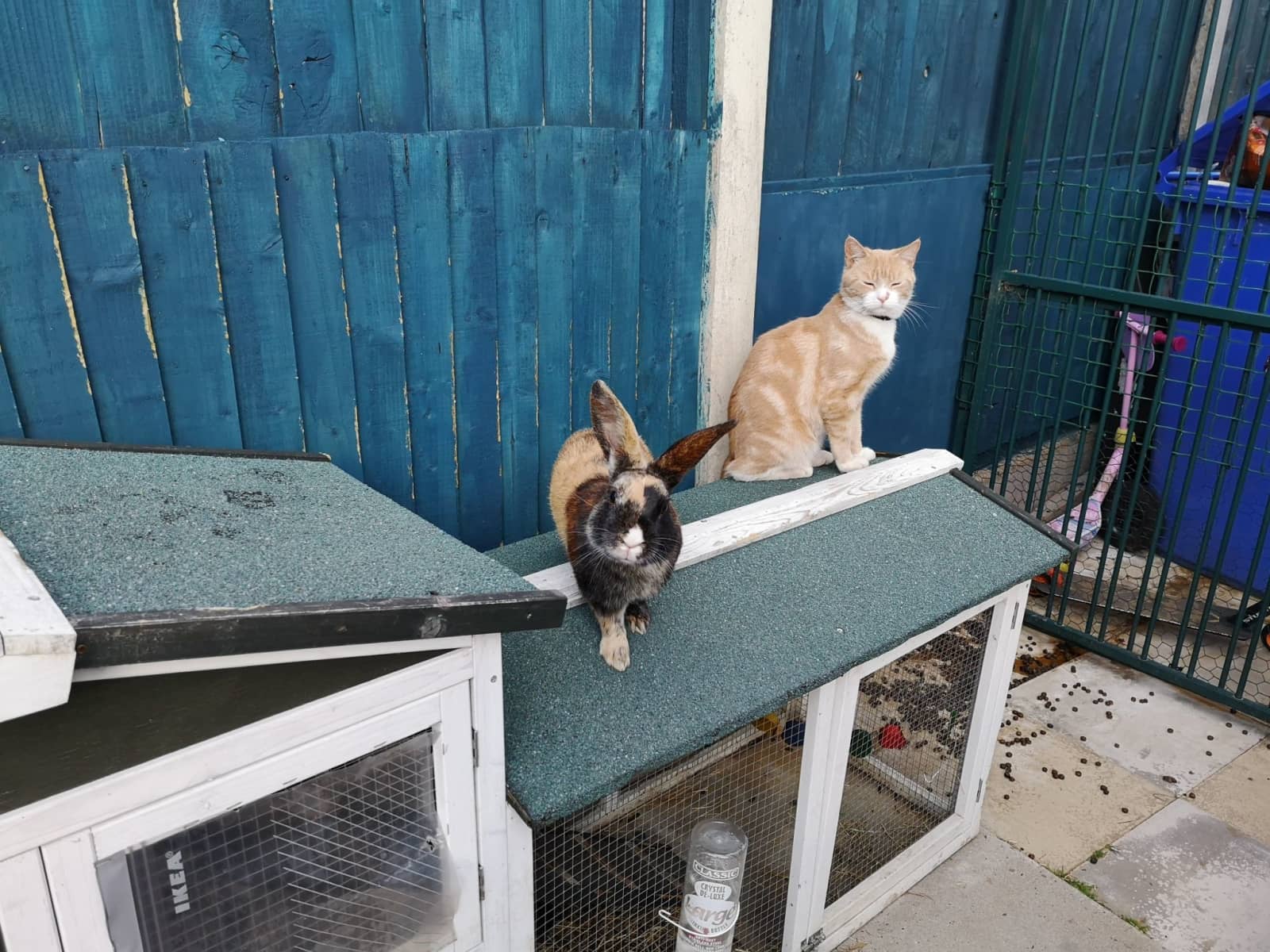 Pets
Dog
Cats
Reptile
Small pets
Introduction
Hello- we are a busy family with three children who are all home educated and have additional needs. Our home is very child friendly, and we have a few pets who help calm our children when needed as well as being valued members of our family. We are looking for a pet sitter due to our addition this year, our chorkie. She is so small but has a huge personality and I don't think she would do well in a kennel- plus she would miss her friend, our ginger cat, and our rabbit too. We have three bedrooms here, one is a double, the other two are children's rooms so ideally we would be looking for a sitter to be either a single adult, couple or couple with two children. We have a lot of food allergies here, so would ask that you respected that whilst you stayed, and keep food separate (space will be provided for this so don't worry). We have a large garden and several parks very near to us as well as the potteries, canals and many other attractions.
I used to be a teacher and my husband was in engineering until we made the decision to home educate our children, now we are their full time educators and carers. Our street is fairly quiet with a very short walk to the town centre here.
Our vet is less than 5 minutes drive away should you need them for anything.

I cannot put my photo on here because of child safeguarding- we moved a huge distance to be safe so I cannot risk that on here sorry. If you are a prospective sitter then obviously photos of our home and me/my husband are available. I hope you understand.
Our Home & Location
Our home is a no-smoking council house in an established council estate south of Stoke-on-Trent, with many privately owned homes on our street. We are fortunate to have a quiet street with excellent access to public transport as well as the motorway and countryside. We have a private driveway, large secure garden and several parks nearby.

Alton Towers theme park, Drayton Manor theme park, Crocky Trail,canals, many potteries including Wedgwood are on our doorstep as well as many many other attractions. There are plenty of animal orientated days out, crafty days out, adrenaline filled days out and laid back relaxing walks to be had locally. Within an hour you can be in Manchester, Liverpool, Nottingham or Birmingham. Inside our house is a large lounge, good size kitchen-diner, downstairs toilet, three bedrooms and a family bathroom. We would ask that one of our bedrooms be left vacant and also one of our children's beds left vacant due to their autism they would not cope with them being used or changed at all....

There is a double bedroom with TV upstairs, top bunk bed in one of the children's bedrooms and space for a double air bed or sofa bed in the lounge. We also have plenty of space in the back garden for a tent if needed (we have the air bed and tent here). There may possibly be a bottom bunk available too but it will hugely depend on our child as to whether she can cope with her things being moved or not.
We have a bath with shower on the taps as well as an electric shower. Our bins go out once a week- wheelie bins- and we have the usual kitchen appliances- american fridge/freezer, dishwasher, washer/tumble dryer, coffee machine etc. There are supermarkets within walking distance and larger ones a longer walk or bus/taxi ride away, and of course they deliver here too. There is a victorian market in the next town (about 30mins walk or 8minutes drive), GP surgery and dentist within 5 minutes walk. + More info
House
Basic Wifi
Family-friendly
Mountain
City
Countryside
Responsibilities & Pets
Starting with the more obscure- the corn snake is upstairs in our bedroom. She just needs her water topping up when you feed her, which is every 10 days or so. There are frozen mice in the freezer (clearly marked), so you put one in a cup (marked too) of warm water for 10 minutes, then pick it up with tongs (also labelled) and wiggle it in her vivarium. She will strike and eat it whole. Make sure you close the doors properly as corn snakes are very good at noticing if you haven't.
Our guinea pigs are in a hutch within the rabbit area. They need a brush out every 2 days or so, fresh water in their bottle daily and feeding daily (dry food and any extras you have)....
Our rabbit, crazy hopper, has a fenced run area and a house. He needs a brush every 2 days or so too and daily water in his bowl and feeding. He acts like a compost bin so there is a list by the back door of safe foods for him and the guinea pigs.
Our cats, one male and two female, have a water fountain and two feeders between them that just need topping up as needed. They love to laze on our beds/windowsills by day and go out at night. You can lock the cat flap as needed and it only lets them in and out due to their microchips so you won't have any unwelcome visitors- unless they catch them. Our ginger cat is very very friendly. Our tiger cat is also friendly but more wary, and our third cat (grey/white/brown mix) is the most skittish of the three. She is actually the mother of our ginger cat but you wouldn't know it now.
Our dog, a chorkie (yorkshire terrier x chihuahua) is very small but has a huge personality. We have dog gates for her and she is currently allowed in the kitchen at night (until we change the lounge flooring). She loves to come and lie on you but on her own terms. She is very playful when she isn't sleeping, but doesn't like being grabbed at (fair enough I reckon). When our youngest has a meltdown she goes to her and comforts her, which is lovely. She is not very good at all with other dogs- something I am working on slowly- but loves to play with our ginger cat. She has not been neutered yet but has had all her injections and is microchipped and insured. She walks with a harness and lead, grazes on her food all day (when the ginger cat isn't eating it all) and will bring you a toy when she wants to play with you.
Apart from our pets there is also the wheelie bins to go out once a week, and the fact we are a non smoking household. We would ask that you look after the house like you would hope someone else would look after yours if this was you. + More info
Small pet(s): Crazy Hopper is 3 years old (Rabbit), Dandelion is 3 years old, Beauty patch is 3 years old
Cat(s): Ginger is 2 years old, Tiger is 5 years old, Maisie is 3 years old
Reptile: Sahara is 5 years old (Corn snake)
Dog: Chica is 1 year old