Dave and Sara, #settersquad
Aldridge, United Kingdom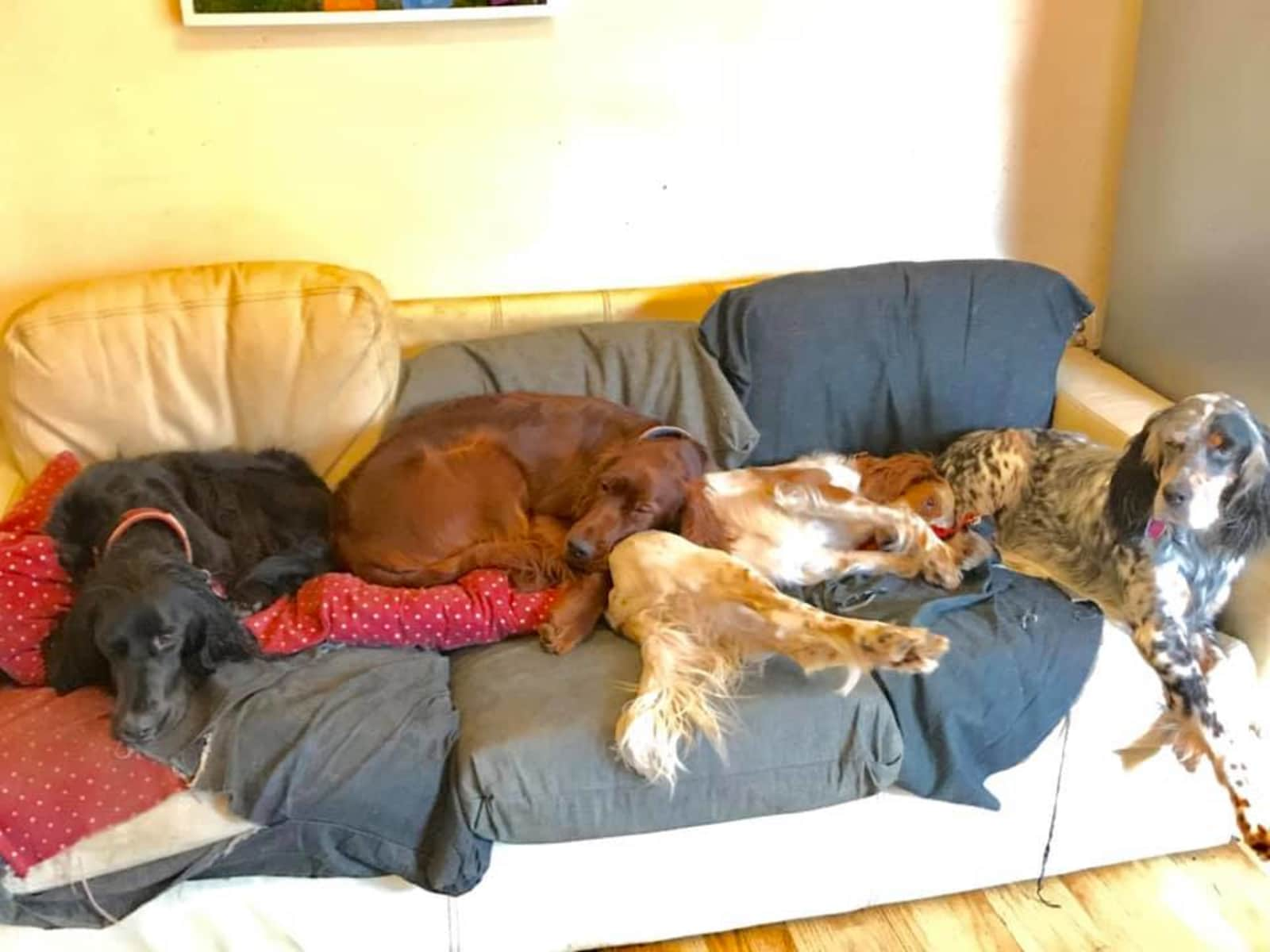 Pets
Dogs
Cats
Introduction
We are Sara and Dave, we live in Shelfield, Walsall and have a happy home that we share with 6 dogs and 4 cats. Our kids have all moved on now so we replaced them with pets. We both have full-time jobs and we juggle work-from-home days to make sure that our dogs are never alone for too long.
On previous holidays we've used a local house sitter, but the last house-sit left a bit to be desired so we're now looking for someone we can trust completely.
Our Home & Location
We live in a large 4 bed detached house with front and rear gardens and we're on a main bus route into the local town of Walsall, which is just 2 miles away. We're well serviced by Uber, the local vet is only 750m away and we are just 100m from a large open space where we walk the dogs (Stubbers Green.
There is a Leisure Centre within 1.5 miles and Walsall has a selection of shops, the usual UK restaurant chains and a good cinema that is reasonably priced....
Birmingham City Centre is 30-40 mins by car or a bus/train journey, where there is a bustling night life, the famous Bullring Shopping Centre and a vast array of restaurants.
Going the other way out to the country, Cannock Chase (https://en.wikipedia.org/wiki/Cannock_Chase) is 20 mins away, Chasewater Nature Reserve is 15mins, which puts miles of country walks within easy reach. + More info
House
Car included
High Speed Wifi
Family-friendly
City
Countryside
Responsibilities & Pets
In simple terms, look after our dogs and cats as we do: daily early pre-breakfast walk (5-6am), breakfast, nap, play, dinner around 5pm, play, sleep, with longer off-lead runs 2 -3 times a week at a local secure field. We have a van that we use for transport and we'll make sure that you are insured to use it. We've already booked the field :)
Morgan, Chico, Castro and Ellis are rescues from Greece and Spain and as such need someone around most of the day: we feel comfortable leaving them for 3-4 hours maximum, and other than night time we have them with us.
The dogs all sleep in the kitchen and are confined to the downstairs: they are used to it and will sleep through from 10pm til 5-6am with no trouble.
The cats dont quite get on with the dogs, so they have their own room, with food, water, litter tray and chip-driven catflap. Stella and Leffie are indoors cats who enjoy lying in the conservatory, Sam and Jaeger will go off and explore and come back for food as they want to.
Pick up poop in the back garden 3-4 times a week.
Clean and dust the kitchen, dining room and lounge and thats about it.

Bailey and Blue can be walked off-lead, the others stay on-lead, except when they are in the secure field as their recall isn't great. Chico got off once soon after we got him, and spent half an hour swimming after the ducks : he's double-leaded ever since...
Cat(s): Stella is 7 years old, Leffie is 6 years old, Jaeger is 4 years old, Sam is 4 years old
Dog(s): Bailey is 11 years old (Gordon Setter), Blue is 1 year old (Irish Setter), Chico is 3 years old (English Setter), Castro is 3 years old (English Setter), Morgan is 6 years old (English Setter), Ellis is 6 years old (English Setter)