I need a loving caring person to look after my Boxer, Cockerspaniel, Jack Russell and my 2 dear little Chihuahua's
Bishops Stortford, United Kingdom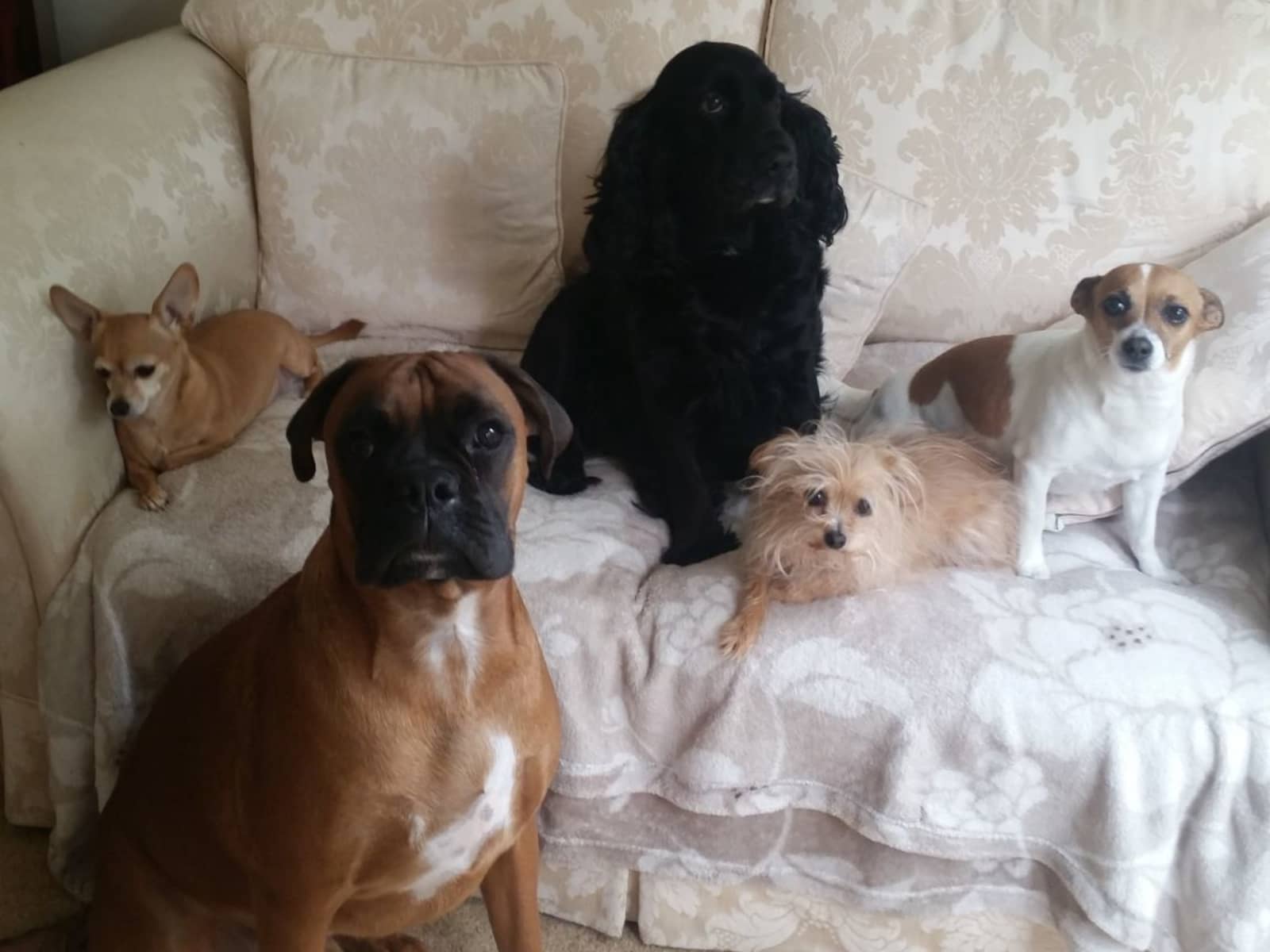 Pets
5 Dogs
Fish
Introduction
My name is Frances and I have 5 dogs, I live very near to Stansted Airport where my Husband Myself and my Son work, we are all going away and need someone who would come and take care of my dogs for me.
My son and Myself love our animals more than anything else and it is so important to us to be able to go away knowing they will be safe and loved.
Our Home & Location
We live about 3 miles from the town Bishops Stortford, and approx. 3 miles to a small town called Dunmow, Cambridge is easy to get to as we live 1 mile from the airport where you can get a train directly into the city centre, we live on a bus route, we are in walking distance of local shops, pub, chemist, newsagent. We are 1 mile from Stansted Airport.
We live in a 3 bedroomed detached house.
House
High Speed Wifi
Family-friendly
City
Countryside
Responsibilities & Pets
The responsibilities are to make sure 100% that the dogs are looked after loved and most of all kept safe.
Where my home is concerned I would just like it treated with respect and kept clean and tidy.
My 5 Dogs and 1 Gold Fish
OSCAR
Oscar is a Boxer he is 2 years old, he is a kind gentle boy who likes to play with his many toys.
He is typical of what they write about Boxers, he doesn't like being left, he likes company and even though he has 4 other furry buddy's he prefers the company of humans better,.
He wants to play with the other dogs but they are not interested and try desperately to ignore him.
Oscar does like to play with things he shouldn't have so we have to make sure everything is out of reach, if he does get something he shouldn't have he almost says " Me I don't know how that got there it was one of the others!! "
He is excitable when first meeting people but quiet quickly settles down.

POPPY
Poppy is a Cocker Spaniel she has a laid back nature very gentle and kind reminds me a bit like Eeyore from Winnie the Pooh in her own world most of the time, except for dinner time and then she is so excited at being fed she talks to you in her doggy language.
Poppy likes food and will hover around when food is being made just in case a bit falls accidently on the floor, so she is turfed out until everything is prepared.
She will also if something is left around think its her lucky day and take it, so again just have to make sure everything is out of reach.
Poppy is excitable when first meeting people, but quickly settles down....

TIGER
Tiger is a Jack Russell she is a loveable girl and almost melts when stroked and made a fuss of, she is gentle and kind, but likes to bark too much, I cant stay cross with her for too long as she looks at me and says "I just cant help it, I hear it so I just have to bark"
She's a dear girl and everyone who meets her falls in love with her.

LULU
Lulu is a Chihuahua she is a delightful little girl, she is kind and gentle but likes her own company, her favourite place is upstairs and you will find her buried under the duvet or a pillow.
She's a big dog in a little body or so she thinks so at times lets the others know who's boss.

ISABELLA
Isabella is a Chihuahua cross Yorkie and is the daughter of Lulu, she is wonderful kind gentle a little timid, but very sweet, she just follows the others around and is such a good little thing, if the others do something they shouldn't and I tell them off, she runs for cover, you will see her poking her head round the corner as if to say is it safe to come out.

And last but not least my Gold Fish
I have had my Gold Fish for years, I think he has an eternal life, he is sweet too, in the morning when I go into the kitchen he will swim up to the feeding part of the tank ready for me to feed him and again at night.
He doesn't ask for anything except his pinch of food twice a day and a clean tank.

I hope you have been able to get an idea of my precious dogs and their individual characters and I would like to think that when meeting them you love them as I do. + More info
Fish: Indoors, 1 gold fish
Dog(s): LuLu is 7 years old (Chihuahua), Oscar is 2 years old (Boxer), Poppy is 6 years old (Cocker Spaniel), Isabella is 6 years old (Chihuahua), Tiger is 7 years old (Jack Russell Terrier)