4 Friendly and Happy Pugs seek new sofa buddy for 10 days in April.
Winchester, United Kingdom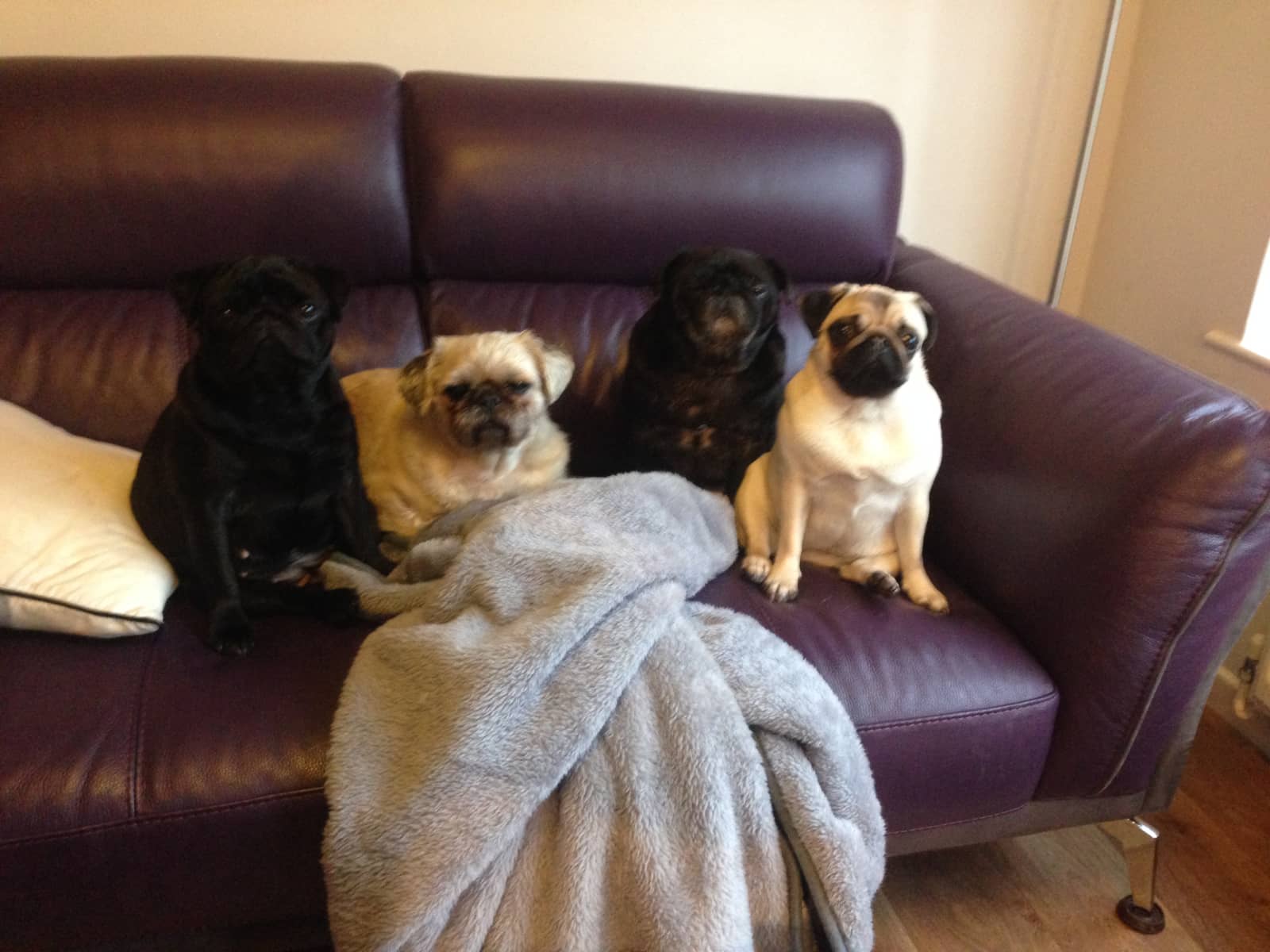 Pets
4 Dogs
Introduction
Hello - We need a house sitter for our 4 very friendly Pugs. They are all incredibly happy little dogs and easy to manage although the 2 younger ones can be a bit of a handful when they feel like it!! We live in the most beautiful part of the world, about 12 miles from Winchester voted one of the most desirable places to live in the UK.
Our Home & Location
We live in the beautiful village of Chilbolton which is also very commutable to Winchester which is a stunning and historic City. We are also 3 miles away from Stockbridge High St voted one of the foodie High Streets in the UK, we are also about a 15 min drive from Stonehenge
Chilbolton has a well stocked village shop and a good pub although you would need a car as the public transport is fairly non-existent...
Our house is a comfortable family home, the master bedroom is en-suite with a steam shower and huge spa bath. We have a kitchen/diner, Sky as well as some gadget which provides us with all the latest box office films.
Chilbolton Common which is an area of area of special scientific interest is less than a minute away in the car. There are plenty of fabulous walks in the area that only require a very short walk on the road (approx. 5 mins) and some excellent pubs and restaurants in the area
You could easily go into London for the day as the nearest station is about 15 mins away and the journey takes just over an hour by train + More info
House
Sitters need a car
Basic Wifi
Family-friendly
Countryside
Responsibilities & Pets
All the dogs are very happy and they require one walk per day for about 30 mins - we usually walk them first thing in the morning (when I say first thing, it's about 9am as any earlier than this they are usually not out of bed!) , fed and then they are rather contended to chill out until they need to be let out for a wee just after lunch and then it's dinner around 5pm
The 2 oldies have medication to take but it's very straight forward
Dog(s): Tilly is 13 years old (Pug), Martha is 10 years old, Beril is 4 years old, Emily is 2 years old