Fairytale thatched cottage in famous village with 3 pedigree cats.
Basingstoke, United Kingdom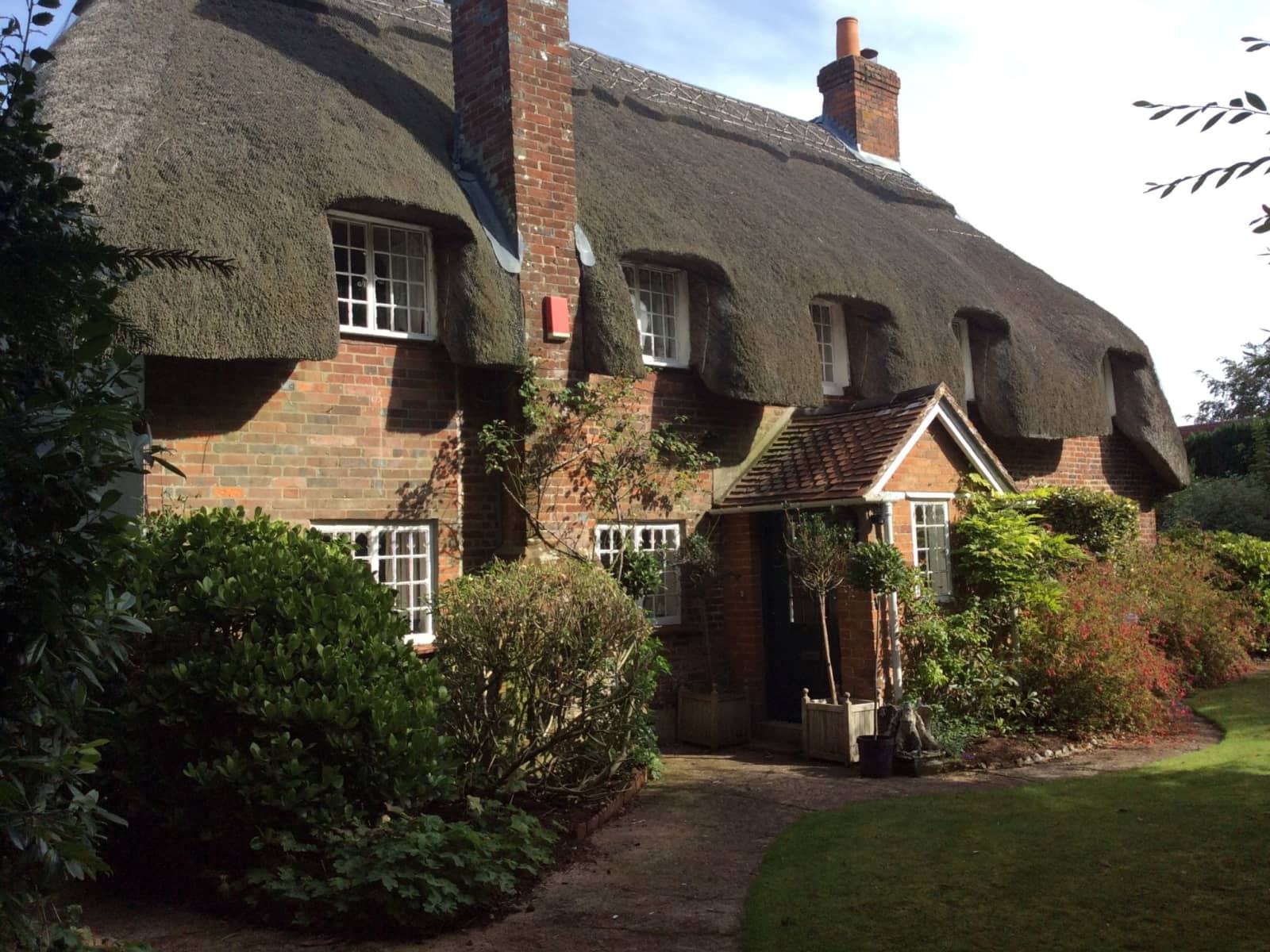 Pets
Cats
Introduction
My husband Michael and I are both in our 60s. We've spent all our lives working in the media as journalists/tv reporters and presenters. We both still work, although not full time. I still do some presenting but also coach baby presenters. Michael has a radio show, does media training and hosts conferences. We've lived in the village of Dummer for 21 years and have always had cats.
Our Home & Location
Dummer is a very friendly, pretty Hampshire village with around 300 inhabitants, surrounded by farmland but with easy access to the M3. It's a mixed working community - from commuters who take the 1hr train journey to London (Basingstoke station 15 minutes away) to retired people and young families with children. Sarah, Duchess of York grew up here and our cottage used to belong to her grandmother. Back in the day, Jane Austen walked by our gate on her way to visit the local vicar. Our church, All Saints, dates back to Saxon times and is mentioned in the Domesday book. Winchester is 15 minutes away by car. There are wonderful walks nearby and people are always happy for you to join the morning dog walks. There is only one street divided into 'Up' Street (where we are) and "Down Street. We are next to the duckpond where there are lots of Khaki Campbell ducks. We also have our own golf course at the entrance to the village. The Cottage has an Aga, a sitting room, a snug with a big telly, laundry room, four bedrooms (one is a dressing room) and 3 bathrooms. Off-street parking. The Queen Inn pub is within walking distance and there's usually some sort of New Year's Eve shindig either there or in the Village Hall to which everyone is invited.
House
Sitters need a car
High Speed Wifi
City
Countryside
Responsibilities & Pets
The cats very much look after themselves during the day and are outdoor animals. We lost our lovely Maine Coon Max at the end of May and the other two cats, the girls, are coming to terms with that. Smartie, the Ocicat has turned into a bit of a bully since Max died. She is jealous and tries to keep Kiska, the Siberian, out of the picture with her humans. Kiska, wants a quiet life and, for a while after Max went, was very solitary. She seemed to want to keep to herself. But she is thawing out and really enjoys a stroke and being groomed...but only for so long, then she runs off. Smartie likes to sleep on the bed and can be a bit of a lump..but you can shut her out if you want to. Eventually she will stop scratching at the door. It will be a battle of wills. Kiska will find somewhere out of the way like the stairs or the piano stool. She generally likes to be close to where they get their food. They are good eaters. All must be in the house overnight so there has to be a litter tray which needs to be cleaned regularly or there will be some 'thinking outside the box"....mainly by Smartie who is easily put off using the box properly if she spots something she can't deal with. . I have a few houseplants that need watering sparingly with rainwater once a week....there is rainwater in tubs outside the back door. Speaking of which, everyone uses the back door and you know it is a stranger when the front door bell rings. There's a wood burner in the snug which has a big television with Sky and Netflix. There's also a fireplace in the sitting room although we don't use the room much. You have to watch that the cats don't go in there unsupervised because they shred the furniture. Occasionally there are small 'presents' of dismembered rodents left in the dining area so it is always worth checking under the dining table which is their preferred killing field.
Cat(s): Kiska is 4 years old (Siberian), Smartie is 8 years old (Ocicat)