Riversedge Lodge - So Peaceful with Stunning Views
Dollar, United Kingdom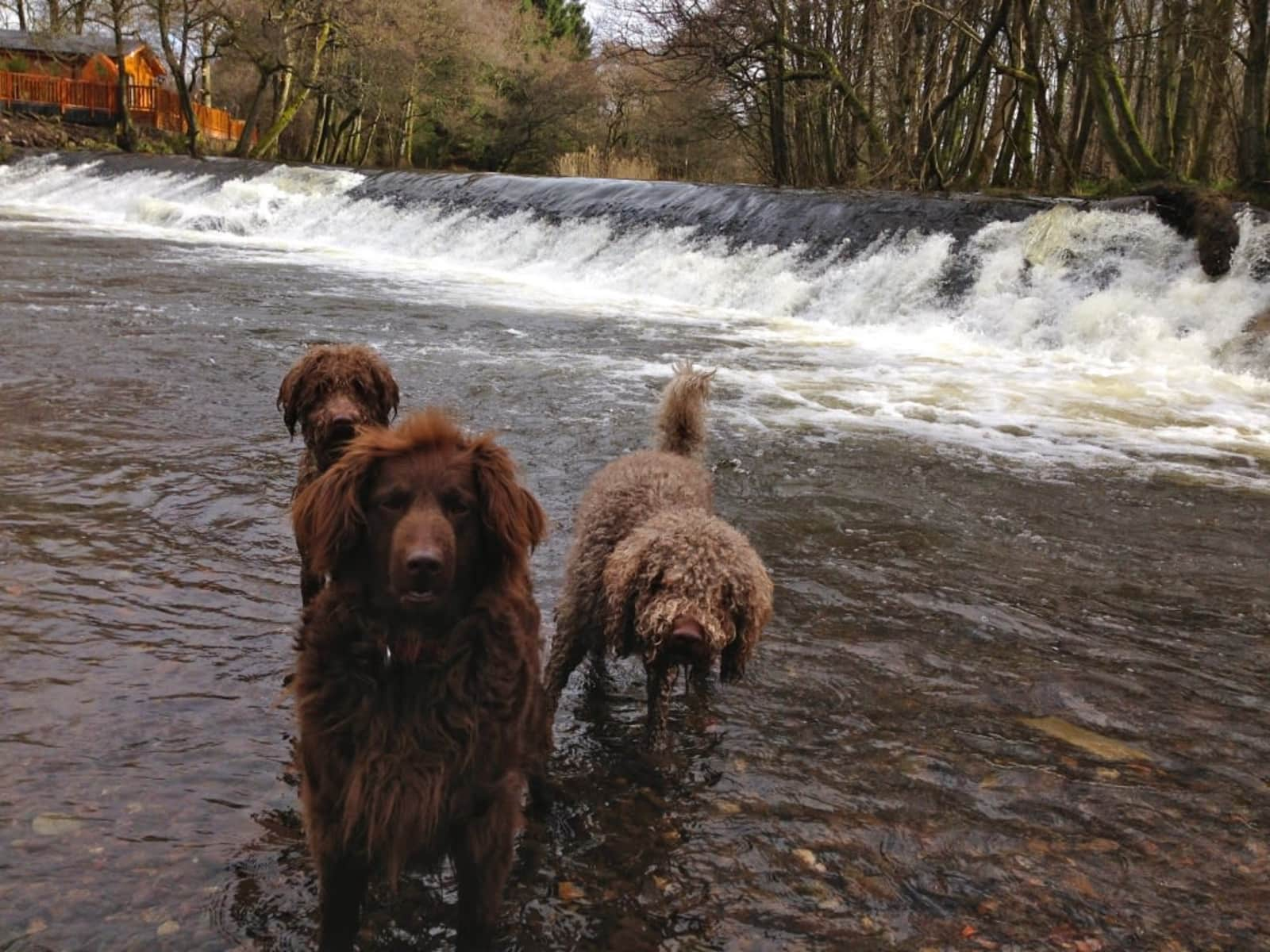 Pets
Dogs
Fish
Bird
Introduction
We have a 2 bedroom Lodge near Dollar a quaint little village.
We have 3 adorable Labradoodles with their own characters, Islay is 9 and the oldest, Jura is 8 and Dana their pup is 5. They love living here, and when they can they play in the river, as we have steps down into it from our back garden. They are fine to leave out during the day on the enclosed deck with lockable gates, as there is a large kennel that Jura just loves, he is happiest outside watching the world go by and saying hello to the dog walkers on the other side of the river....
We have stayed here for five years, and one of our favourite pastimes is watching all the wildlife, we regularly see Grey Heron, Woodpeckers, Kingfishers and Pheasants, the occasional Otter and we have a Red Squirrel who visits daily.
For those that love outdoor pursuits there are plenty of walks and cycle paths nearby, also The Ochil Hills are perfect for a climb on a nice day, and the dogs would love to join you.
We have a Kayak under the deck which can be used to meander along the river, the river is not very deep, although can be up to six foot in parts.
There is fishing for brown trout and salmon in season, and it is lovely sitting on the deck watching them jump. During migration there are plenty visitors and photographers on the other side of the river watching the salmon leap up the Weir, which you would be able to do from the deck! + More info
Our Home & Location
Our Lodge has double glazing and gas central heating, 1 double bedroom with ensuite shower room, 1 small twin room (with 1 single bed) and family bathroom, The living area is open plan with an island gas hob separating the kitchen from the seated area (which hosts a 55" TV and SKY box) along with dinning table and chairs. The lodge has a utility room where the dogs sleep and their provisions are kept.
The Lodge has a perfect location in the park as it is the furthest in and looks onto the river at the front over the deck, and woods to the side, to the rear is a field with Highland Cattle....
Dollar Lodge Park is about twenty minutes from Stirling, and less than an hour from either Edinburgh or Glasgow, perfect for visiting Scotland. + More info
House
Sitters need a car
High Speed Wifi
Countryside
Responsibilities & Pets
Daily routine of 3 well behaved dogs, an African Grey Parrot and a small cold water fish tank and general care of home.

Doodles- the dogs enjoy staying outside during the day (weather permitting) they sleep in the utility room which has a safety gate to prevent them wandering all through the lodge. They are very easy going, playful and enjoy human company.
Dog Duties - feeding twice a day, plenty fresh water, treats, interaction and play.
Dogs do not have to be walked, as they have plenty of space on the enclosed deck to run around. If you are at home and the weather is nice you could let them into the bottom garden and through the river gate to have fun in the water (keep your eye of Islay though as she loves to swim but will come back when shouted).
If you would like to walk the dogs, Jura has to be kept on the lead as he is very protective of his two girls, they walk really well on the lead.
The dogs are used to staying on the lockable deck (has to be locked as Dana can open it lol) when we are away for up to 6 hours a day. They get on together great, and enjoy each other company.
They are medium sized dogs, not normally jumpy, but can be if excited, they usually do what they are told. They are trained to sit, go out, come when called, they are fed to the whistle, Jura sometimes does not eat, his dish needs to be lifted as Islay or Dana would eat it. They are trained to walk on the lead, might need a strong hand if meeting other dogs.
Parrot - Uisge is our 10 year old African Grey Parrot, he loves attention, especially if you have monkey nut or bread stick for him! He loves to be wheeled out in his cage to the deck during the day (weather permitting) where he talks and whistles to anyone going by across the river. He needs fed every couple of days and fresh water.

Fish - we have a 30l BiOrb fish tank with a few small cold water fish, the tank is lovely lit up which we do in the evenings and they come up to be fed (a very small pinch of food) when the light is put on.
Fish: Indoors, Cold Water small fish tank
Dog(s): Islay is 9 years old, Jura is 8 years old (Labradoodle), Dana is 5 years old
Bird: Uisge is 10 years old
Upcoming sitters
October 2018 | Matthew
---
Previous sitters