Country and animal lover to stay in a Rural setting
Hawick, United Kingdom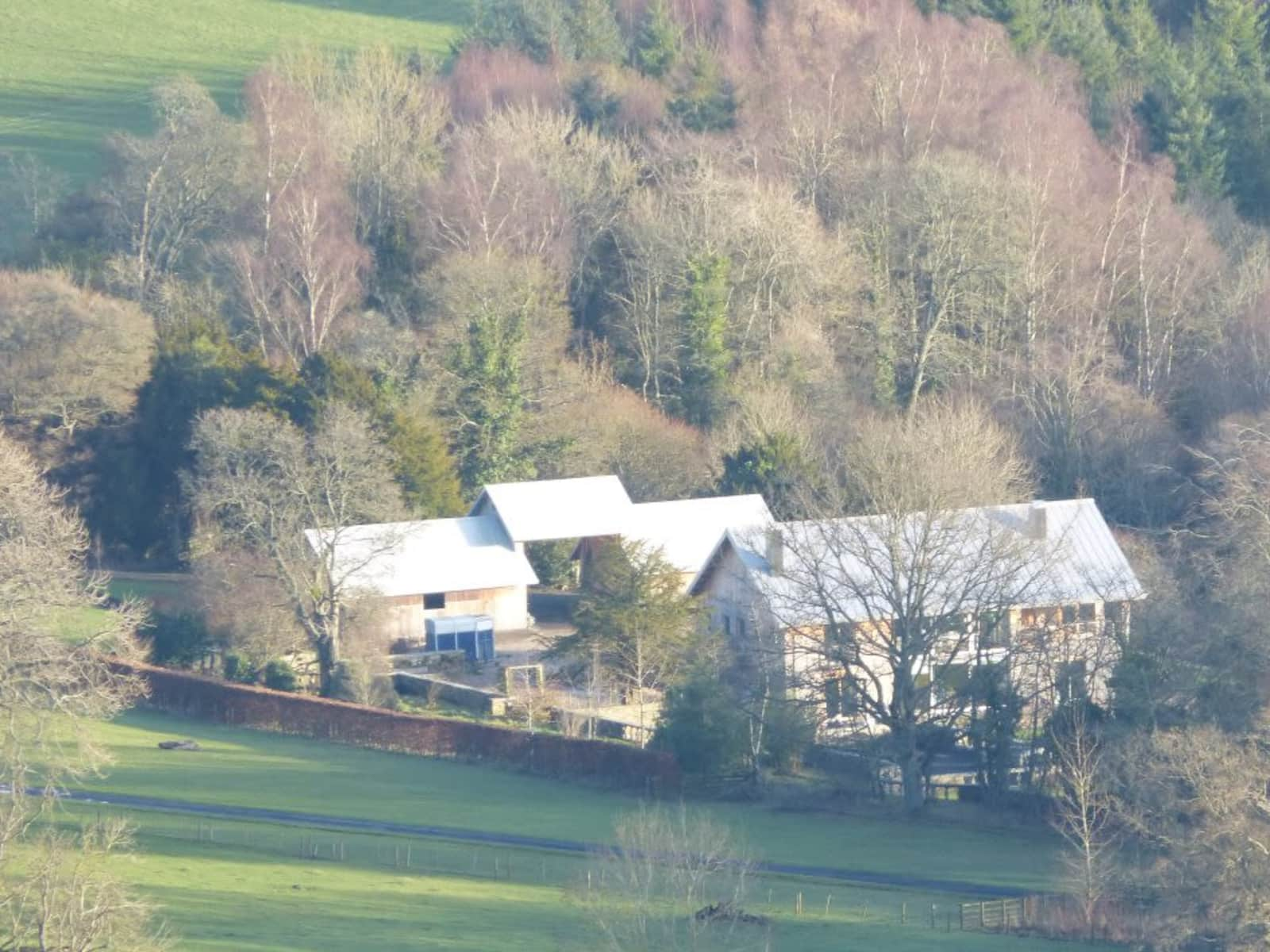 Pets
Dogs
Poultry
Farm animal
Introduction
We live in a beautiful modern house, (glass wood and aluminium),surrounded by 26acres of mixed woodland. with our 3 dogs, Toast (a standard Poodle), Feather and Fern (working Springer Spaniels). Outside we have a flock of 10 hens , 6 Herdwick sheep with lambs, a horse and a pony. They all need looking after, feeding, walking, talking to and checking over. We have a garden too with a veg patch so if you have green fingers help is always needed!! We are surrounded by lovely walking country.
Our Home & Location
The Borders are truly beautiful. Lovely walking country and the pretty towns of Melrose, Jedburgh and Kelso are all near by with beautiful ruined Abbeys. Denholm our nearest Village, has 2 good pubs, a Bistro, a Shop, a Cafe, a Butcher and a Church . Our house is right by a golf course if you are that way inclined. We do live down a long bumpy drive not ideal for low slung sports cars!!
Our dogs are fairly well behaved !! and love lots of attention, and walks , they are not allowed on the beds!! but we have lost the battle with the sofas. They are more than happy to go in the car, always hopeful it might mean another walk!! Hens lay fantastic eggs best omelettes ever.
House
Sitters need a car
Car included
Basic Wifi
Family-friendly
Countryside
Responsibilities & Pets
An example of my day will give you an idea of what is involved in living in our house!! 7.30am I let the dogs out and make of a cup of coffee. Then go outside to feed and let the hens out, check they have fresh water. Fill the bird feeders. Then check the sheep are all well and walk them about a bit. Check the horse/pony too. Take the dogs just round the block 20mins. Back to the house for breakfast for everyone.

The dogs like one (or even two), good walks a day. This can be done any time during the day....

Late afternoon the hens need feeding back into their pens. Check the sheep again. Check the horse/pony again. The hens go into their house when it gets dark and then you can close them up.

Dogs have supper about 6.30pm and go out last thing at night about 10pm

There may be some watering of house plants and potted plants, if gardening is your thing there are always things to do!!

Light housework would be lovely. Just to keep on top of three dogs in the house!!! + More info
Poultry: Chickens, A mixed flock of 10 hens
Farm animal: Other, Sheep, 6 Herdwick ewes A horse
Dog(s): Toast is 6 years old (Poodle), Feather is 9 years old (English Springer Spaniel), Fern is 2 years old (English Springer Spaniel)