Chill with the Girls
Strathaven, United Kingdom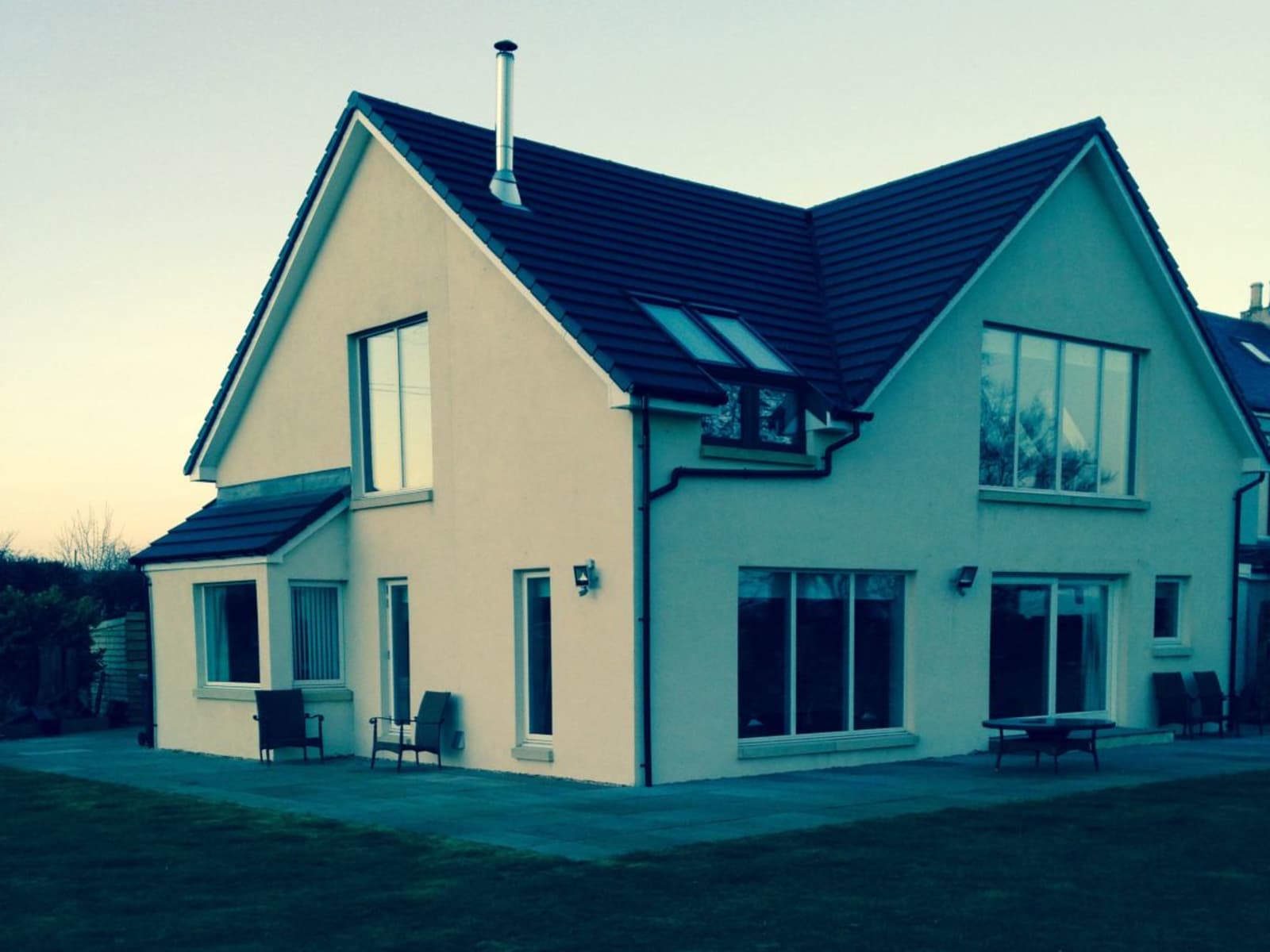 Pets
Dogs
Introduction
Hi there, we are Ann & Stuart, I am a Project Manager for a Supported Living Service for people with Learning Disabilities and Stuart is an Operations Manager for Honda UK. We love the outdoors walking, camping, golfing, fishing with Molly and Daisy in tow. For the past 11 years we have all holidayed up North, enjoying the beaches and walks in Sutherland and Caithness. This year due to a 'significant birthday' we have decided to have a week in Cyprus, our first time abroad since Molly was born.
The girls could have gone to stay with their gran but Molly is at an age where she is best in her own home, so we need someone that we can trust to look after our girls and our home.
Our Home & Location
We designed and built our home 4 years ago. We live approx 6 miles from Strathaven town centre, heading out the A71 towards Darvel, it is very rural, so a car is definitely required. Coming off the A71 it is a single track road and we live in what used to be a farm but is now a development of 9 houses. There are electric gates to get into the development and all the neighbours keep themselves to themselves but are there if you need them. The house is an eco house with an air source heat pump, underfloor heating and a log burner in the main living area. This comprises of an open plan kitchen, dining and living area with large south facing windows looking out to the garden and valley down to the river. There is a study, shower room and large utility on the ground floor too. Upstairs there is a large lounge, again with large south facing windows, really cozy to sit in of an evening and off the lounge there are two large bedrooms both with ensuites. There is a double bed in the guest room with lots of wardrobe space. There are a few good walks on our doorstep which are Molly and Daisy's regular favourites.
Strathaven itself has a Sainsbury's and an Aldi and numerous other shops, cafes and takeaways, there is also the Sports Centre and Swimming Pool....
We love our home and the area we are in because it is so quiet, peaceful and calming just like you are on holiday all of the time but 10 minutes in the car you are in the town centre of Strathaven and 30 mins away from Hamilton or East Kilbride, just perfect for us. + More info
House
Sitters need a car
Disabled access
Basic Wifi
Countryside
Responsibilities & Pets
As far as the house is concerned, all we ask is that you look after it as we do and that we come back to it the way we left it - we are not expecting any 'jobs' to be done, other than putting the bins out on aThursday. Our main priority is that the girls get well looked after. They get 3 main walks a day - morning before breakfast, we work full time so during the week this is usually 6am for an hour but you really don't need to stick to this as they would be more than happy to lie in even till 10am which is norm for the weekend. Their dog walker Kim, walks them at lunchtime Monday to Thursday so you don't need to worry about being at home all day on these days. We usually let them out into the garden for a 'wee' when we get in from work around 5ish (though Molly the bladder queen usually refuses). They get their dinner, then a last walk around 7pm. At bedtime Daisy will go out for another garden 'wee' but the bladder queen usually refuses. There are a good few walks on our doorstep and both walk off the lead and will walk to heal or come back to you when told, especially if they see a car coming or if you shout 'car' - Daisy will come to you and go into the verge and Molly will stop where she is and go into the verge - all the locals know her and know that this is what she does and will drive past her slowly. On occasion Molly will only go for half the walk and will go and lie down in the grass verge and wait for you to get her on the way back-again all the locals know her and she won't move till you get back. Daisy will need her ball with her and will carry this herself all the way - she likes you to take give her a few throws too. Molly is getting a bit deaf (though sometimes selective) so you may need to use hand signals we can show you these. At bedtime they both like to sleep on their red bean bag upstairs, Molly likes a blanket over the top of her and Daisy may sometimes move to the floor at the side of your bed - they don't get on to the beds until a Sunday morning and only when given permission-so only if you want them. At the weekend after breakfast they share a slice of toast and jam and will look for this - Molly will sit looking at the toaster doing a 'mumbling barky noise' - madam!! They both love new walks so if you wanted to take them somewhere different then feel free, but if it is somewhere built (i.e.traffic/people) then they will need to be on the lead until you get into safer open areas. Will be able to give you more detail and answer any questions when we meet, but I would hope that you would have a nice, relaxed time as the girls are really no bother at all but are really good company with Daisy the cuddliest and both loving tummy rubs.
Dog(s): Molly is 11 years old (English Springer Spaniel), Daisy is 8 years old (Cocker Spaniel)