Sitter needed big cat lover..
Abercynon, United Kingdom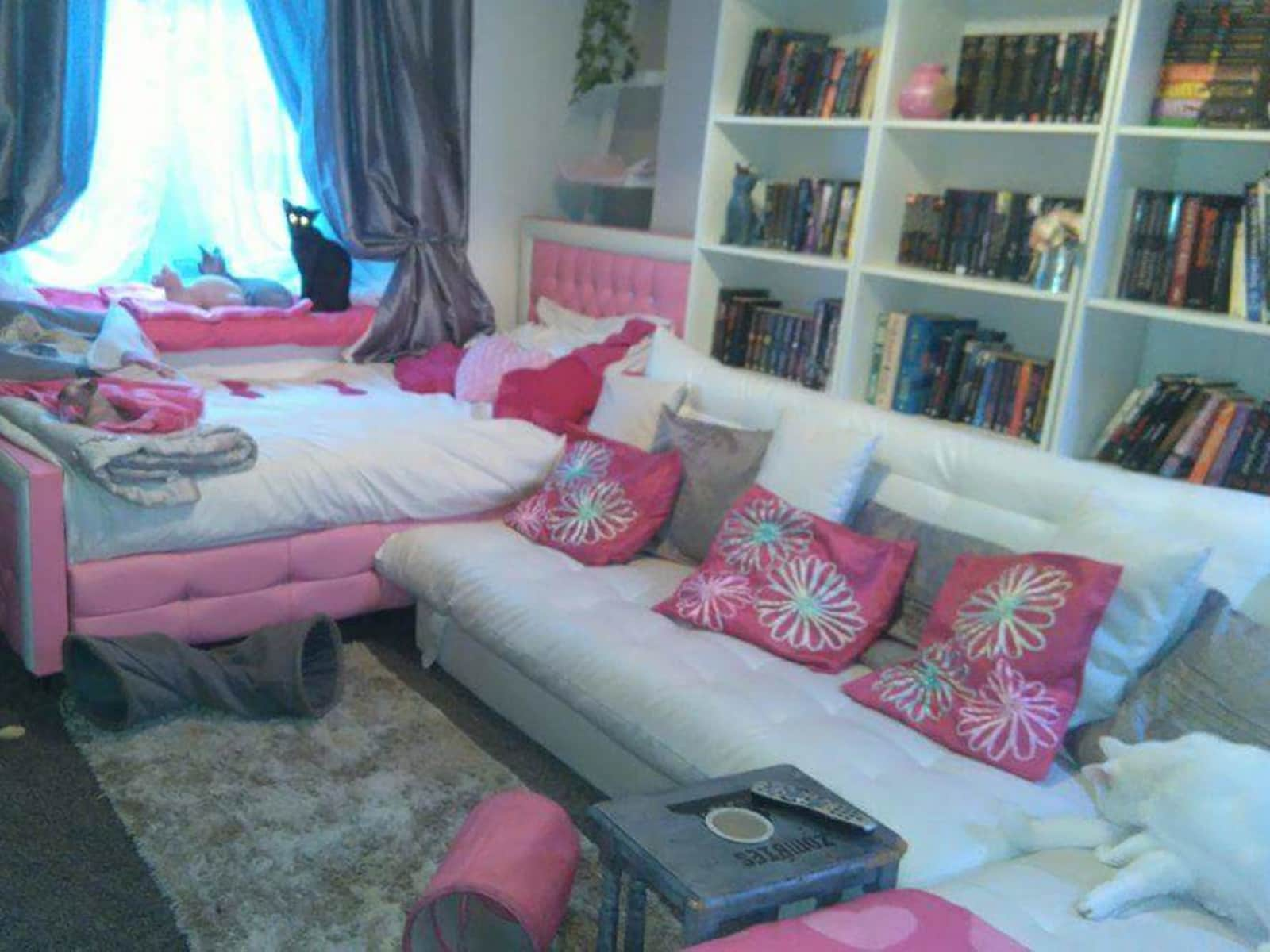 Pets
16 Cats
Fish
Introduction
Hello. I'm a big kitty lover with 16 feline friends. It may seem like a lot, but due to the amount of play space they have you won't be overwhelmed by them all at 1 time, unless bedtime they like to snuggle. I am going away for a week and need a cat lover to care for my babies. Everything will be here they need. They are extremely friendly and amusing bunch.
Our Home & Location
Small quiet valley village with easy bus links to Cardiff, Merthyr, Swansea and from there to anywhere. Bus stop is on street behind house, train station about 1/4 mile away with main road to Cardiff 5 mins away. Gas, water, electric, Internet, phone and sky+ all here and will be paid for. They are fed raw that's prepared, will be here and have freshly delivered weekly, there should be no cat out of pocket expense for sitter. I have 16 rescued cats, special breeds as well as moggies; all are neutered, vaccinated, deflead and wormed. Wonderful temperaments, silly loving and love attention. They have a large and secure outdoor enclosure for outdoor play that is approx 60 ft. Once they are fed and litter trays done all that's needed is the occasional wash for the sphynx, claws trimmed and brush for others. It's mainly love and attention they crave. While my house is cat orientated there is human space for privacy as needed. There are river walks minutes away and the Taff Trail is very close. I'm staying in UK and only few hours away should I be needed.
House
Disabled access
High Speed Wifi
Mountain
City
Countryside
Responsibilities & Pets
Sitter would need to do litter changes, feeding, occasional wash of the sphinx, lots of cuddles and love. I ask that sitter cleans up after themselves, I have a washer and tumble dryer in house for easy clean up.
Fish: Indoors, Small tank. With descent filters. Just sprinkle alittle food 2x a day only 5 fish.
Cat(s): Takla rhyndi is 5 years old (Sphynx), Opie is 4 years old (Sphynx), Savanah is 3 years old (Sphynx), Golly is 1 year old (Sphynx), Bb is 1 year old (Sphynx), Tygy is 2 years old, Snowballs is 8 years old, Tolouise is 8 years old (Persian), Diva is 1 year old (Sphynx), Luna is 1 year old (Sphynx), Lacy is 1 year old (Sphynx), Hikaryi is 1 year old (Sphynx), Hassien is 2 years old (Sphynx), Hadid is 3 years old (Sphynx), Tiggy pops is 9 years old (Norwegian Forest Cat), Tattiana is 4 years old