7 day stay in South Wales looking after two lovely hounds!
Cwmbran, United Kingdom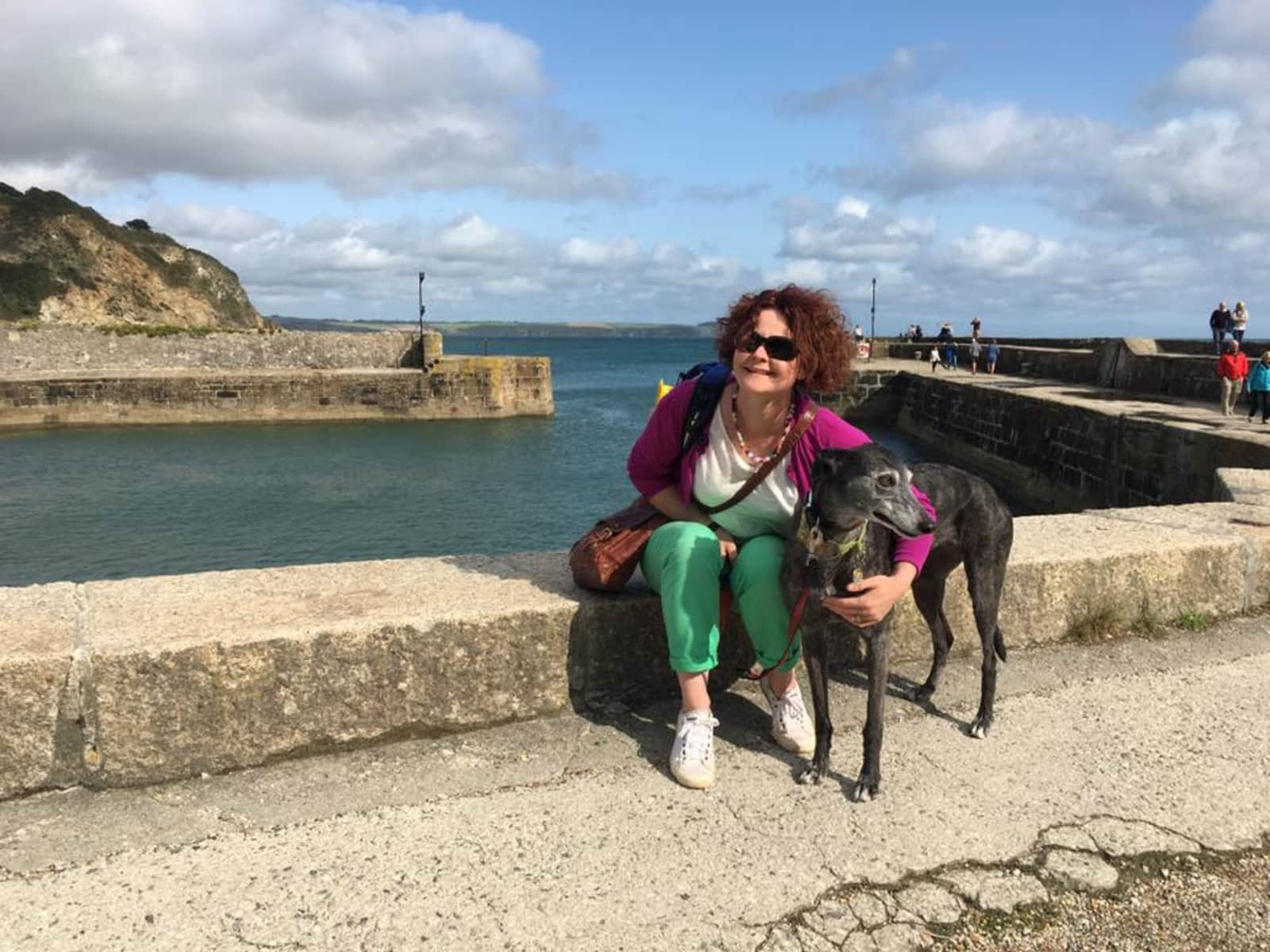 Pets
Dogs
Introduction
We are a fairly chilled couple who love spending time with our hounds! Gareth is professional photographer and Helena is an occupational therapist and both Molly and Cleo are rescue hounds. They are both very loving and loyal pooches and have very different characters. Molly is extremely relaxed and Cleo more inquisitive but both love home. We have had Molly for over 8 years now but Cleo only joined the pack last November after a very bumpy start in life. We have the opportunity to go back to Sweden this year to see friends. Last year Molly was able to stay with friends however they and family are not able to offer or manage both due to other commitments. The dogs are not able to cope with kennels based on their history and this is something that we would never do hence the need for a Trusted House sitter who will love and take care of them in their home.
Our Home & Location
We have a lovely old Victorian terrace in the older part of Cwmbran which includes 3 bedrooms, a small enclosed garden with a garden pond (lots of fish), seating and small grass area. There is a hard standing with room for parking. Indoors we have a sitting room, separate dinning room, kitchen and utility room downstairs and 2 double bedrooms, study ( 3rd bedroom) and large bathroom upstairs with separate bath and shower ( best room in the house!).

We are situated about 20 minutes from the World Heritage site of Blaenavon with it's rich mining history in coal and iron and home to Big Pit Mining Museum. Beautiful views and walks from Blaenavon back over towards the town of Abergavenny and across to the Brecon Beacons are an added extra as we live on the edge of National Park. Both of us work in the beautiful market town of Abergavenny which is only 25 minutes away and we are also lucky to be on the Monmouthshire Brecon Canal which also runs through Cwmbran....

Cwmbran town centre is only a 10 minute walk away and is home to a variety of supermarkets, high street stores and facilities. Despite being a new town, there are some lovely walks around the area that take in the canal and the boating lake which is a 10 minute walk from the house. Cwmbran Stadium, which houses a variety of fitness classes, clubs and a swimming pool is literally a 5 minute walk down the road. There is a train station and bus station in the town (both about a 20 minute walk) that serve the local area well including near by towns of Pontypool, Abergavenny, Newport and a trip to Cardiff is only 30 minutes away by car or train. + More info
House
High Speed Wifi
Family-friendly
Mountain
Countryside
Responsibilities & Pets
Feeding, walking and loving the dogs in the main priority for us. As mentioned, Molly is a typical greyhound who is true to the breed in loving her sofa! But she still looks forward to 2 short walks a day (a.m and p.m) providing its not roasting hot or pouring with rain. She has 2 meals a day with a few extra snacks thrown in.. she's also quite partial to a little of whatever is in on the human plate ( we call it the 5% rule!) Cleo is not as well established in routine however is now enjoying her 2 walks a day and 2 meals. She's cottoned onto the 5% rule also... but is relative to her size. Walking them together is a challenge if you are on your own and therefore would advise walking separately... otherwise, if there are 2 of you walking together is fine... however Cleo doesn't walk as far and prefers to stay closer to home. There are some fairly short long loops which we can elaborate on.

They both sleep upstairs... one on the floor either side of our bed and are generally good sleepers! Cleo has developed a habit of jumping up onto the bed for an early morning cuddle and seems to enjoy this. Molly however loves her bed on the floor under the window and rarely goes on the bed.They can be left for 3/4 hours with no concerns... they generally sleep. We leave them downstairs when we go out. Toileting accidents are only an issue if they are unwell so no concerns there. Our vet is a 10 minute drive towards Newport and knows both dogs well and is an expert in greyhounds ( big and little) so no concerns there....

Routine varies depending on the weather but generally they are easy. Food routines are straight forward. They are both fed downstairs and there are no huge issues re meals. Cleo does have some slightly strange behaviours around food and walks regarding meeting other dogs but all fairly easily managed and nothing to worry out. Molly is fairly chilled in all circumstances! + More info
Dog(s): Molly is 11 years old (Greyhound), Cleo is 6 years old (Italian Greyhound)