Spend some time in a quiet home with a large yard in the Grand Canyon State, Arizona, USA
Mesa, Arizona, United States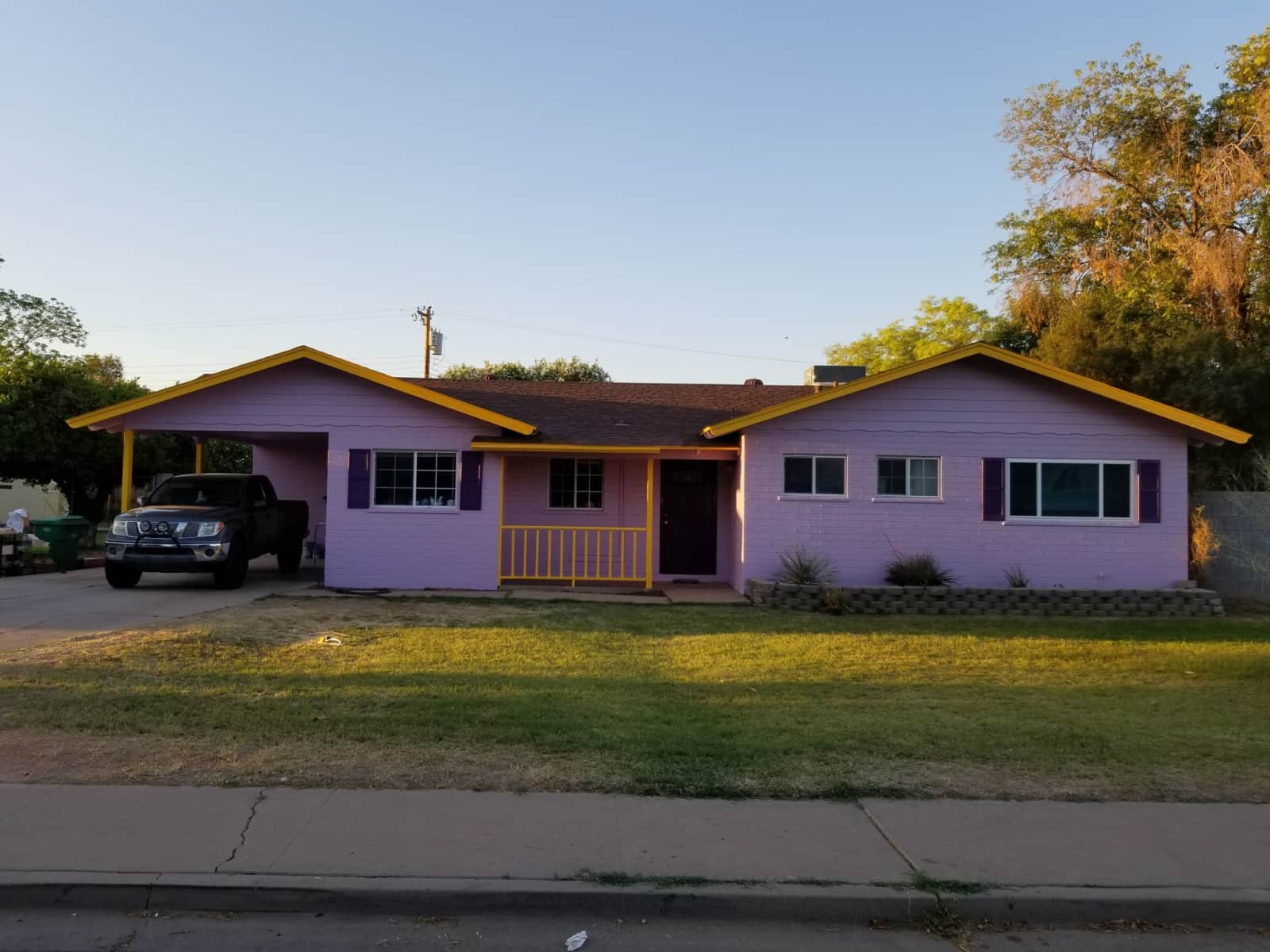 Pets
Dog
Cats
Poultry
Introduction
I am Tiger, my "children" are Mildred (the K9), Bismarck, Joschka, Zarabeth, Zoltan, Oliver and a feral kitty, Myrtle, who fell in love with Bismarck and moved onto our property. We live in a charming home in a quiet neighborhood in Mesa, Arizona. It is very relaxing to sit in the yard or on the porch in the evening with a good book and a beverage. The birds are chirping overhead and the chicken strolls by looking for munchies. If it gets too hot outside, you can cool off inside with a good movie or surf the internet. The house is around 1300 sq ft, not too big not too small. The bedroom is huge with a queen bed and a large table. You will be sharing the bedroom with the kitties. The second bedroom is the library and does not have a bed. The kitchen has a little nook with a table where you can eat a good meal. We have a newer gas stove, but in the summer the air fryer is the way to cook a good meal without heating up the kitchen.
Our Home & Location
The area we live in a quiet residential area, but are in close distance to shopping, entertainment and such. There are three grocery stores within 2 miles, a movie theater and shopping mall is about three miles down the road. All if those can easily be reached by busThere are lots of hiking opportunities nearby. Also in close distance is the Desert Botanical Garden. Tucson, Tombstone and the Desert Museum are to far for a day trip but still in driving distance as are the Grand Canyon, Sedona and Petrified Forest. I would say you should have a car for things like grocery shopping or exploring the area, but there is a bus stop is in close walking distance. Uber or Lyft would be an option as well if you don't have your own vehicle.
ANYONE WHO IS INTERESTED IN A PARTIAL SIT IS STILL ENCOURAGED TO APPLY.
House
High Speed Wifi
City
Responsibilities & Pets
I mostly need someone to keep the fuzzbutts company and give Joschka his insulin ever 24 hours. We have a pet door that is used by Mildred and Bismarck. Bismarck is mostly an outdoor kitty, but he comes inside to eat and to cool off/warm up. The other three cats live in the large bedroom. They sleep most of the time, but wish to be fed twice daily and like to have company and get some pets in the evening. In October, Joschka was diagnosed with diabetis and requires a shot every 24 hours. Right now he gets it around 5:30 PM and it has to be applied by the sitter. Fortunately, it is easy to do and the time can be adjusted to your needs. Our vet is about half a mile away and there is an emergency clinic nearby should anything unexpected happen.
Poultry: Chickens, Hilda, the chicken, roams the neighborhood. She was supposedly abandoned. I feed her in the morning. She will show up at the patio door and look for you.
Cat(s): Joschka is 16 years old, Zarabeth is 9 years old, Zoltan is 9 years old, Bismarck is 6 years old, Myrtle is 4 years old
Dog: Mildred is 5 years old (Brittany)