Scottsdale Life
Scottsdale, Arizona, United States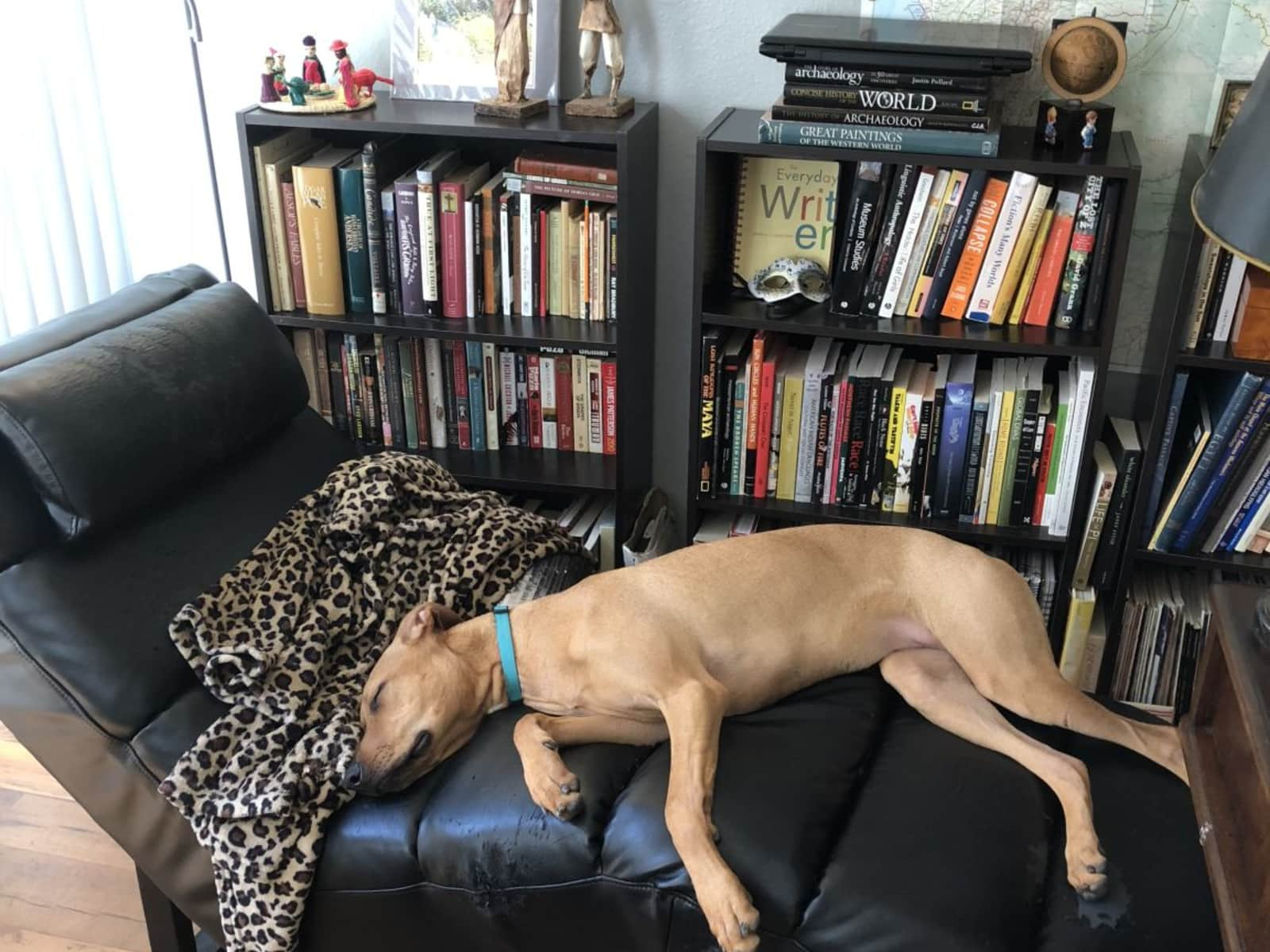 Pets
Dog
Introduction
I am a director for an archaeology firm headquartered in Phoenix, Arizona. We have nine offices in the US, and I am frequently required to travel. Sometimes I can bring my rambunctious pup, but only if I'm driving, unfortunately not often. I need someone to take care of her during the week, since they are work trips. Manana is my adorable dog, a Ridgeback mix. I rescued her when she was 8 weeks! While she was small she's always been independent and head strong. Now at 68 lbs, she still thinks she's a lap dog. Half the time she's passed out on the chaise, the other half she's sprinting through the rooms. She lives to run off leash, she's very fast and loves to play fetch. It's hot in Arizona during the summer so she gets winded pretty quick.
Our Home & Location
Scottsdale is a gem in the Valley of the Sun, popular for golf, restaurants, night life, and Spring Training baseball. We are centrally located in Scottsdale with restaurants, bars, and a brewery in walking distance. Catch a pro game and watch the Diamondbacks in the air conditioned Chase Field, just 15 minutes away. Tempe town lake and home of Arizona State University is 10 minutes away, and Old Town Scottsdale, a trendy western town is just 5 minutes up the road. Uber, Lyft, bike and scooter rentals are available, usually right outside the door (Lime Bike, etc).
Our home is a very spacious two bedroom, two bathroom apartment. We have lots of grass out front, unusual for desert living. Floor to ceiling windows in the living room and 2nd bedroom provide bright views. There is one small tv with a DVD player in the second bedroom (can be moved), but not hooked up to television. My wooden desk is in the living room, along with my library and reading nook. The complex has free parking, laundry facilities, gas and charcoal BBQs, 3 pools, and an enclosed dog run.
Apartment
Sitters need a car
Disabled access
High Speed Wifi
Family-friendly
City
Responsibilities & Pets
Manana (like the Spanish word for tomorrow), is a high energy puppy at 1 year 7 mos. She gets very excited and loves to chew and play, we're still working on mouthing. We have lots of toys to keep her busy. Since we do not have an enclosed yard she needs to go on frequent walks. She'll nose the door when she needs to go out. We have a 20 ft lead to play fetch with since she can run back and forth with it. She loves the dog park but eats the tennis balls! She is crate trained so you'll have the freedom to get out and explore the Valley.
She knows Sit, Wait, Drop it, and Come/Come here. She looooooves bubbles and goes bananas for them. She is so sweet and has an adorable grin....
She eats twice a day, at 7:30 am and 5:30 pm. She can have treats and will Sit, Lay down, and Wait for them. + More info
Dog: Manana is 2 years old (Rhodesian Ridgeback)
Previous sitters