Purrrrrrfect Cottage for One
Woodland Hills, California, United States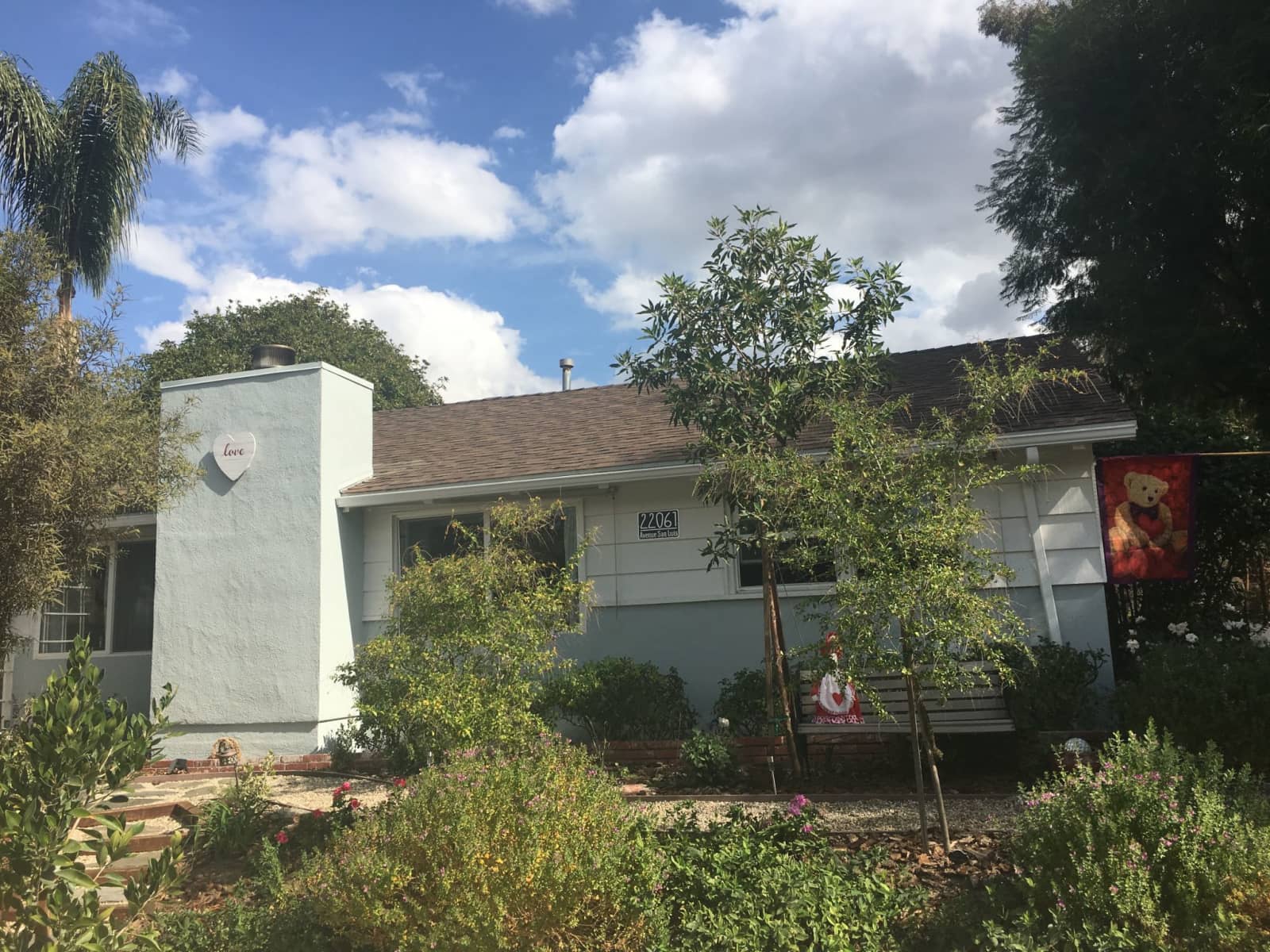 Pets
Cat
Introduction
We are a retired couple of educators who now live as actors and artists. We love to travel and want to make sure our cat is safe and loved while we enjoy these early years of retirement and explore places near and far.
Our Home & Location
Our cottage is in a quiet residential area nestled at the foot of the Santa Monica mountains. Surrounded by trees and greenery, it is a peaceful haven with lovely benches and outdoor furniture to enjoy the parklike surroundings. Our location has easy access to the 101 freeway so you're a quick jump to all Los Angeles has to offer. We are a short drive to the beach thru funky Topanga Canyon and close to cultural museums such as the Getty and the Ronald Reagan Library. We are within walking distance to CVS, grocery stores, restaurants and coffee houses. The Topanga Village is quite close along with movie theaters and the Westfield Mall. Woodland Hills is a great location to pop up to Magic Mountain or scoot over to Universal Studios or perhaps catch a taping of your favorite show in Hollywood. Public Bus transportation is within a block and we do have off-street parking for your own vehicle.

We require a SINGLE sitter only as we offer our guest room with an extra long twin bed for sleeping. Our guest bathroom is recently remodeled with a floating vanity and glass shower with rock stone flooring. The living room is comfy with a large screen TV - great for watching movies (especially with a cat to snuggle with). As artists, our home is an extension of our aesthetic, so it is a fun, tranquil spot to relax but because our kitty needs very little care, you are free to spend your days exploring the town or hanging at the beach. She will be happy to see you when you come home.
House
High Speed Wifi
Beach
Mountain
City
Responsibilities & Pets
Spooky is a 12 yr old black kitty who adopted us. She lived as a stray in the sewer and with love and patience has grown to trust people and become a beautiful house cat. She needs very little care: We have an automatic food feeder which you set for her 3 daily feedings; she does like her litter box cleaned daily; and, a warm lap to nestle on - and this is important - when she chooses. While she has become a lovely pet, we still let her warm up to people as she sees fit. We pet her from the back, not directly in her face, so as not to "Spook" her. She is also a talker and meows loudly when she is ready to eat or use her box. While she used to love the outdoors and climb trees and rooftops, those days are behind her so we keep her safely tucked inside.

If you are a cat lover, you can't help but fall in love with Spooky. She had a hard life early on and now is quite appreciative of a loving lap and a safe place for her long naps. Besides Spooky, we have a few plants on our front deck that need some watering every few days. We hope any time you spend at our home is uplifting and nurturing for you as well as our kitty.
Cat: Spooky is 13 years old