Sweet Mediterranean bungalow with even sweeter husky girl!
Alameda, California, United States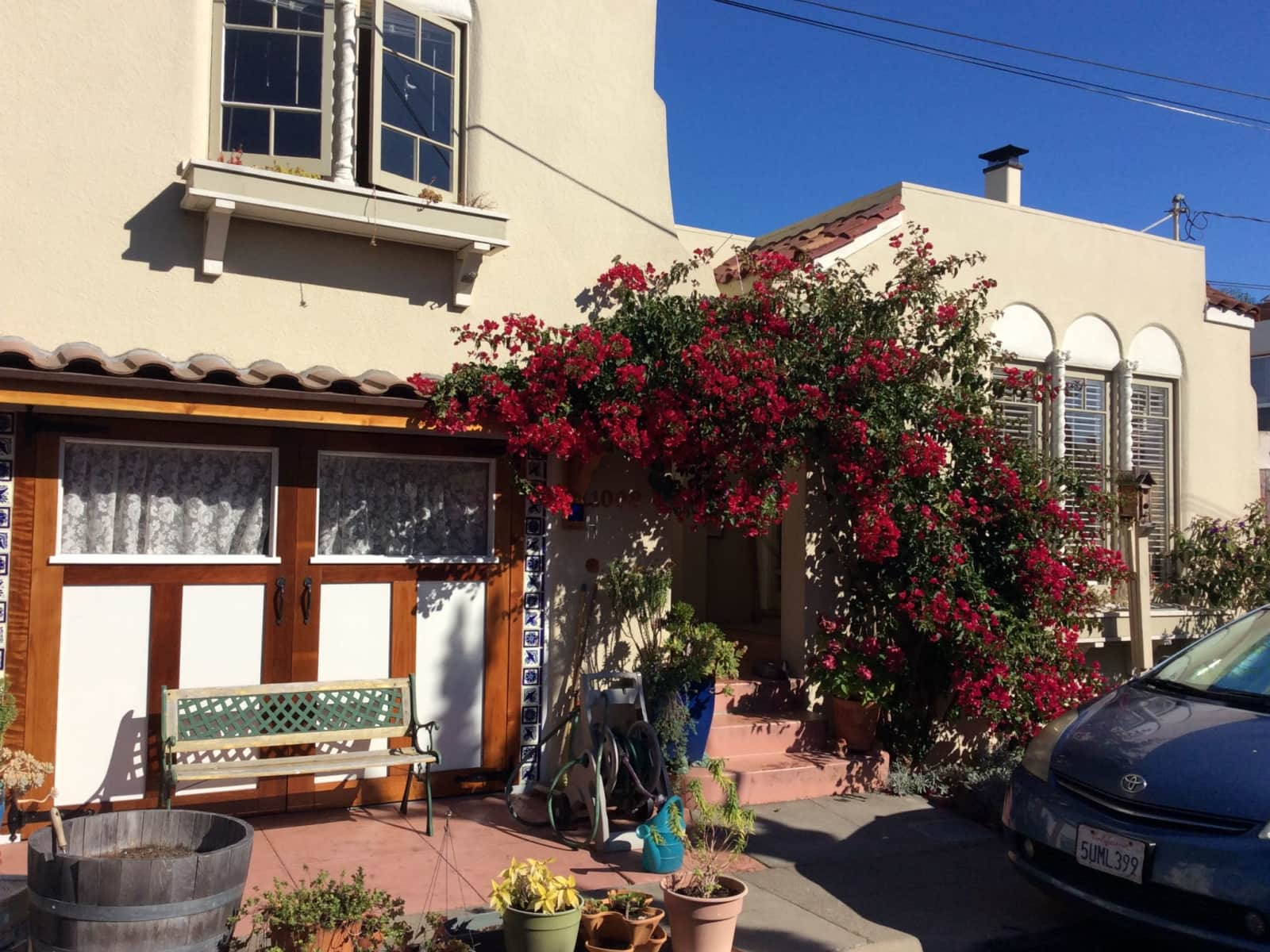 Pets
Dog
Introduction
I'm self-employed and a huge outdoors enthusiast, Kayla my sidekick is a 9-year-old husky who still thinks she's 6 months... Kayla and I lead a pretty simple but active existence here in Alameda. When I'm not working, I'm either out on a hike with her, or paddling my outrigger canoe out on San Francisco bay. We both love the outdoors, and sweaty exercise, and going on adventures together (and puttering around the house, and cooking, and reading, and playing with friends, lots of other things too)
I hate to leave her behind but I have to visit my elderly parents back East and she needs to stay here...
Our Home & Location
Welcome to Graceland, my lovely sweet home, filled with light and a nice afternoon breeze... we're on a quiet little court, surrounded by nice neighbors, so it's peaceful and mellow and private.
It's a very comfortable one-bedroom house with a big kitchen sporting a magnificent restored vintage stove, a nice shady back patio for al fresco dining, a sunny open living-dining room......
You can walk to Alameda's main downtown in 10-15 minutes where there are tons of restaurants, cafes, bookshops, banks, toy stores (at least 3) bars, and a classic old time Art Deco movie theatre! Pretty much anything you need is within a 15 minute walk, as the South shore mall is also close by with supermarkets, banks and shops - Safeway Trader Joe's Walgreens and other shops and restaurants including the top-drawer "Date night" special Trabocco Italian trattoria. Best of all , the trail along the estuary and beach, with beautiful views of the bay and the San Francisco skyline, are 10 minutes or less by foot, for lovely shoreline walking. The path runs over 2+ miles, so you can put in a lovely long walk with out ever having to get in a car...
Alameda is famous for its "small town vibe" and lovely tree-lined streets of beautiful homes. It's fun just to wander the neighborhoods looking at the houses. Alameda has more Victorians per capita than anywhere else in California, including SF. (ours didnt burn down in the 1906 earthquake...) There are often historical walking tours around town on weekends.
And to get elsewhere, a 20 minute ferry ride brings you straight to San Francisco, or a short bus or Uber ride (1.8mi/3km) gets you to BART for rapid transit to the rest of the Bay Area. It's pretty ideal.... A car is helpful but not essential. Uber can fill in easily enough for the necessary moments, and Alameda is very walkable! + More info
House
High Speed Wifi
Beach
City
Responsibilities & Pets
Kayla is a creature of habit, and our days go like this: get up and want breakfast (she will bark once, "Hey! I'm hungry!") a cup of kibble and a tablet of med into the bowl takes care of that. Then, after I've had breakfast and coffee, we go on our morning walk, which may be short (15 minute loop around the neighborhood) or long (35 minutes takes us on our favorite loop around the edge of the bay and back) depending on my schedule that day. Then she proceeds to loaf around most of the day while I work. Around 4-4:30pm it's "the witching hour" - she suddenly perks up and says "Hey, its time for walkies" and we generally head out on our afternoon walk around 5-ish or so. Then she eats supper - a cup of kibble with a tablet thrown in - when we get back. Then she loafs around again and I go off to my evening job. On weekends I take her for longer hikes up in the woods in the East Bay Hills, and she will go as long as I can last... There are lots of lovely hikes around here, with views of the bay or redwood forests to wander in...
THe DRILL: two walks, a.m. and p.m., two meals, a.m. and p.m., lots of love and pats and belly rubs in between. that's all she needs...
Dog: Kayla is 9 years old (Siberian Husky)