Dog, cat and wonderful log cabin
La Honda, California, United States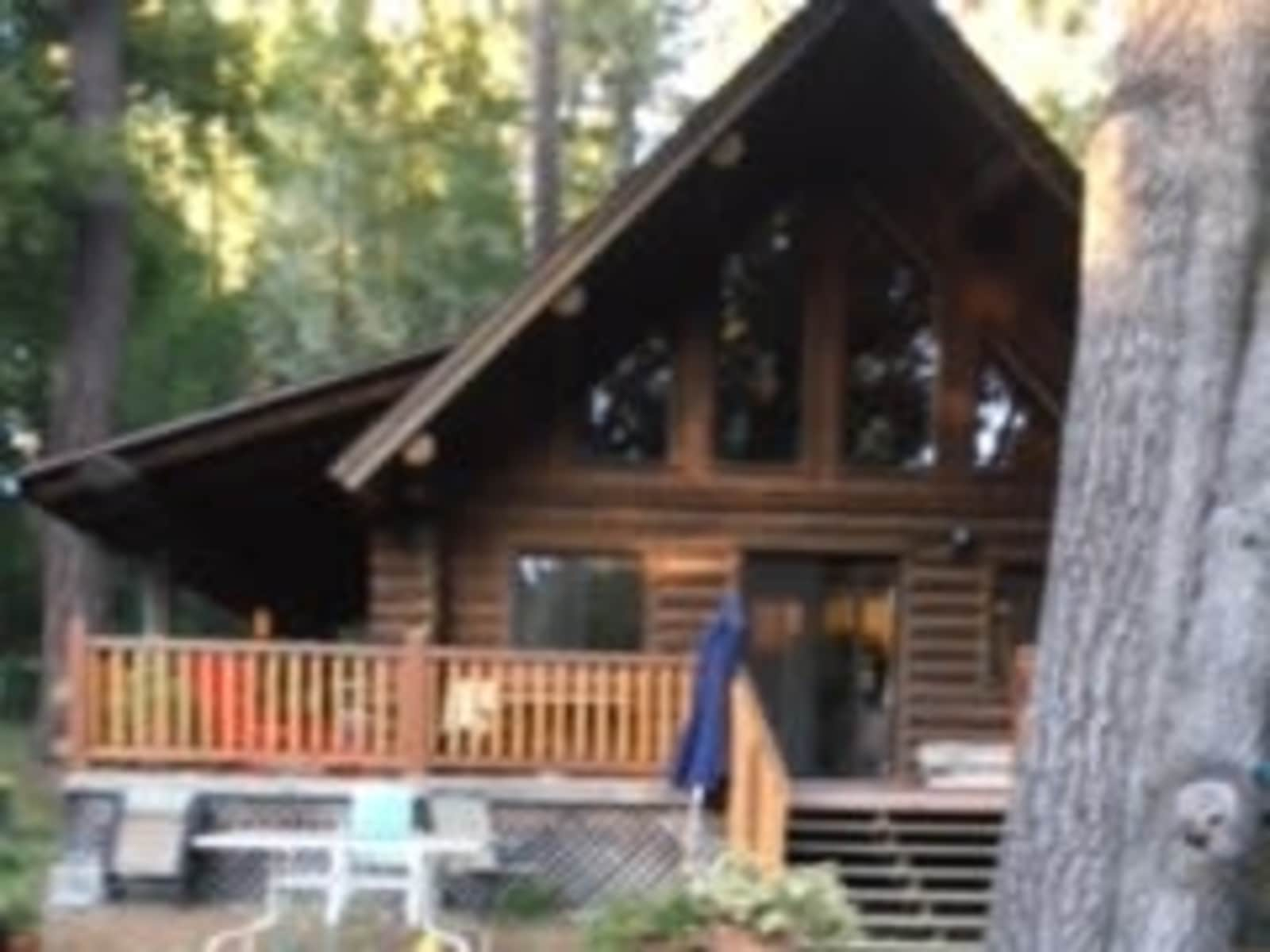 Pets
Dog
Cat
Introduction
I am going to my niece's wedding in South Africa in December. I am looking for sitter(s) who will want to spend time with my critters and not leave them alone for long periods of time. My dog, Rascal, is mellow but loves his hikes and beach walks and as I live in a hilly area a person will need to be in reasonably good shape to keep up with him! I am semi-retired and work only 3 partial days a week so do spend a lot of time with my dog either at the cabin on out on adventures. I've worked in medical research at a nearby university for 30 years. I love hiking and spending time at the beach. I also enjoy painting and am an avid reader. The cabin I live in is peaceful and private and while there is a nearby small market about 10 minutes away there really isn't much other than a residential community also about 10 minutes away.
Our Home & Location
I have a log cabin that is the perfect size for one or two people. There is a large main room that includes the kitchen, a downstairs bedroom and bathroom with washer dryer. There is an upstairs loft with skylight that serves as a bedroom. There is a deck, patio and fenced yard area. Landscaping is natural with large trees. The cabin gets sun but stays cool in the heat. The cabin is on 10 acres shared with a larger log house that is about 300 yards away, so very quiet and private. There are 3 other 10 acre properties on my road so there are neighbors but no one very close. One neighbor has a horse, donkey, 2 dogs chickens and others have dogs. All critters stay on their property. My cabin is ideal for someone who is looking for a restful, relaxing place to stay. I have WiFi and am connected to DirectTV. I'm about 30 minutes from Half Moon Bay where there are great beaches and bluffs for hiking, many restaurants and shops, a good public library., and good food markets. There is a great farmers' market in HMB on Saturday mornings. It is a very friendly dog area. Santa Cruz is about an hour south and the drive along highway 1 is spectacular. San Francisco is about an hour north and again, the drive along Hwy 1 is lovely. There is a small market in La Honda about 5+ minutes away (about 2 miles) but no restaurants. Alices is a popular restaurant that is about 15-20 minutes away going inland. The drive to La Honda on Hwy 84 is scenic and beautiful with lots of curves, and well worth the drive. The drive to Half Moon Bay is equally as lovely but doesn't have as many curves.
San Francisco is about an hour and Palo Alto about 30 minutes.
House
Sitters need a car
Car included
High Speed Wifi
Beach
Mountain
Countryside
Responsibilities & Pets
My dog Rascal is 7 years old. He's a German Shepherd and lab mix. He's mellow and loves people and dogs and is quite independent. He is not a 'Velcro" dog but does like having people around. He has a dog door and likes to spend a lot of time on one of his many beds on the deck but also loves being inside on his dog bed (or the couch). Depending on the weather and his mood he will sleep inside or out or both (great having the dog door). He looks forward to his daily hikes and trips to the beach. I usually do one longer hike and a short one. There is a short (hilly) loop that goes behind my cabin. There are also some trails about 10 minutes away. There is a county park right across the road from where I live. Unfortunately, no dogs allowed. It's a shame and I used to hike there with my dogs but I won't ask a sitter to do it. It is good for people hiking! As I mentioned in another section, my dog is accustomed to me being around a lot or going with me in the car. So I would prefer someone who does not plan to spend a lot of time away. Rascal loves car rides and travels well. I go to the beaches in Half Moon Bay and at times go to the dog friendly beaches in San Francisco. My cat, Kitty, is quite friendly and loves sitting on laps. She also loves sleeping on the bed upstairs where I sleep. She usually likes to go out during the day but must be in by dark and stays in during the night. We do have lots of critters around at night. Neither of my pets are on medication. Rascal eats twice a day and Kitty eats at least morning and evening. She also loves to be combed.
Cat: Kitty is 13 years old
Dog: Rascal is 7 years old