Skylar and Oliver invite you to stay
Menlo Park, California, United States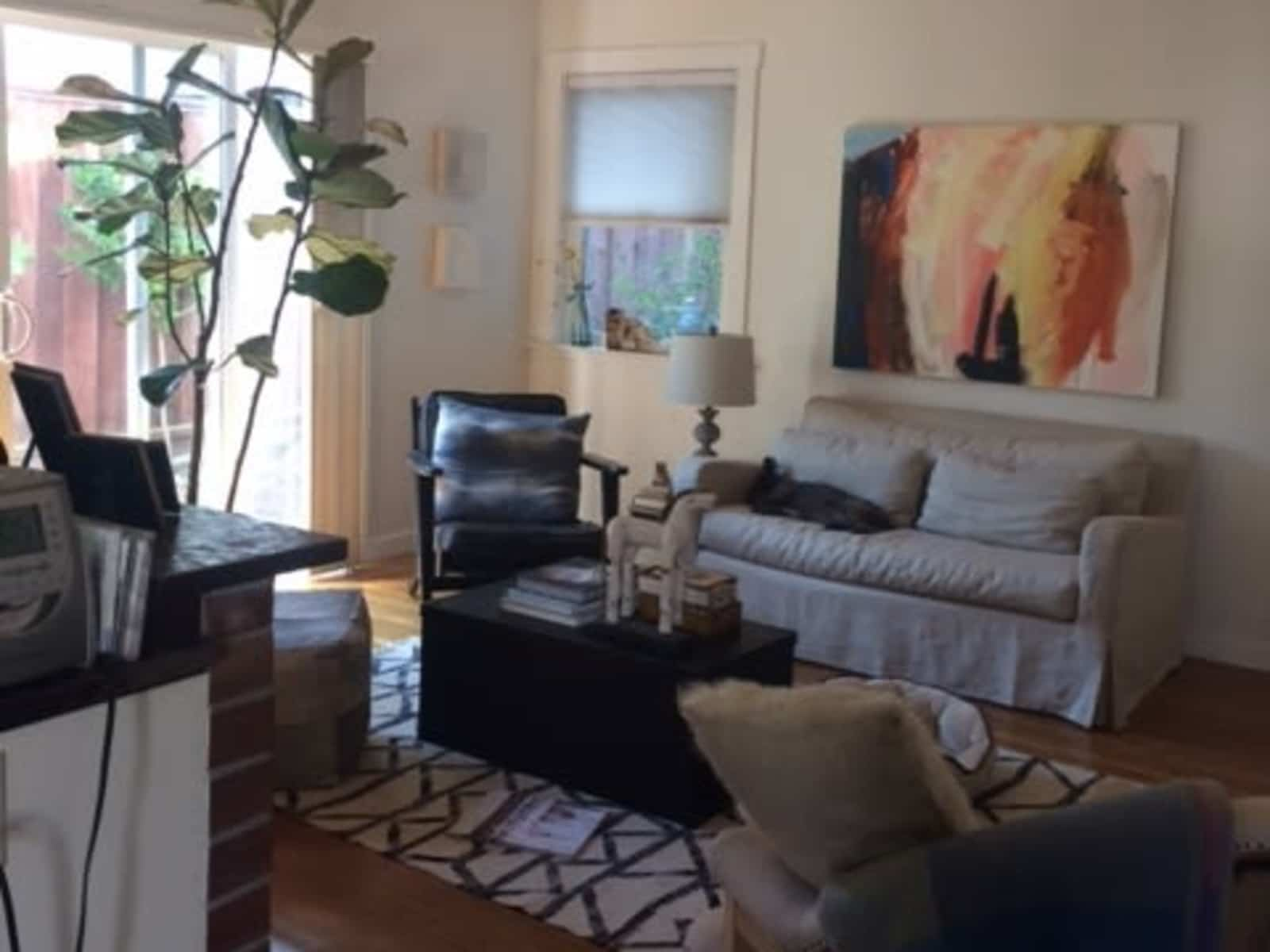 Pets
Dog
Cat
Introduction
I am 55 years young, yoga and holistic nutritionist, living in the beautiful and exuberant San Francisco Bay Area. I having been teaching yoga for over 25 years and most of my travel is both near and far teaching yoga retreats. I have love my animals they are wonderful additions to my life. I have not been satisfied with the level of care of the pet sitters in the past, I believe it is because most are doing it as a job and do truly there for the animals .. which is top priority.
Our Home & Location
I live in a one bedroom cottage in the center of Menlo Park, a very safe, upper income neighborhood. My home is cozy while the layout creates a very spacious and airy feeling for one person( or a couple). Big open fully equipped kitchen, comfortable living area, many books to browse and Wifi, streaming access to movies and shows, and w/d. There is a small sunny backyard for you and animals to relax. Menlo Park is a vibrant neighborhood, close to shops, movie theaters, grocery stores and Stanford university is walking or biking distance. Palo Alto, the closest town, is also filled with things to do. Hikes and parks.. much to do and see and Oliver is happy to be company everywhere as dogs are allowed in most stores..
House
High Speed Wifi
Mountain
City
Responsibilities & Pets
Oliver is a wonderfully well behaved dog.. he requires a few walks during the day, there is a nearby park that is easy to access. Skylar is an indoor cat, she is getting on in age, but is very loving and social. loves people. She does have hyper thyroid and needs medication daily. They are feed twice daily, Skylar loves milk in the morning, and she will let you know if you forget!.. always fresh water, maybe some treats.
I would love to have my plants watered if I am away more than a few days and mail picked up.
Cat: Skylar is 15 years old (Maine Coon)
Dog: Oliver is 5 years old (Cairn Terrier)
Upcoming sitters
December 2018 | Victoria
---
Previous sitters
September 2018 | Cora