Kloe's home in La Quinta, CA
La Quinta, California, United States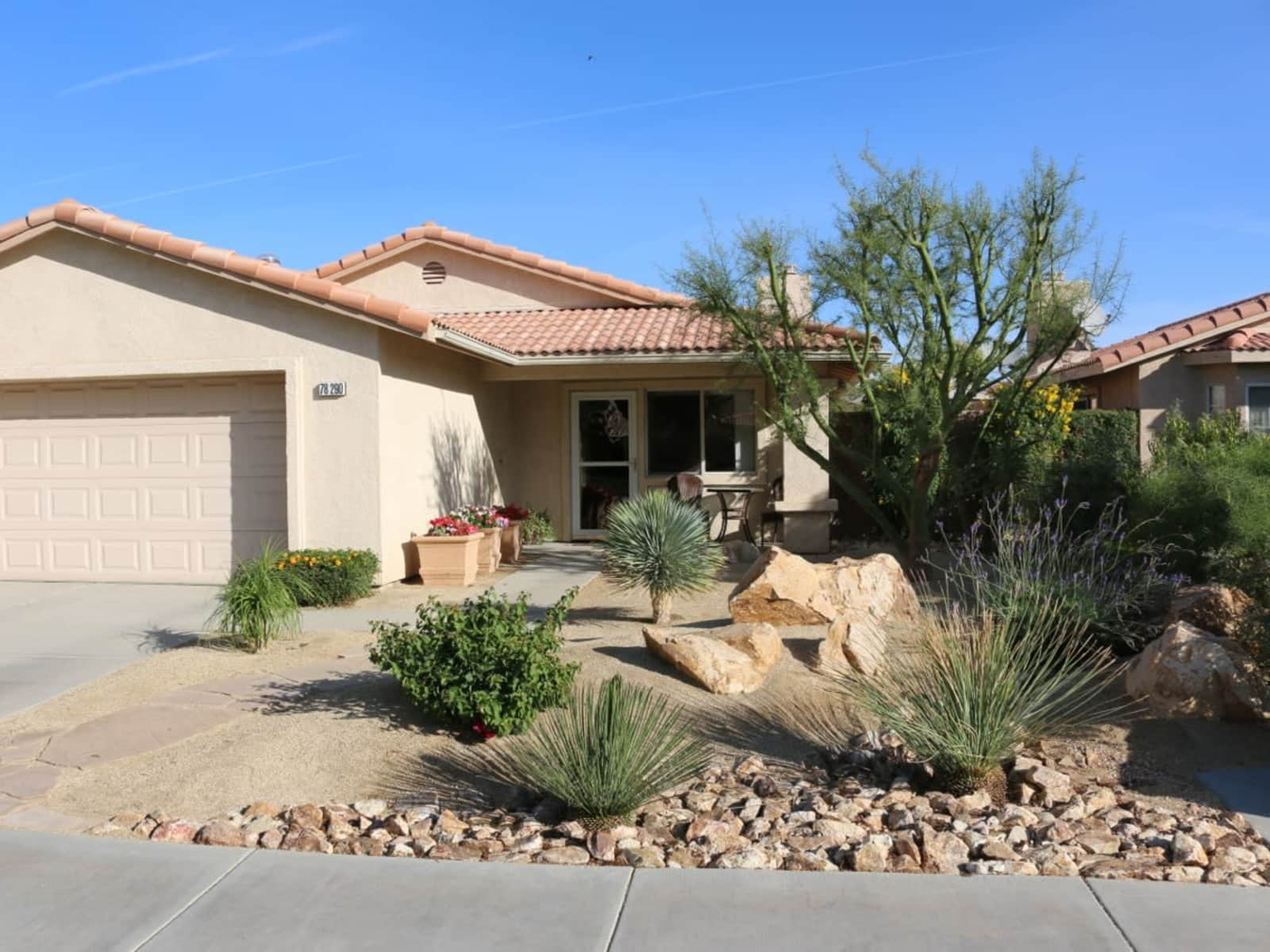 Pets
Dog
Introduction
My husband Thom and I have been married over 40 years. Our fur-baby Kloe is our only child. She is a 17 pound Border Terrier mix that we rescued 8 years ago. But we do love to travel so when we discovered Trustedhousesitters.com we were overjoyed. We have now completed two sits and are looking forward to many more. I am a writer and I work at home so Kloe is seldom left for more than 4 or 5 hours a few times a week. Plus, I normally take her for a 2 mile walk every day. We also live close to a dog park so she gets out quite a bit. The easy part is that we have a dog door, so she can go in and out as she needs, but like I said, she isn't used to being alone for long stretches. Our ideal sitters would love dogs (obviously!) and also like to take daily walks. We do live in a great community with lovely parks and lots of hiking trails. Our climate is the desert so we normally have perfect weather when the rest of the country is freezing. Our summers get warm but we have great air conditioning, good cable TV and high-speed internet. Thank you for considering Kloe and our home for your next sit!
Our Home & Location
We live in a 3-bedroom house in a quiet and safe neighborhood. Close by (about a 1/2 mile away) is a library, a beautiful park, a "wellness center" with a very inexpensive gym, a small downtown with about 6 restaurants, a coffee house, a small museum, pickleball courts, tennis courts, good hiking trails and bike trails too. Our climate is desert so during the winter the weather is great. During the summer it is hot. Of course, that is what air conditioning is for! We have two 8-speed cruiser bicycles that would be available to use, a hot tub (in the winter only) great Wi-fi a SMART TV and two bedrooms. We have a gardener so no yard work is involved at all. Sitter would likely need a car although there is some bus service available--or uber.
House
Sitters need a car
High Speed Wifi
City
Responsibilities & Pets
Our hope is to find a couple who work from home (like I do so they can be home most of the time.) Like I mentioned above, Kloe has never been left alone for longer than 5 hours--and then not very often. We would very much like her to be walked every day at least once for about 2 miles. She could show you the route because we do it every day! She also eats a raw food diet twice a day along with vitamins once a day. She has wiry hair so there is no grooming involved. She sleeps in her crate in the bedroom so you don't have to share your bed with her! She isn't really a cuddler (sort of like a cat?), just likes having people around. And she loves her walks. (Although walking in the summertime has to be done very early in the morning to avoid the heat.) She gets along with most dogs, people (although she seems to prefer women) and even little children. But every now and then she will surprise me and bark and/or growl if she encounters someone she doesn't like. We think it best that any sitter does not bring another pet with them. Our house is not suitable for children. Overall Kloe is very easy to be around!