Cute craftsman in walkable hip San Diego neighborhood
San Diego, California, United States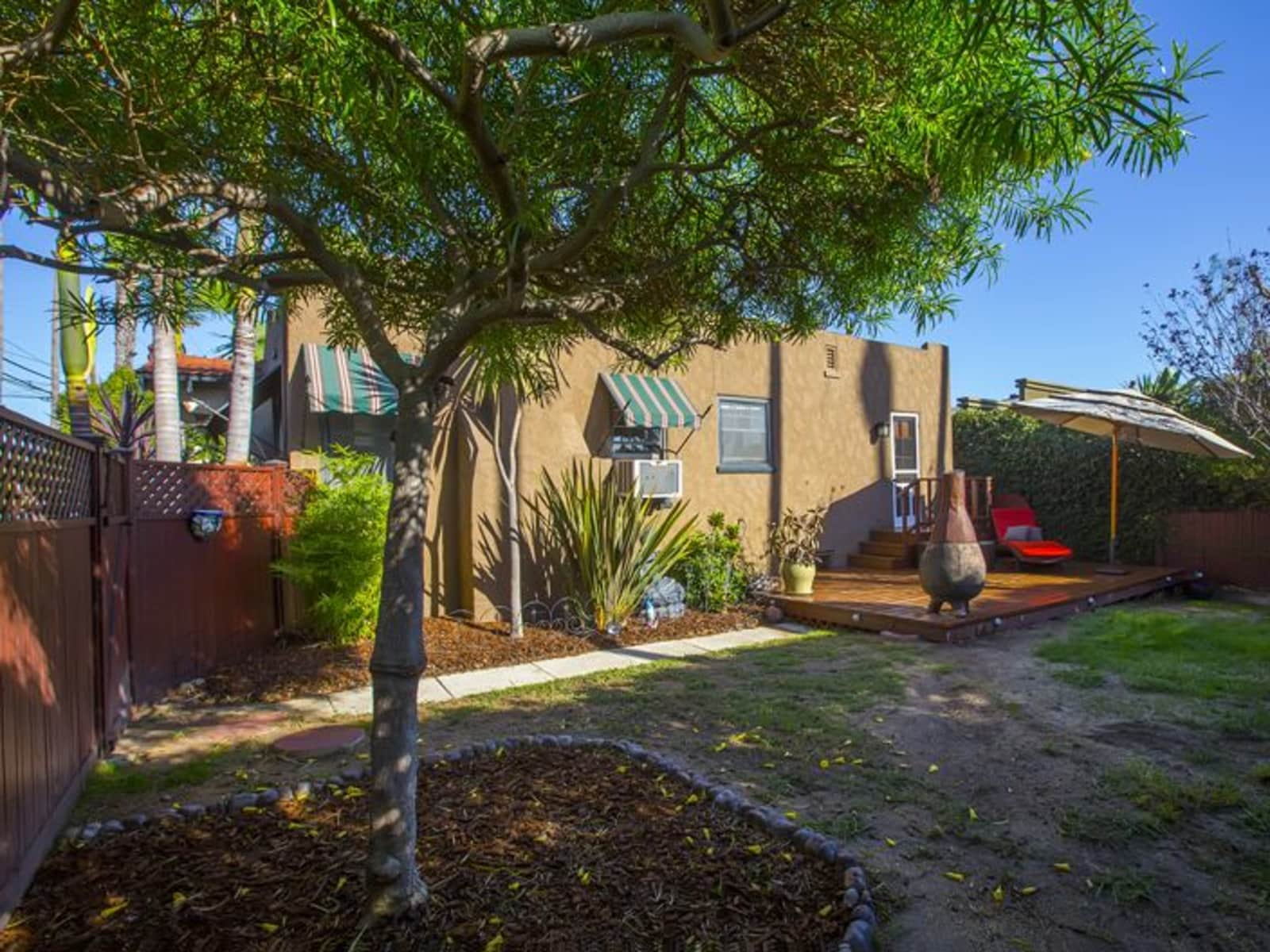 Pets
Dogs
Cat
Introduction
We are two dog/cat moms who love to travel and also miss our 4-leggeds when we do. What better fit than to have other pet lovers tend to our creatures and we to someone else's? We've lived in San Diego for about 20 years and love our 1923 two bedroom craftsman home in the neighborhood of University Heights. Dozens of restaurants, coffee shops, and bars within walking distance but we're just far enough that you aren't disturbed by the nightlife...and you can park! Balboa Park is less than a mile away and the beach, etc just down the road. Enjoy our house, pets, and garden while you make yourself at home in our home in San Diego.
Our Home & Location
The two bedroom house is in one of the many great neighborhoods surrounding Balboa Park - University Heights. Entirely walkable to food, fun, and relaxing. Trolley Barn Park is the neighborhood park and less than a mile away is the world famous Balboa Park - including the SD Zoo, Botanical Gardens, IMAX, and dozens of museums.
We are close to the 805, 163, and 8 freeways - 10 minutes from the beach. You don't need a car and wouldn't have to get in one at all to enjoy the neighborhood. Dozens of bars, restaurants, and coffee shops (complete with live music) are within 8 square blocks. If you do want to travel farther afield, public transportation is nearby and there are never less than a 10 uber and lyft drivers in the immediate vicinity. We are also 10 minutes to downtown including the Gaslamp and Little Italy. Walking distance to the Sunday Farmers Market in Hillcrest. Other neighborhoods nearby - Hillcrest, Mission Hills, North Park, Normal Heights, and Mission Valley. Great shopping and everything else you could hope for. SD also happens to be among the craft beer capitals of the country and there must be 20 craft pubs within 2 miles. We invite you to enjoy our quiet, craftsman home in a vibrant, diverse neighborhood.
House
High Speed Wifi
Beach
City
Responsibilities & Pets
Our two dogs, Bisto and Ozzie, love their walks. They get a walk in the morning and a walk in the evening. If you ask them, another must do is BALL!!! (pretty please) for Bisto, while Ozzie parks next to you in the cuddle station...the cuddle station being anywhere next to you! They also get 2 meals a day - pretty easy dry food only. Stuart, the cat, stays outside and tends to be pretty scarce with new folks. If she comes out, she's a lover and a half. If not, you'll see that she does eat her dry food and will need that replenished every day.

The rest...just bring in the mail, take out the trash, and water our fruit and veg garden....

Pretty easy as things go. Don't forget to enjoy the neighborhood! + More info
Cat: Stuart is 16 years old
Dog(s): Bisto is 6 years old, Ozzie is 8 years old