Explore Morro Bay with a Dog!
Morro Bay, California, United States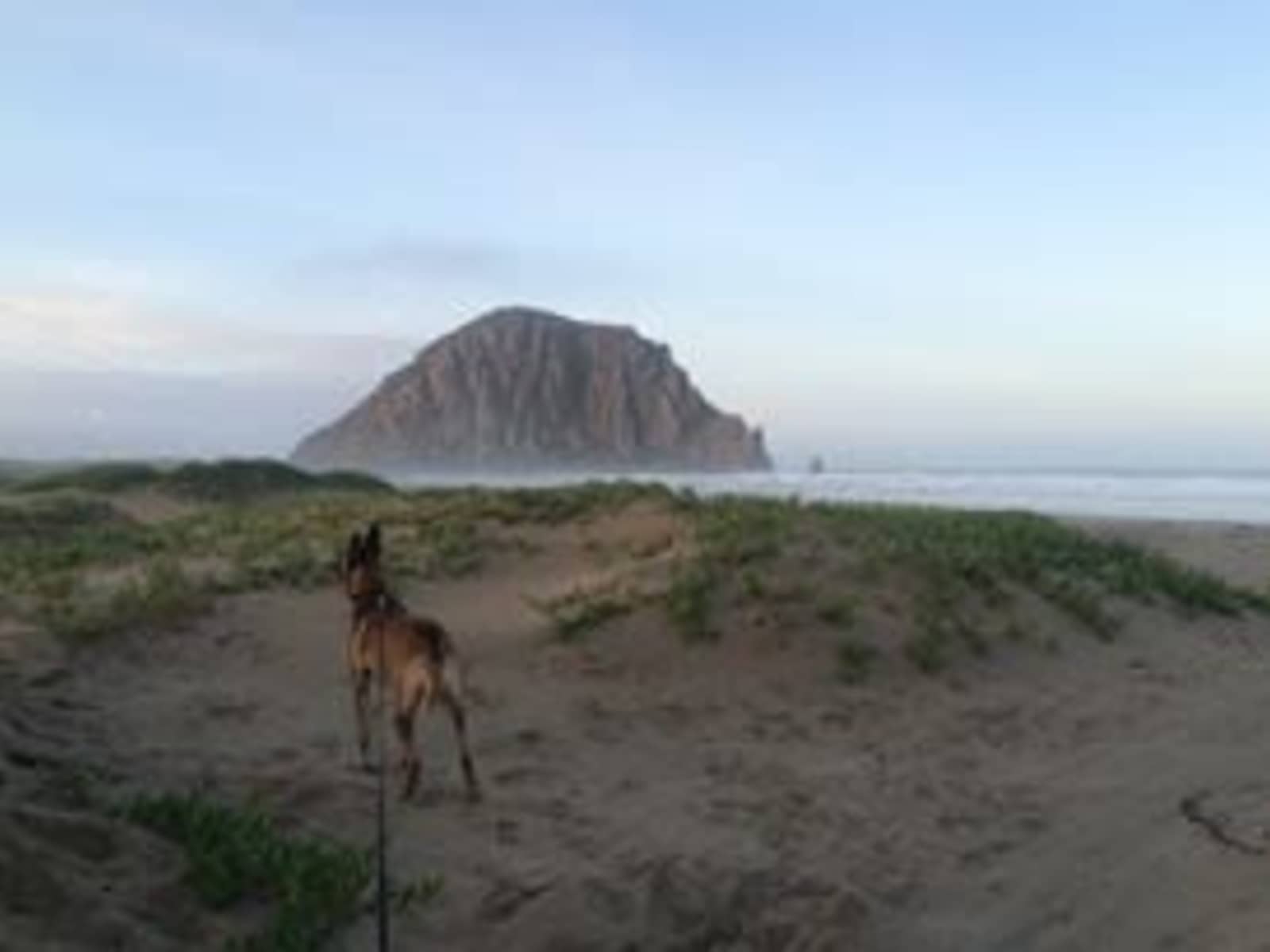 Pets
Dog
Introduction
Hi! I am Coke, a 6yr old Belgian Malinois. I am looking for some new friends to come stay with me while my owner is away on some work travel! I like other dogs, but I like playing with humans best, so I don't want to stay at a kennel. My owner is a outdoors type working professional who takes me out on adventures when she is not at work. We live in a two bedroom duplex in Morro Bay. I hope you will want to explore San Luis Obispo county me, and I have lots of great beaches and hikes to share with you! I don't mind spending time alone at home during the day, but I do hope we will get to do lots of activities together and that I won't be home alone overnight while my owner is away!
Our Home & Location
The Home

This home is ideal for outdoors-type people or those who want to relax in a beach town, who like dogs and want to spend some time in coastal central California! It is a two bedroom, one story duplex. It has a shared wall, so it is important to be respectful and quiet in the home. The next door residents are also quiet and respectful so we have a good arrangement - please no parties, loud music, very loud movies etc. You will have the guest room with a queen bed that is used only occasionally for friends/family guests. The house has one bathroom with a shower. There is a full fridge, full oven, plates, utensils, basic pots and pans for use. There is a full washer and dryer but no dishwasher. There is a TV with Apple TV. I have basic wifi but it is fast enough to stream tv shows and movies from services like Netflix. Everything in the house is available for you to use. The weather here is generally nice, so there is not an indoor kitchen table but a picnic table and round sitting table outside in the front yard. If you do not want to eat outside you can bring the smaller table indoors. I have one paddleboard and two surfboards that you are welcome to use!...

The Location

The house is in a great spot! It is about a 10 minute walk from the beach, and a 30 min walk from the miles-long dog beach. There is a grocery store about a 10 minute walk away. There are TONS of hiking trails and beautiful walks and sightseeing all over this county. I have included some below and can share even more items to keep you occupied outside for weeks! The house is in a quiet neighborhood. If you are not familiar with this area, Morro Bay is a small beach town in San Luis Obispo county which is made up of a few small towns and beach towns. There is little traffic so it is easy to explore hikes, restaurants and sights in all the towns within the county. The entire county is small and Morro Bay is pretty much in the middle. There is little public transportation in SLO county in general, so it is better to have a car if you want to see more. If you just want to relax in Morro Bay you could be ok without a car though if you used a taxi or uber to get here, and from this house you can walk many things - a nice park (5 min), pretty walking trail - see Cloisters Park below (15 min), grocery, Taco/Mexican restaurants(10-15min), dog beach (30min), and to the main town of Morro Bay (30min-1hr), however if you want to enjoy more of what the entire county has to offer, having a car is best.

Some Fun Things to Do

Morro Bay Harbor - Go paddle boarding or kayaking in the harbor and see sea otters, sea lions, and harbor seals, plus Morro Bay's iconic Rock! We have a resident population of sea otters in Morro Bay!

The Rock - walk around Morro Rock and see the otters and marine life from land, and if you go at sunrise see the hundreds of birds that roost there overnight leaving for the morning. If you're lucky you might even see our peregrine falcons!

Cloisters Park: Peaceful on-leash paved trail about a 10 minute walk from the home that goes through coastal marsh/scrub with lots of birds, and beautiful views of the Rock.

Morro Bay Downtown - nice restaurants (Dorns and Frankie and Lolas are great for breakfast with dog-friendly patios, Thai Bounty and Dorns and many of the waterside cafes good dinner and lunch options also with dog-friendly patios if weather is warm.)

Cayucos Dog Beach - about 5 miles of uncrowded off-leash beach walk, tidepooling, and beauty! Starts at North Point/Yerba Buena in Morro Bay and goes all the way past Cayucos Pier.

Cayucos Dowtown - small beach town with a few shops and restaurants... try the locally famous Brown Butter Cookie shop after a long dog walk on the beach!

San Luis Obispo Open Spaces: Hike on-leash some of the "morros" - the volcanic remnant mountains and open spaces in SLO.

San Luis City: The largest town in the county, though still small, has many restaurants and shops to enjoy.

Cambria - Fiscallini Ranch: This is Coke's second favorite place after Caycuos Dog Beach! A large, multi-acre donated ranch that has bluffs and forest for hiking... all off leash except for the bluff trail along the ocean which is on-leash. Coke has so much fun smelling everything here he does not even need you to throw a ball! Gorgeous ocean and mountain views and you can explore the cute town of Cambria after, with boutique shops, coffee shops (try Seed and Soul Thurs-Sun!), and restaurants.

San Simeon - Hearst State Beach: A fantastic beach where dogs can run off leash north of the parking lot, you can rent kayaks and paddleboards, and continue up the bluff trail, to the point, and beyond for a several mile off leash hike along beautiful ocean-side bluffs, and explore isolated coves and tidepools.

Elephant Seal Rookery- Piedras Blancas: See the elephant seals all year at the Piedras Blancas rookery, just off the freeway with a boardwalk viewing area, about a 45 min drive north of the house.

Big Sur - Pacific Coast Highway is open after mudslides a few years ago, and if you are feeling adventurous you can even drive further north and start exploring the southern areas of Big Sur!

There are many more things to do, and I have a hiking book for you to use with over 100 hikes in this county! + More info
Apartment
Basic Wifi
Family-friendly
Beach
Mountain
Countryside
Responsibilities & Pets
Your only responsibility is to have fun with my dog Coke, and enjoy Morro Bay! Coke is an 82-lb Belgian Malinois who LOVES chasing a ball or a stick at dog beach, hiking with you, talking walks, and hanging out with you at home. His favorite thing is to be the center of your attention!

Ideally you would do one adventure with him on most days, such as dog beach or a fun hike, but at a minimum he needs 2x daily walks. He gets fed once in the morning and once at night, not on a strict time frame (my own work schedule varies quite a bit), and he always needs water available in his big water dish. Coke understands you may want to do non-dog friendly things on your own as well while you are here! He is fine in the house on his own, but I would expect the sitter be there overnight so he is never alone overnight, and that he gets his one activity or 2x walk each day....

Here is more information about caring for Coke:
Coke CAN:
- Be off leash at dog beaches and off-leash dog hikes. He likes people and is friendly or indifferent to all other dogs. He prefers playing with his humans though. While he is socialized and friendly to other dogs, he does not care to play with other dogs too much - he would rather be playing with you! He WILL return to you either by recall "Come" or just on his own - since he is a people dog, even if he occasionally chases a seagull or deer, he will come back and not run too far away from you.
-Swim
- Be on leash at on leash dog areas/walking around town. He is fine with other people and dogs.
-Stay at home alone if there are non-dog friendly things you want to do.
-Enjoy treats! He does not have a weight issue or dietary restrictions, aside from things that are bad for all dogs like chocolate, grapes, onions... so you can treat him as much as you like.
-Enjoy being at home and getting pet by you! He will also sleep with you in bed if you allow him or want him to, but that is not necessary.
-Play with children under supervision: Coke is good with kids and children can throw the ball or a toy for him. However, he should be supervised because he is a big dog and children should not be allowed to roughhouse with him.
- "Sit", "Stay", "Come", "Drop It", "Say Hi", and "No!" or "Wrong!" for corrections.
-Come to outdoor restaurants with you, though he will ask to share your food.


Coke can NOT:
-Be tied up outside a store alone while you are shopping! He is a working dog breed and when tied up alone, sometimes his protective instincts kick in and he may bark at 1 out of 100 people passing by. He will not do anything or bite, but he might scare someone. Please do not tie him outside a store and leave him alone while you go inside.
-Be left alone in a car with windows all the way down - same as above - on a rare occasion he might bark at someone, or if he saw a cat, he has been known to jump out of the parked car window if it is down. I park in an isolated spot that is shady, and leave windows part way down, or let him stay at home for long shopping trips.
-Be physically punished. He is actually a very sensitive dog to corrections. Please use verbal corrections if need be ("No" or "Wrong")
-Be trusted not to chase cats! There are outdoor cats in our neighborhood and it is dark at night, so keep your eye out and him on a short leash vs retractable leash when walking him at night as he will spot the cats before you do :) + More info
Dog: Coke is 6 years old (Belgian Malinois)
Upcoming sitters
October 2018 | Deborah