In the company of furry friends near national park
San Rafael, California, United States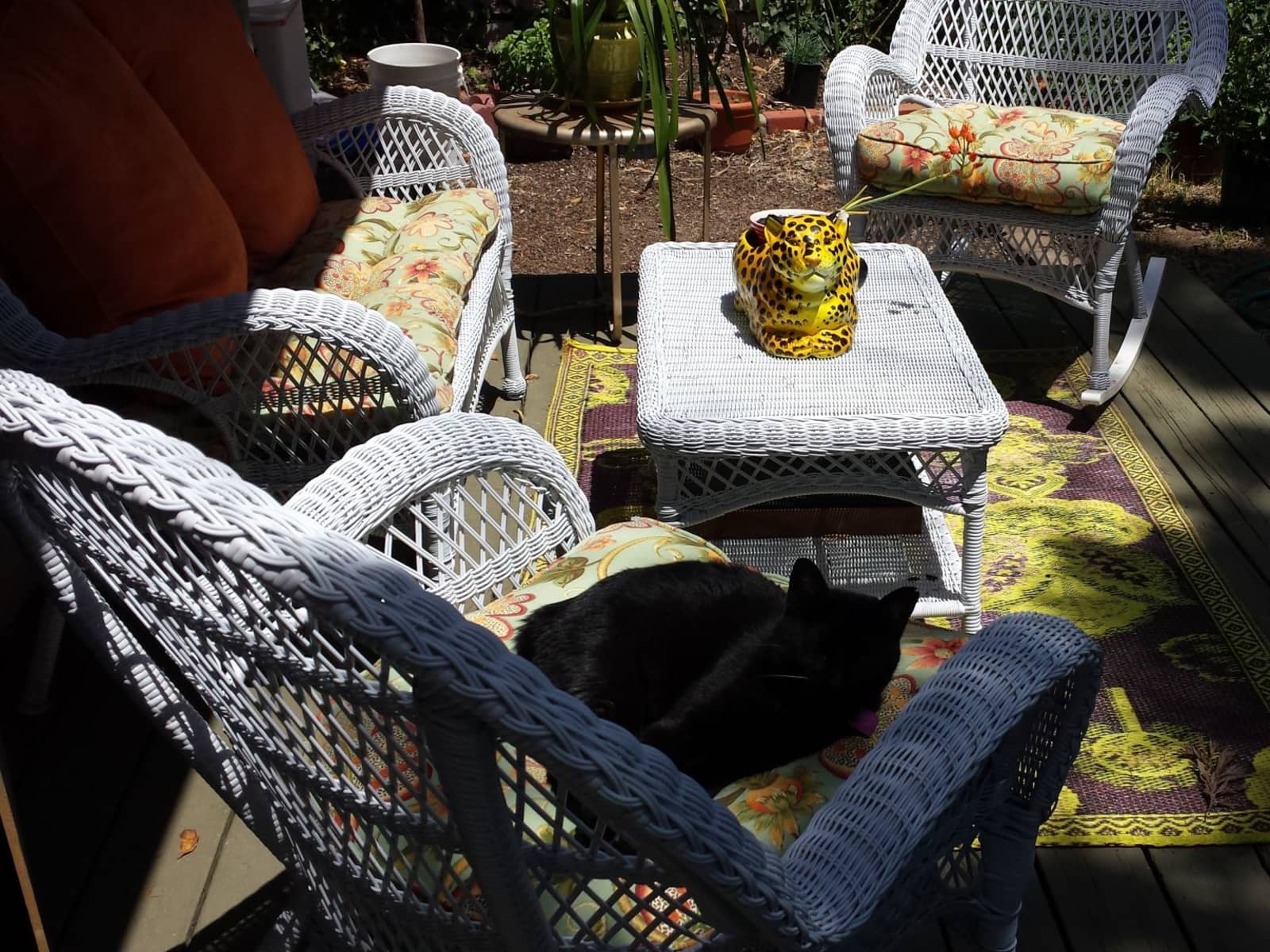 Pets
3 Dogs
1 Cat
2 Birds
Introduction
We love to travel but find it hard to get away. We have 3 friendly dogs, 1 fat cat, and 2 parrots. We offer a nice home in nature with private yard, hot tub, near China camp national park and the Bay, yet close to San Rafael and all the restaurants, movies and other cultural events. San Francisco is about 1/2 hour away depending on traffic.

We prefer sitters who are home part of the day, as not to leave our dogs alone too long. While they can get in and out by themselves in the backyard, they are used to us working at home so it would not be appropriate for someone gone every day all day long. One of my dog is terribly afraid of men, so we are interviewing single women only at this time (or 2 women) until he goes to therapy? Also we need someone who is able to drive and preferably has their own car in case of emergencies. Our vet is usually able to do home visits, but you never know. I like to interview people on skype or in person (if local). Ideally if you would like to pet sit for a weekend before committing to a longer period , we are able to do that too. You will never be lonely with our menagerie. We are close to San Rafael with many great restaurants, movie theatres, farmer's market, music venues etc.... Marin County is a beautiful place, and San Rafael is only 15 minutes to the Golden Gate Bridge and San Francisco. We get organic vegies delivered weekly, and we can get you a membership to local JCC health club for time at the pool and classes. The club has other social events too, if you need some human contact.
Thank you.
Our Home & Location
We have a three bedroom, two bath homes, with a fenced front yard and backyard. Backyard has nice trees, very private, with a hot tub. The home is simple but cozy and nicely decorated with bright colors, comfortable memory foam beds. We have a fast wifi, u-verse with full movie package and Netflix. This is a very peaceful and safe area, you mostly hear bird songs...We have nice neighbors, close to China camp beach, and downtown San Rafael. There is a nice park a block away and a nice walk around a levee by the bay as well to walk dogs. China camp has tons of hiking as well (but not for dogs).
House
Sitters need a car
High Speed Wifi
Beach
City
Countryside
Responsibilities & Pets
Feed the kids. One short walk for the small 2 dogs, one exercise on tennis court nearby for the bigger dog. Typically a dog walker I pay can provide an extra walk to the bigger dog so she gets out twice.

Spending time at home is important as they are used to two parents who work at home. Average time away could be 4 to 6 hours. A perfect fit is someone who does enjoy relaxing at home, half day, writing or working on a computer or is not gone every day all day. Would prefer someone who does not mind sharing a large bed with two small poodles... but not necessary....

The two parrots are in the garage in an indoor/outdoor flight cage with space. They need a change of water, and food daily, no need to be experienced with birds as you do not have to physically handle them. One is a blue crown conure, the other a blue fronted pionus, medium size parrots. + More info
Cat: Bingo is 2 years old
Dog(s): Sukka is 5 years old (Border Collie), Loulou is 11 years old, Leo is 5 years old
Bird(s): Jojo is 10 years old, Aisha is 10 years old