1 BR - Secluded/Quiet Area with Hiking and an Awesome Pooch (I may be biased).
Fairfax, California, United States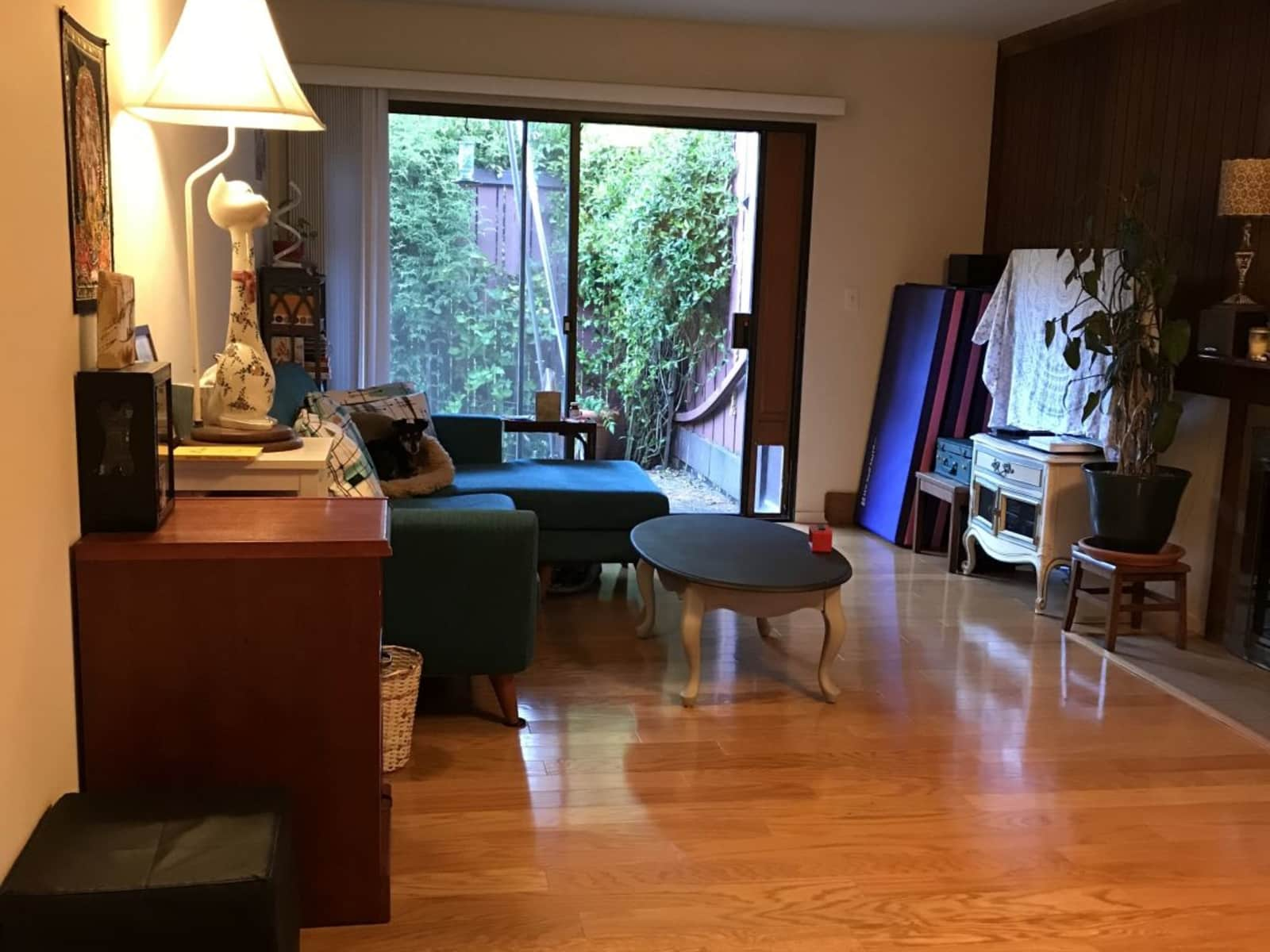 Pets
Dog
Introduction
Hi, I'm Kimberly! I have to travel a few times a year for work and would love to find someone to watch my (almost perfect) dog, water my plants and take care of my space. -- No shoes in my house -- I have clean slippers you can wear :)
Our Home & Location
I have a lovely one bedroom condo in gorgeous Fairfax with 2 hiking trails outside my door and more close by. There's plenty of free parking and I'm 40 minutes to an hour from San Francisco (depending on traffic). I'm about 40 minutes from the wine country and 30 minutes from the beach. I have a comfortable king sized bed and Jake will be sleeping with you in the bed, but he doesn't cuddle during sleep, he usually keeps to "his side" (more below) and I also detailed more about his needs and separation anxiety below. I have a comfortable couch, netflix, hulu, prime and a full kitchen. I have a nice sized back patio with a hammock :) There are upstairs neighbors who are quiet and expect the same. This is a sleepy/quiet community. I have a washer/dryer! It's outside but it's just mine! And a dishwasher! :) It's a shoeless, non-smoking house and smoking is not allowed anywhere in the condo complex.
Apartment
Sitters need a car
Disabled access
High Speed Wifi
Beach
Mountain
City
Countryside
Responsibilities & Pets
Walking Jake (a ten year old, 15 pound miniature pinscher) 1-2 times a day ALWAYS on leash. Feeding him 2x a day. Either staying home with him or taking him with you - he can't be left alone for more than 4 hours. Scooping poop from the back patio 1x a week. Watering the plants outside (back patio), on front porch and inside house 1x a week. Bringing in the mail :) Treating the furniture kindly.

About Jake: he can't be left home alone for more than a few hours at a time. He has a doggie door but his eyesight is failing and at certain times of the day he can't see it (sun glint perhaps?) and will stand outside shaking, unable to come back inside. He also has pretty severe separation anxiety. Despite his doggie issues, he's a major love!!! He also needs to sleep in my bed with you. When he first falls asleep he often needs to be above the covers laying against your leg but after an hour he will go to his side of the bed, burrow and sleep. He has been known to lightly snore and often has dreams where he whines or squeaks. That said: I'm a crazy light sleeper and he rarely wakes me up.
Dog: Jake is 11 years old
Upcoming sitters
March 2019 | kayla
---
Previous sitters