Wonderlust Couple In Need of Sitter For Our Adopted Pooches While We're Away
Middletown, Connecticut, United States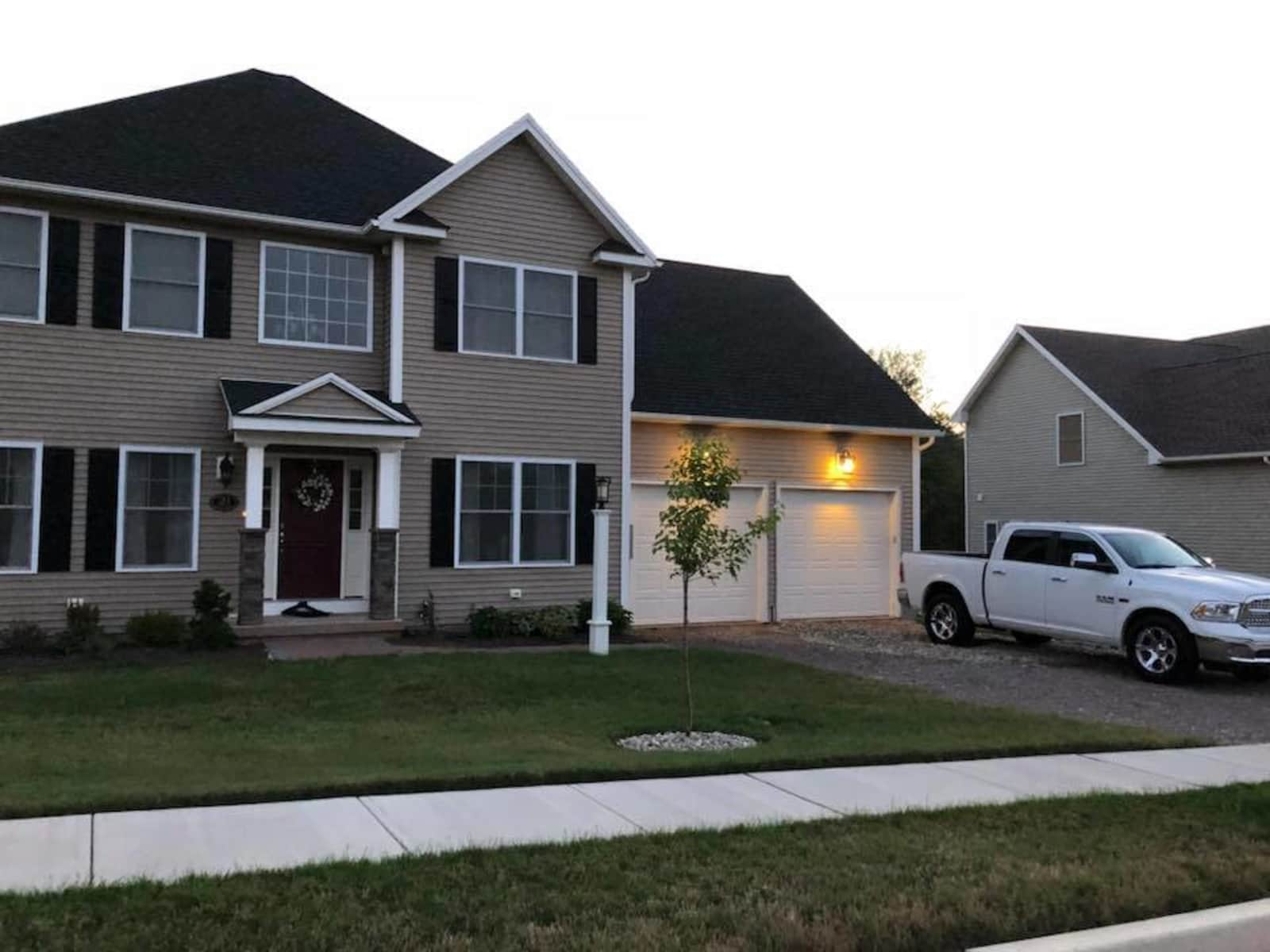 Pets
Dogs
Introduction
Hi there! We are a young professional couple that LOVES traveling; we live with the motto "work hard, play harder" and since there's no time like the present, we love visiting new places locally and around the world. The only disadvantage is that we need to leave our two beloved pups, Guinness and Harley, at home. Though they love visiting doggie day care, they don't love the kennel and tend to get homesick. We know that they simply enjoy relaxing in the comforts of their own bed than being stuck in a kennel for a week. We'd love to get to know someone that would enjoy both our fun dogs and our beautiful home.
Our Home & Location
About our home: We broke ground in May 2016 and built our dream home in Middletown, CT. We loved the cul-de-sac of a safe neighborhood, and the surrounding peace and tranquility of a wooded area built next to a reservoir. Our home is brand new and immaculate. It has 4 bedrooms and 2.5 bedrooms. Our favorite part of the house is our very large Trek deck...we love to spend time out there watching the sunset with a glass of wine while the pups relax at our feet, and we know you will too!

Middletown, CT is located conveniently in between Hartford and New Haven. There is a great downtown area that we frequent with a bunch of great bars and restaurants. We love hiking with the dogs; there are a plethora of awesome hiking places within a 10 minute drive. There is Wadworth Lake about 5 minutes away that boasts long hiking trails, CT's biggest waterfall, and relaxing beach area. We are conveniently located 7 minutes away from major highways (rt 9 and 91). We enjoy going into Hartford for theater, concerts, baseball games (Dunkin Donuts Park is a great way to spend a Friday night!) and ice hockey games (go Wolfpack!). Feel free to reach out and ask about our favorite spots!
House
High Speed Wifi
City
Countryside
Responsibilities & Pets
Because we don't have children, our two dogs, Guinness and Harley, are our fur babies and very much part of our family. Guinness is an 80 lb German Sheppard/Boxer mix. She is very shy but sweet as can be. Guinness had a rough start to life: she was abused and abandoned before I rescued her several years ago. She's shy with strangers, but take her for a nice walk and you'll earn her trust and a lifelong friend! She loves going for long walks and hikes and car rides, and likes nothing more than to relax on the couch. She is aloof with new people, so we ask that you respect her space. She likes to just watch from afar until she gets to know you better. She's very well trained and easy to care for.

Harley is our new pup. We adopted him last fall after he was displaced from Hurricane Harvey. The vet think he is 12-18 months old. He is full of energy and is just a little love. He loves belly rubs and to be played with. He has many toys and plays with them all day. He loves running around outside on the grass. Harley is crate trained; He stays out of the crate when you're home and is put in the crate when not being supervised. Both dogs eat twice daily and go out for potty breaks throughout the day. The invisible fence makes it easy at nighttime.
Dog(s): Guinness is 5 years old (Rescue dog), Harley is 2 years old (Rescue dog)