Sun, Pool, Beach, Snorkel, Jet Ski, Fishing, Florida Keys
Homestead, Florida, United States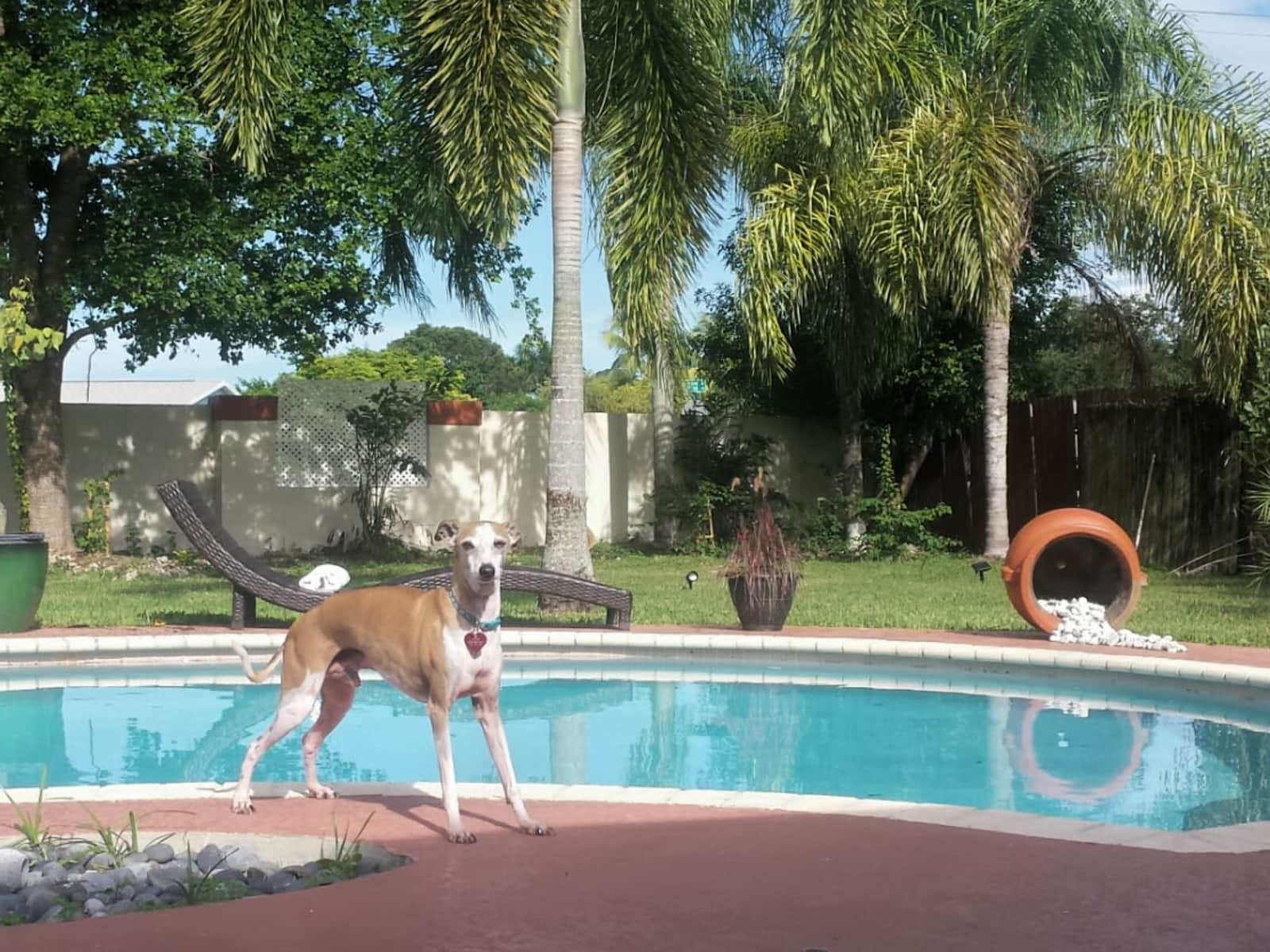 Pets
Dogs
Introduction
Hello. I'm Robin. I've been rescuing Greyhounds from racetracks for 20 years., so I always have four running around this house of mine. I have 2 Greyhounds and 2 Italian Greyhounds. I am a Court Reporter. Sometimes I need to travel for work. These dogs are my family and I always want the best for them.
Our Home & Location
I bought my home out in the Redlands area so that my dogs would be able to get enough land to exercise without having to be walked, so the yard is fenced in and you won't have to take them for walks at all. Just play times in the back yard. I also have a wide open floor plan, made especially for the dogs, so there's plenty of room in the house as well. There's a gorgeous beach just 20 minutes from my house. Homestead is the place where all exotic fruits are grown and sold at fruit stands all over. The Keys are only four short miles from my house, where you can snorkel, sail, dive, kayak and jet ski to your heart's content. None of my dogs swim, so you will need to be extra extra careful with the dogs around my pool! The pool is crystal blue perfect temperature. The patio is roomy and comfy cozy for morning coffee in the mornings and a late evenings by the pool with the dogs. If you like resort, relaxed living, you'll enjoy your stay here.
House
Sitters need a car
High Speed Wifi
Beach
Responsibilities & Pets
Feed Breakfast at 7 ish a.m. Feed Dinner at 6 ish p.m. Give specified snacks during the day. Let out in the back yard at least 6 times a day. Never are they to be alone for more than 5 hours in the house. Never let them out of your sight when they are in the back yard because of the pool. none of them can swim. dog walking is never required as i have a large fenced back yard. My two Italian Greyhounds wear belly/paddy wraps that need to be put on when you leave the house so they do not pee on anything, as they are 13 and 14 years old. they love to wear them and have been for 10 years now. so they're very used to they're belly wraps.
Dog(s): Titan is 6 years old (Greyhound), RAFAELLA is 7 years old (Greyhound), Alpacino is 14 years old (Italian Greyhound), Stefano is 15 years old (Italian Greyhound)