CHRISTMAS ON THE BEACH...IN THE CITY!
Chicago, Illinois, United States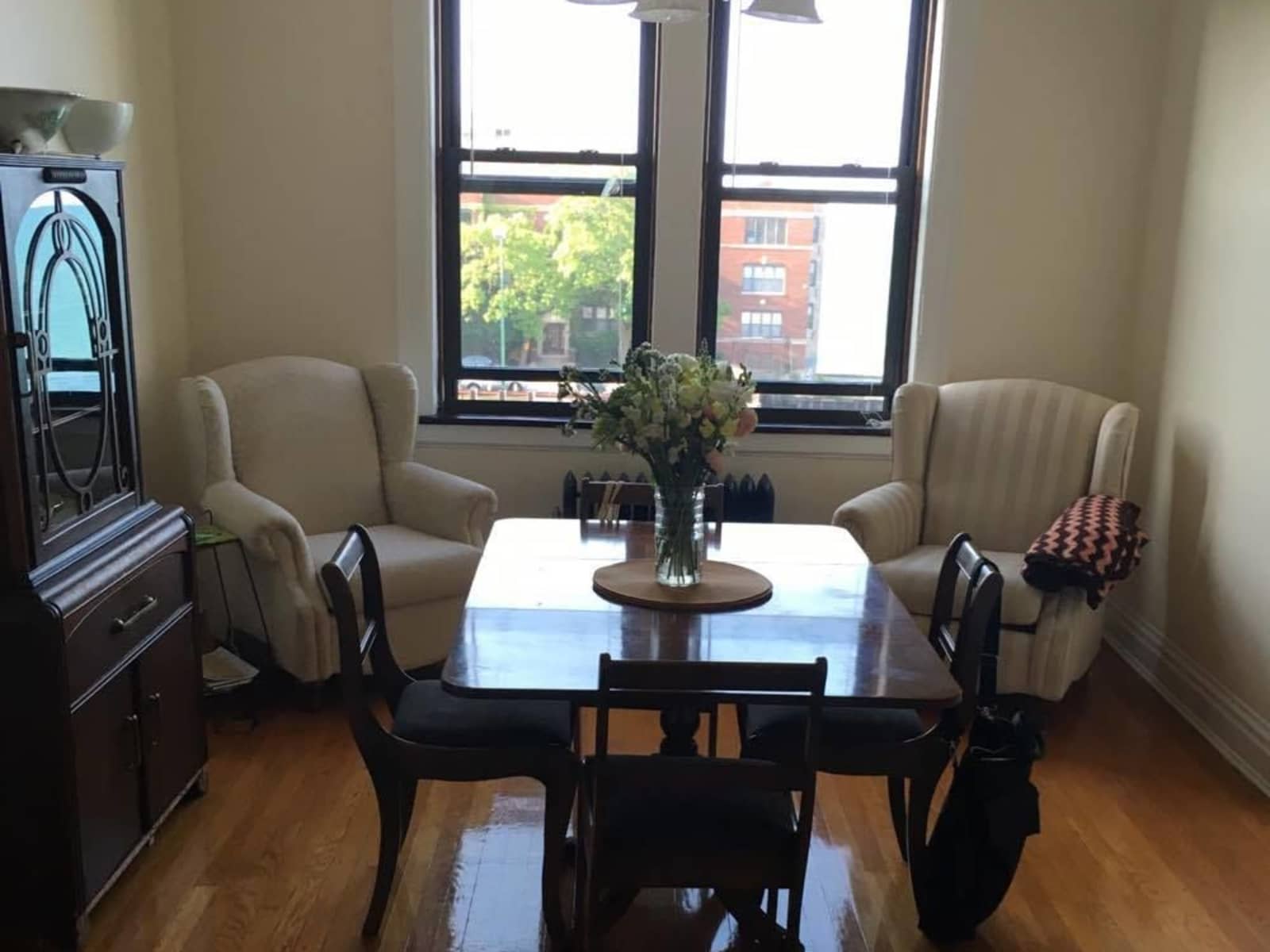 Pets
Cat
Introduction
Hello! Do you want to get away from the hustle and bustle of the holiday season? Avoiding family and capitalist notions of joy? Maybe you're coming to Chicago to spend the holidays with loved ones!!? We're Madison, a PhD student at Northwestern University, and Robert, a record dealer and label owner. Madison is originally from Toronto and Robert from Oklahoma, so we're doing some traveling over the holidays. We don't generally go away for long periods of time— a week or so— and we're flexible based on your own travel plans. We're quiet, like to cook, read, watch movies, drink wine...and this apartment is a DREAM to do these things in!!!
Our Home & Location
This apartment is wild! On the third and top floor of a vintage building in Rogers Park, which is North Chicago, you can walk down the stairs right onto Rogers Beach Park. The 1 bedroom, dining room, and kitchen all look out over the water. Although the apartment is quite close to a major street, you don't hear anything but waves crashing-- AMAZING to sleep to. The apartment is a ten minute walk to the CTA Red, purple, and yellow lines, which take you downtown in a flash. There are plenty of restaurants, bars, shops, grocery stores, pharmacies --truly anything you could need -- within walking distance. The beach is the perfect place to bring a book, a picnic, or even swim! Water is clean and refreshing! Feels like being on vacation with all the amenities of the city at your doorstep...
Apartment
High Speed Wifi
Beach
City
Responsibilities & Pets
Prince is recently adopted (hooray!) but we have been fostering him for about a year. He came from a rather traumatic situation and was very thin and frail and anxious when he first moved in. With lots of TLC, he has really come around, has fattened up, relaxed, and done nothing but love us. He is a very small kitty although he's an adult. He loves to play with his mouse on a string, but mostly sleeps, snuggles, and looks at the birds out the window.

Because of his traumatic past, we hate to leave him alone for long. We're not asking for much in the way of responsibilities. If you love kitties, you already know the drill. The Prince eats once in the morning and once at dinner time. Regularly freshening his water and scooping his litter. Mostly just looking for someone to pat him and scritch his ears and snuggle him at nighttime (he's so sweet and snugglY!) Please note: Prince does not get along with other animals.
Cat: Prince is 7 years old