Care for my sweet 9 y.o. Labradoodle less than 2 miles from Downtown Boston
Brookline, Massachusetts, United States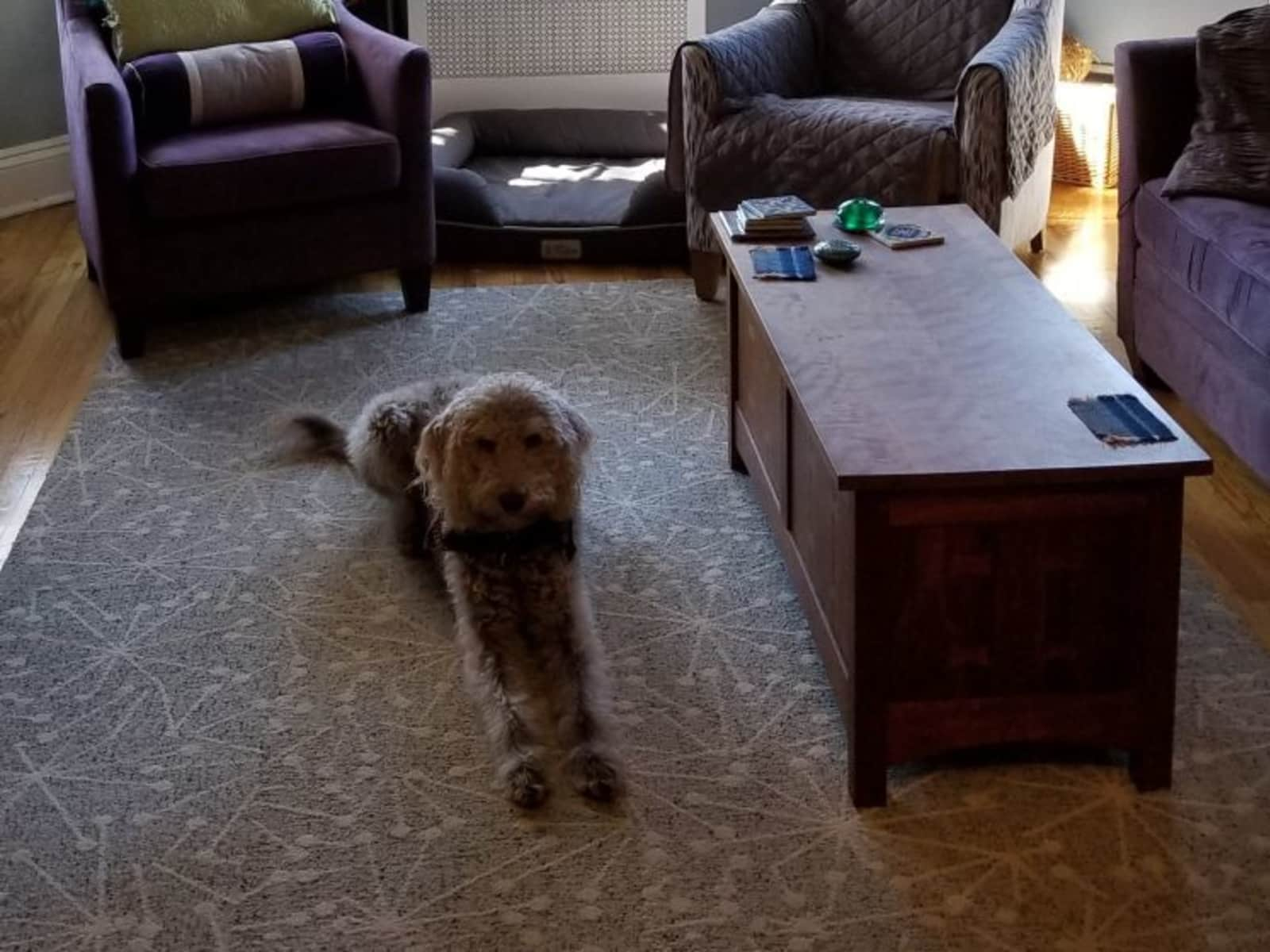 Pets
Dog
Introduction
It is just me and my girl (dog) Darby. She has a bit of separation anxiety, so I am not keen on kenneling her when I need to be away. I do my best to find a good sitter to stay with her, so that she can stay at home.

Darby is smart and well behaved. The behavior that I have not spent enough time addressing is jumping. She is very friendly and wants to jump and kiss people. She is a good walker and likes most dogs....

Darby has Inflamotory Bowel Disease, a chronic condition which is well managed through presciption dog food and 10mg of famotidine before feeding.

I work at a college and Boston and have to travel occaisionally for work. I also need a sitter every once and a while for a weekend away, or 1-2 weeks vacation annually. My condo is in a great location, less than 1/2 m. to Coolidge Corner (shops, restaurants, bookstore & movie theatre) and 3 blocks from the "B" train on the Green Line. + More info
Our Home & Location
On a scale of 100, my condo has a "walk score" of 90. It is a great neighborhood with several parks, 3 blocks from public transportation and very safe. Three blocks to Commonwealth Ave and a CVS, Target, Banks, coffee shops and restaurants. One half a mile to take a walk along the Charles River.

My condo is 2 bedrooms, 1 1/2 bath with a deck off the kitchen.
Apartment
High Speed Wifi
Family-friendly
City
Responsibilities & Pets
Darby would need to be walked at least 2x daily (morning and evening). She loves to walk, so anything more than that is a bonus. She eats 1-1 1/2 c. of food 2x daily (morning and evening). Before food, Darby needs 10mg. of famotidine orally.

For stays more than 3-4 days the plants might need attention and it would be great for the mail to be brought inside.
Dog: Darby is 9 years old