Looking for someone to take care of my "crew".
Burnsville, Minnesota, United States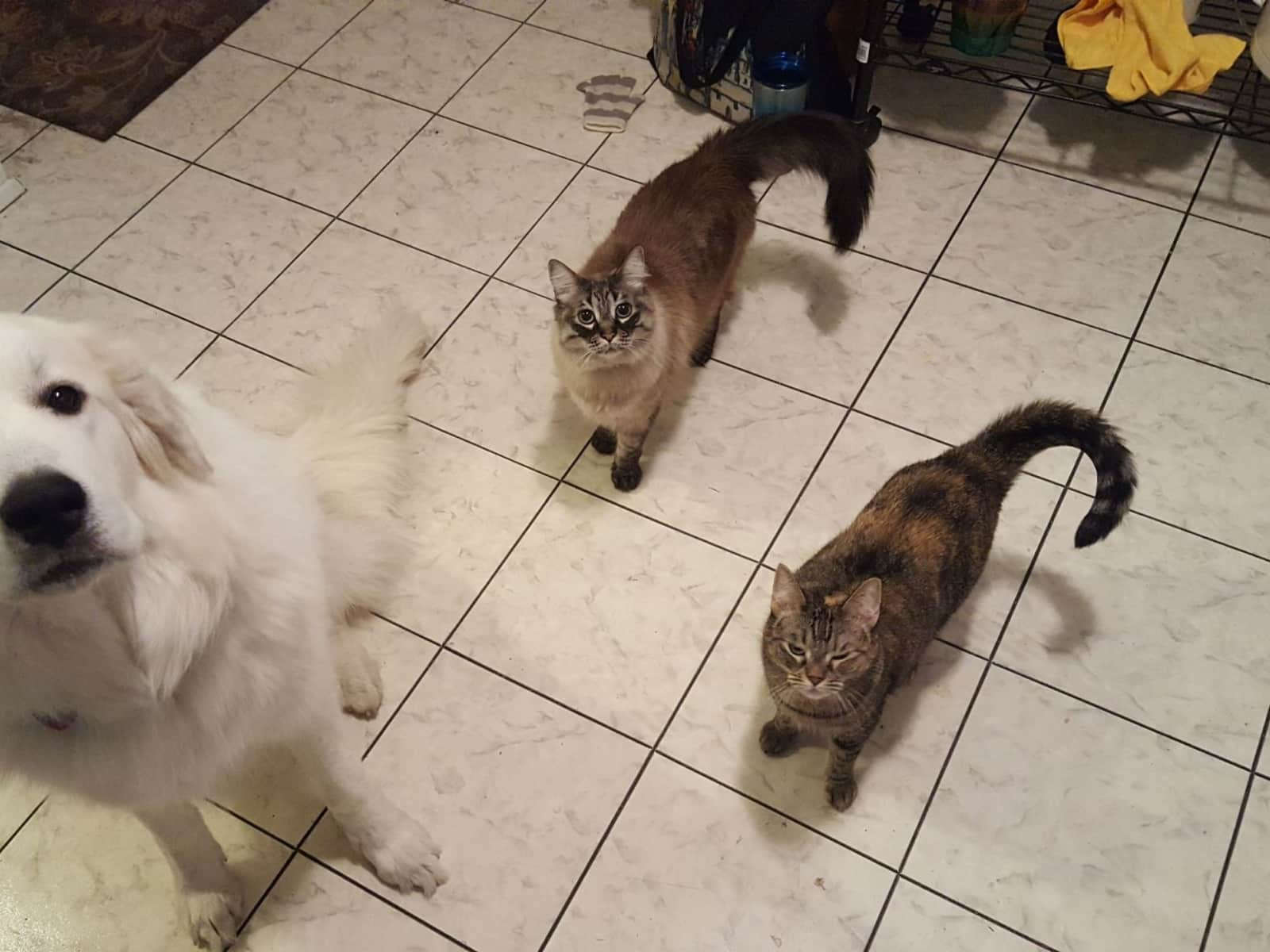 Pets
Dog
Cats
Introduction
Hi. I'm looking for a sitter for my "crew", Frankie, Alfred, and Eloise. I live in Burnsville, MN, about 20 miles south of both St. Paul and Minneapolis. There may be three 4-legged bodies that live here but other than the cats playing sometimes it is really calm. As a Great Pyrenees, Frankie is very mellow and unlike a Pyr, she's very people oriented. She loves everyone! Since the cats are older they are pretty mellow and love to drape themselves over you. Alfred is very outgoing whereas you probably won't see Eloise for a couple days as she's not too great with changes and having new people around.
Our Home & Location
I'm in an 1 bedroom apt right in-between I-35W and I-35E (8 minutes to get to either one). It's a 3rd floor apartment (with elevator) without great views but it reasonably quiet. The apartment also has central A/C, a dishwasher, and washer/drier. It's a decent size, abt 830 sq ft.

It's a perfect spot and you can get to everything really easily. As stated in the introduction it's easy to get to Minneapolis and St. Paul and it's also about 20 minutes from the outlet mall. If you feel like heading north for a day trip, it's about 2.5 hours to Duluth and about 45 minutes to Stillwater. The Minnesota River Wildlife Area is also about 20 minutes north on I-35W.
Apartment
Sitters need a car
High Speed Wifi
City
Responsibilities & Pets
Responsibilities include the normal dog and cat duties: Feed and water, scoop litter box every other day and take Frankie out a few times a day. The amount of time Frankie can be out depends on the temperature. If it is cool late in the evening she can go out for a walk. Since she has a double coat she can over heat very quickly. The dog park is a no-no. Like many Pyrs Frankie has no recall and has a history of being a fence jumper. The animals are used to me working all day though so they can go a long time without someone being here.
Cat(s): Alfred is 8 years old, Eloise is 6 years old
Dog: Frankie is 5 years old (Great Pyrenees)
Previous sitters