Home and pet sitter needed in beautiful north-central Montana
Fairfield, Montana, United States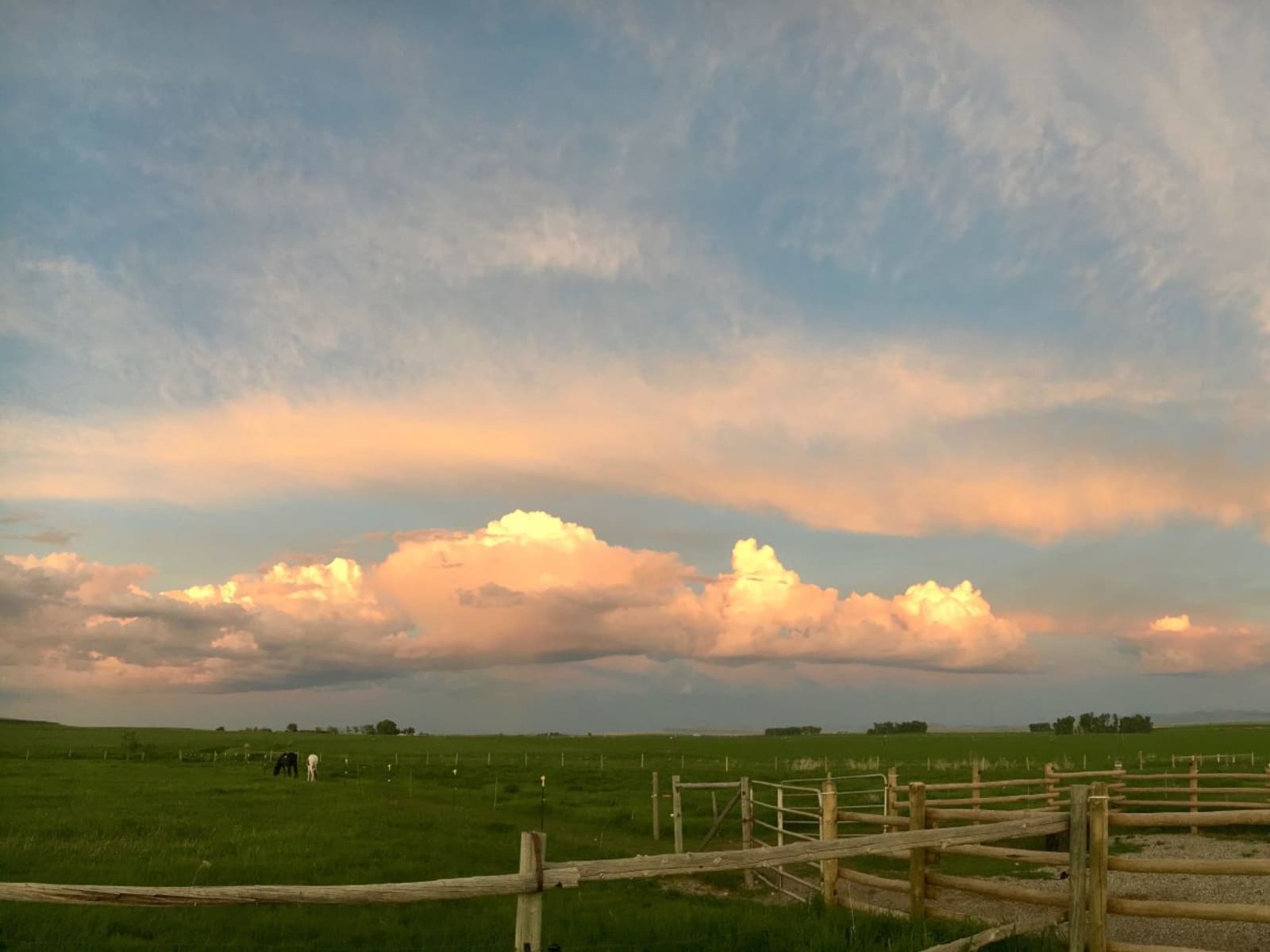 Pets
Dogs
Cats
Horses
Fish
Introduction
I have 5 acres of horse pasture and a large yard with vegetable and flower gardens. Also a large, sweet dog who is half Wirehaired Pointing Griffon and half Labrador and a Border Collie, Pepper. There are also 2 cats that are indoor/outdoor cats, 2 horses, and a small goldfish pond.
Our Home & Location
The location is very rural. It is about 13 miles to the nearest small town. I am located half-way between the small town of Augusta, MT and the other small town of Fairfield, MT. Great Falls is the nearest good sized town and it is about 50 miles away.
There are phenomenal views from the property and lots of outdoor recreation opportunities nearby including fishing, floating, boating, and hiking. The Rocky Mountain Front range is the continental divide and where the Great Plains end and meet the Rocky Mountains. Lewis and Clark passed a few miles from my house. The area includes the Bob Marshall Wilderness complex which is 1.5 million acres of protected recreational land. The Sun River is nearby as well as several nice, little frequented, lakes. I am about 2 hours from Glacier National Park and about 3 hours from Yellowstone National Park. It is very peaceful and quiet with lots of wide open space, surrounded by grain fields, the Rocky mountains to the west and lots of buttes and bluffs to the south. Beautiful sunrises and sunsets....
Sometimes there is enough snow to x-country ski from the house along the ditchbanks, canal, or in the farm fields. Winter here is a good time to read and work online!
I have a tv but no cable or satellite. It is a smart tv that airs Netflix, Hulu, and Amazon Prime. There is a piano too.
My home is very modest. I don't have a guest room but you are welcome to sleep in my bed or the futon in the living room. Suitable for a single person or couple. + More info
House
Sitters need a car
High Speed Wifi
Mountain
Countryside
Responsibilities & Pets
I have a "special needs" dog. Little Guy has megaesophagus so he can't eat any solid food. All of his food needs to be made in the blender twice a day. He can only eat in the form of "slurry". The horses are sensitive to green grass so during spring, summer, and fall, they need to be fed twice each day with limited turnout. During the winter, their care is very minimal since they are allowed full turn out on the dead grass. Cleaning their corral happens at least every 3-4 days (I usually do it every other day so it isn't as big a job) and less frequently in the winter. The dogs love to go on walks and need to be fed twice a day. Little Guy wears a mesh hood when he goes on walks, because of his megaesophagus, to keep him from scavenging.The dogs sleep inside but are not allowed on the furniture. The cats need to be fed twice each day and they sleep in the garage at night. Their litter box in the garage needs to be scooped once each day. The goldfish in the pond are fed once each day in the summer but not in the winter. There are gardens and hanging baskets that need to be watered once each day. There are big sprinklers in the pasture that need to be moved at least several times a week for watering. Regular lawn sprinklers need to be moved around. No lawn or garden work needs to be done in the winter.
Horse(s): Gator is 30 years old, Indigo is 18 years old
Fish: Outdoors, Goldfish in pond
Cat(s): Josie is 16 years old, Wilson is 8 years old
Dog(s): Pepper is 11 years old, Little Guy is 7 years old