Love my fur-kids in northern Rockies paradise
Florence, Montana, United States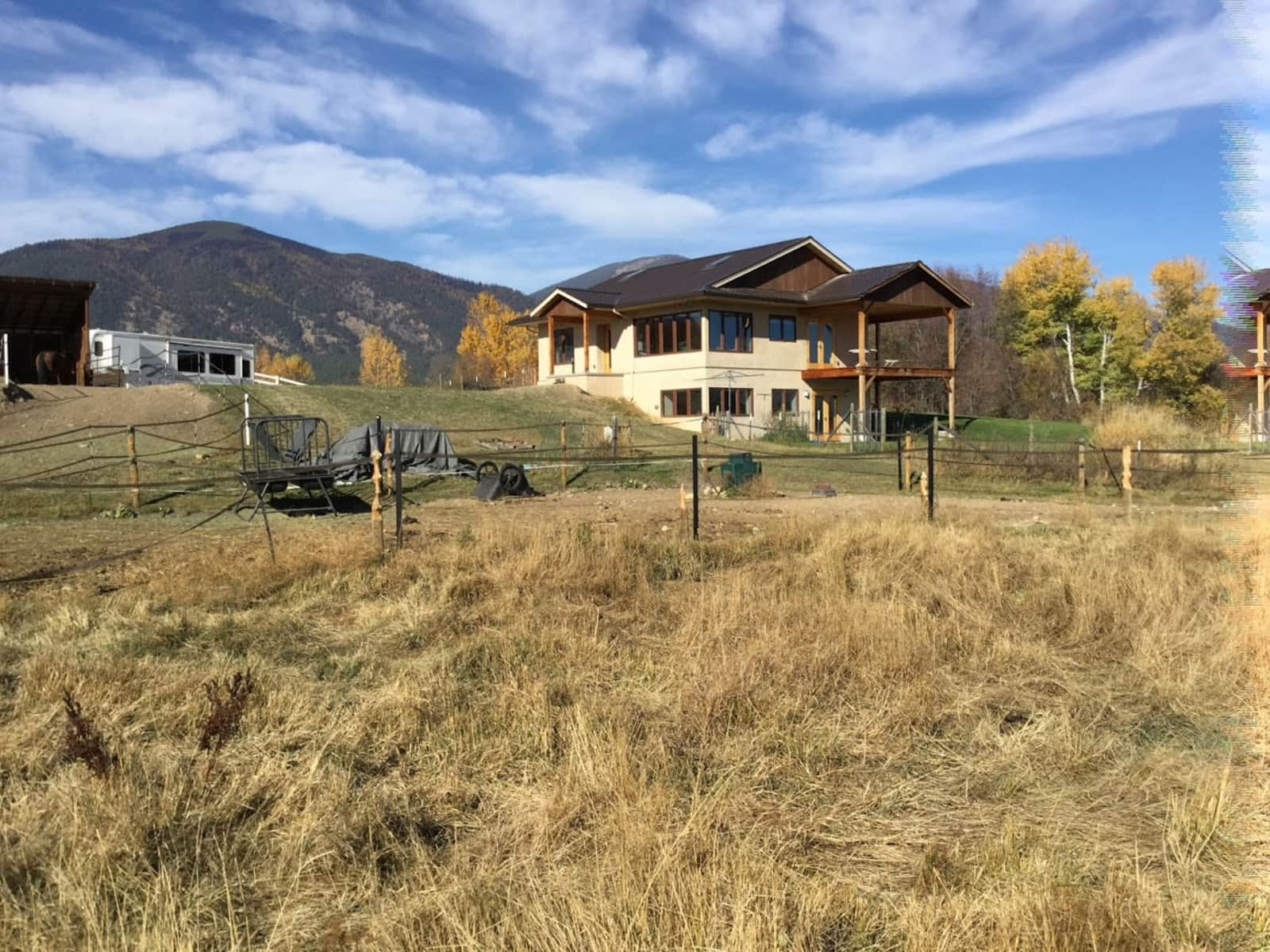 Pets
Dog
Horses
Farm animal
Introduction
I need an animal lover to give attentive love and some daily food to my tiny dog, 2 small donkeys and 3 big horses while I visit my family this spring.
Our Home & Location
I am just off Hwy. 93 in the Bitterroot Valley of Montana, between the Sapphire Mountains to the east and the Bitterroot Mountains to the west, 1.5 miles south of Florence which is 16 miles south of Missoula. A car would be needed to get to all of Missoula's amenities (University of Montana, A Carousel for Missoula, shopping mall, etc.) but a 50-mile paved bike path (1/3 mile from house and said to be the best in the U.S.) running the length of the valley can connect you with the restaurants and other services in the small towns in the valley. I have bikes! There are infinite hiking possibilities just a few minutes drive (or ambitious bike) to the west in the Selway-Bitterroot Wilderness and the Lolo National Forest. Mountain lakes and mountain passes and the Bitterroot River can be enjoyed in single-day outings. The 2,000+ acre Lee Metcalf Wildlife Refuge is 9 miles away, and migratory waterfowl in abundance frequent it from a major flyway. My home is a peaceful 10.25-acre paradise surrounded on three sides by open land and at the end of 1/4 mile of private road. The house is new and as yet unfinished, so simple, but is of straw-bale construction and built along all sustainable principles, so very comfortable with daylighting, passive solar heating and natural cooling. No T.V. by choice, but I have high-speed internet and cell phone capability. I named it Eden's Meadow for good reason. It's heavenly! I'm at least 1000 miles from any family, so I'm anxious to make plans for my spring trip to visit them!
House
Sitters need a car
High Speed Wifi
Family-friendly
Mountain
City
Countryside
Responsibilities & Pets
I need an animal lover who doesn't need horse experience per se, but should not be afraid of them. I want my dog to feel loved and not abandoned. He won't demand it. Eddy, age 9, lives for simple adventures even though he is now blind. He was rescued from abysmal circumstances and is adorable. Keeping kibble in his dish is all he needs. The donkeys (Eli 20 years, Boaz 12 years, both rescued) demand, and give, love whenever possible, and keeping them from visiting the neighbors by keeping the gate across the drive closed is key. No other requirements. The sibling horses (Encore 19 years, Maestro 20 years and Ocarina 21 years) will need hay morning and evening (the donkeys steal from them) and grain sometime in the middle of the day. Keeping an eye on things to notice fence breaks or whatever is essential (repairs with my electric fence are easy), but 8-hour day excursions should be no problem.
Horse(s): Ocarina is 21 years old (Trakehner), Maestro is 20 years old (American Warmblood), Encore is 19 years old (American Warmblood)
Farm animal: Donkeys, One medium-sized gray jack (Eli), age 19 and one small white with brown patches gelding (Boaz), age 9.
Dog: Eddy is 9 years old