Rural off-the-grid passive solar Adobe house
Cerrillos, New Mexico, United States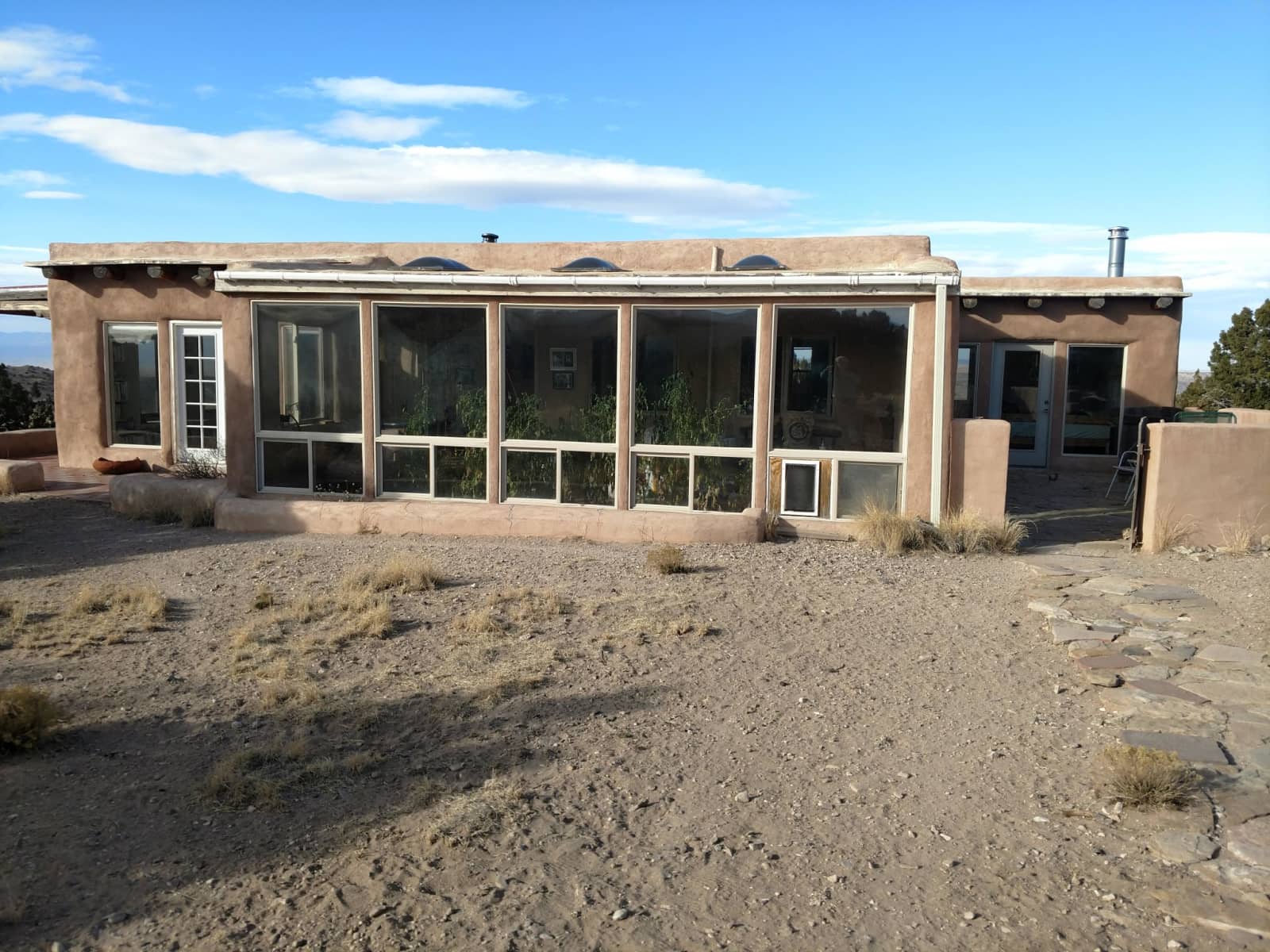 Pets
Dog
Cat
Introduction
I'm a retired middle school teacher devoting my waning years to my life-long passion for horses. Since there are limited facilities and opportunities for lessons/clinics/competitions for the type of riding I do (eventing), I'm loading up my Mustang and off-track Thoroughbred and heading to Vermont, where there are lots more.
Our Home & Location
I built my adobe house in 1998-9. Though I love it and many people who visit do also -"it has a wonderful feeling" is the usual comment - it does show signs of having been built by an amateur. Location is 3 miles west of Madrid, New Mexico - a small, funky, hippie, artists community. 35 miles north is the city of Santa Fe with shopping ranging from Walmart and thrift shops to high-end boutiques, organic only and traditional grocery stores, great restaurants and many cultural and artistic happenings, as well as the jumping off point for great mountain hiking.
The house sits on 40 acres of pinon-juniper desert - great views, peaceful and quiet, good neighbors, organic garden ready for planting, WiFi. A wet winter, so looking forward to a profusion of wildflowers this year....
It is truly rustic off-the-grid: electricity only from solar panel, water from roof run-off into cisterns, heat from the sun with wood stove backup, composting toilet (or outhouse if you prefer). One concession - a propane hot water heater. + More info
House
Sitters need a car
Basic Wifi
Countryside
Responsibilities & Pets
For house: batteries for solar system need to be checked monthly and topped off with distilled water as needed; propane level needs to be checked occasionally; inthe event of cloudy days, meter needs to be watched and electricity use, including unplugging fridge, curtailed as needed.
For pets: I will buy enough food for the duration, and reimburse if you run out. They get fed morning and evening. There is a pet door so during the day they can go out and in at will - yard is fenced. Rusty needs to be closed in at night to protect him from coyotes, owls, etc. Vinnie likes walks. Rusty likes laps.
Cat: Rusty is 9 years old
Dog: Vinnie is 13 years old