Spend the winter holidays 20 minutes North of Santa Fe, NM!
Pojoaque, New Mexico, United States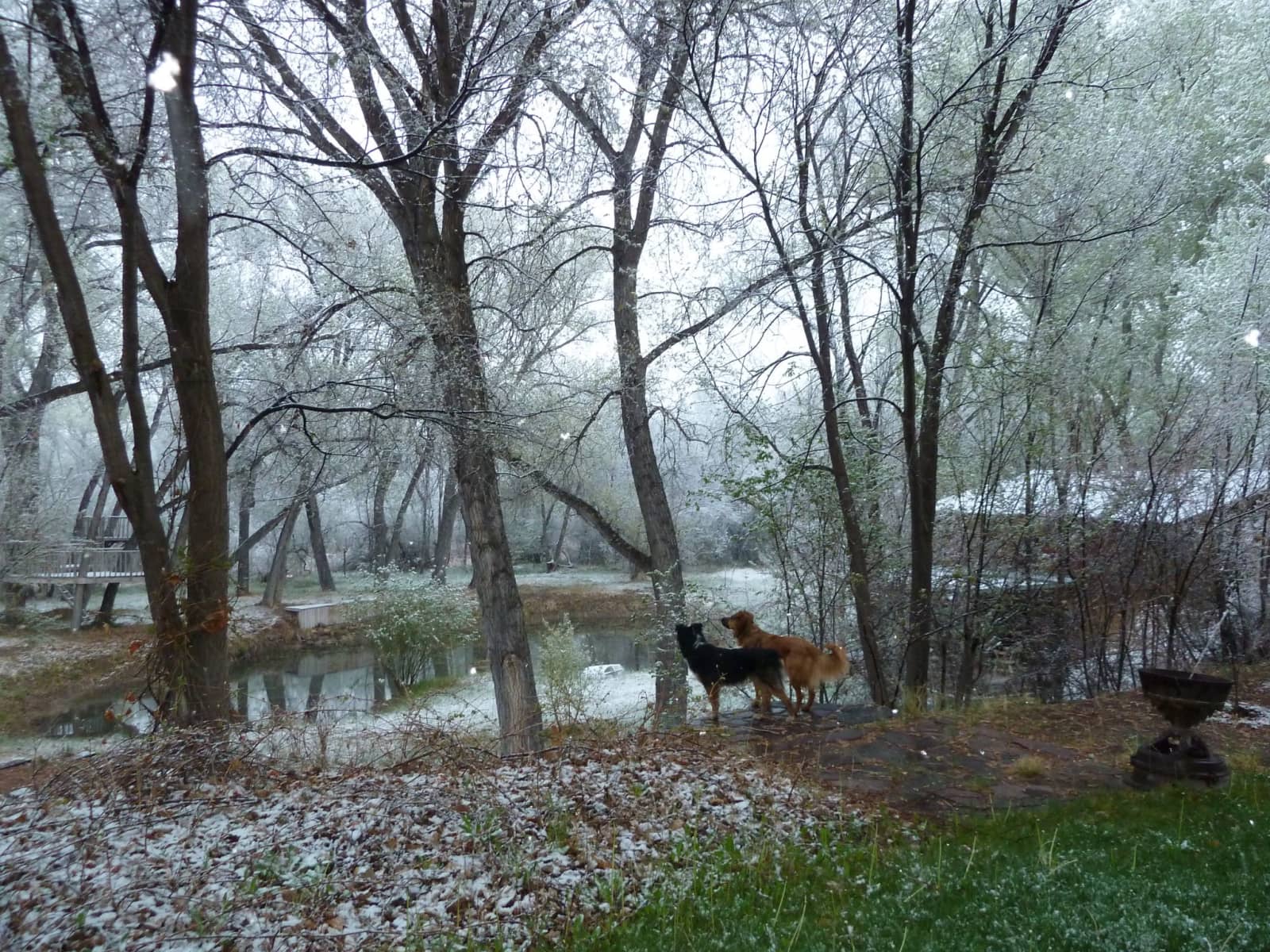 Pets
Dogs
Cat
Introduction
Looking for a mature, non-smoking, animal-loving couple (required) to stay in my rambling adobe hacienda on 3 1/4 acres 20 minutes North of Santa Fe to care for 2 (of 3) dogs and a cat. It would be best for sitters to arrive a couple of days beforehand to familiarize. Dates are still being finalized and may shift slightly. We will be gone for nearly 7 weeks, including Thanksgiving and Christmas.
Our Home & Location
The house is in the Nambe-Pojoaque Valley, a quiet,rural community a 20 minute drive from Santa Fe or Los Alamos, an hour south of Taos and an hour and a half to Albuquerque airport. Nearby beautiful hikes, either right out the door, or by driving for 5 or 10 minutes to trails. There is a full scale fitness center with pool and a small library less than a 1/4 mile from the house. A quick trip to Santa Fe can satisfy any needs for shopping, services and entertainment.
The property is private and quiet. The lower section is in the lush, riparian 'bosque' with a pond and a small river running through it. The classic, older adobe is large and comfortable and has an office with wifi, a living room with flatscreen and blu-ray (but no network or cableTV), a well-equipped kitchen, and 3 recently renovated bedrooms and 3 1/2 baths....
Please keep in mind that the Santa Fe area is high altitude --we are at 6200 feet and the city of Santa Fe is at 7000'. The dates for this sit will probably receive mostly dry, sunny-but-wintry weather but snow and/or freezing temperatures are likely to occur. There are several ski areas and an ice rink within an hour's drive which usually open around Thanksgiving. + More info
House
Sitters need a car
High Speed Wifi
Countryside
Responsibilities & Pets
Care for: Hugo, a 13 year old tabby; Tucker, a 10 year old Australian Shepherd, and Suki, a 5 year old yellow American Field Lab. The dogs get about an hour-long daily walk off-leash on one of the many beautiful, nearby trails in open country. There is a third dog, Leo (a calm, mellow 14 year old GSD/ Golden mix ) At the beginning Leo will board about 7 minutes away at a separate facility . Tucker will go there when Leo comes home for alternate weeks. The two dogs do not get along well so I do not expect a sitter to deal with the disharmony, but wish to split their time being boarded away from home and the sitter will need to pick one up and drop off the other every week or 10 days. Suki the female lab gets along with both male dogs.
There is a fenced yard the dogs may play in during the day and it is connected to the house off a comfortable covered portal with sheltered dog beds....
The cat is friendly and will want to sleep with you or perch on shoulders. He has a cat door some of the day and may want to go out if it is warm, but from coyote cocktail hour until coyote breakfast he must stay indoors and lives mostly in the kitchen, including counters....
They all get fed twice daily: raw food with some kibble and various supplements. I will leave their meals prepared but the frozen raw food will need to be regularly thawed ahead. There is a learning curve...
Duties include mail pick up every few days at a box nearby, and status reports/messages via phone or email to me when necessary. The regular cleaning/maintenance person will come several times during the sit to wash floors, etc., but some basic maintenance cleaning and watering potted plants will be needed. + More info
Cat: Hugo is 14 years old
Dog(s): Suki is 5 years old (Labrador Retriever), Tucker is 10 years old (Australian Shepherd), Leo is 14 years old
Previous sitters
November 2014 | David