Two Cuddly Cats + a Cozy Stay in Historic Harlem Brownstone
New York City, New York, United States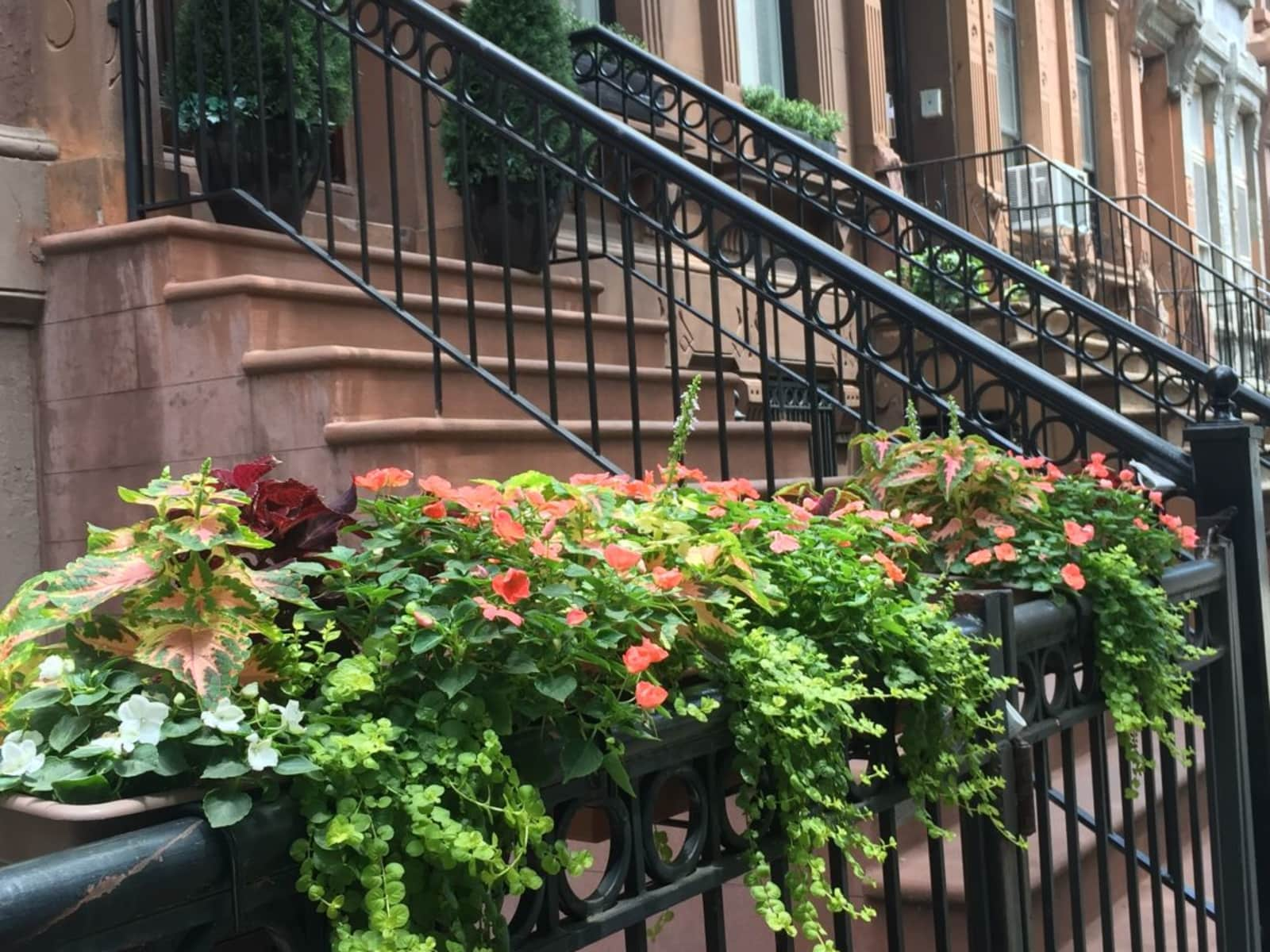 Pets
Cats
Introduction
Hi there! I'm a busy kitty mom to a bonded pair of two cats, Luna and Minou (brother and sister, both almost 1 year old). I absolutely love to travel and absolutely love animals of all shapes and sizes. Needless to say, TrustedHouseSitters satisfies both of these passions! I love traveling to new places and experiencing different cultures and expanding my world. Therefore, I'm always scanning for the best flight deals to see what my next adventure could be! This means that when I'm away, I need peace of mind that my cats (and apartment!) are in good hands.

I am a self-confessed crazy cat lady but am very easy going and so are Luna and Minou. They are great cats and are extremely well adjusted. They love to play with each other (read: wrestle), snuggle and play with their human friends too! I try my best to give them as much attention, playtime and love as possible. Daily cat-sitting duties include: feeding them 2-3x a day, a quick litter box scoop and water change, and at least 15 mins. or so of dedicated playtime with them (of course plenty of cuddles and belly rubs in between all of that too!). Other than that, I would hope that you would just enjoy yourself and have fun with my two lil guys. They really are the best!
Our Home & Location
My apartment is a neatly designed, spacious and open studio that offers everything you need for a comfortable stay. It can comfortably fit 2 adults for an extended stay (past tennants have all been married couples) and is considered rather spacious by NYC studio apartment standards! It is located on the garden level of a historic Harlem brownstone. For a quintessential Harlem experience, the location can't be beat! My apartment is extremely centrally located: a 2 minute walk from the 125th St. 2 & 3 subway stop, a 7 minute walk to the 125th St. 4, 5 & 6 subway stop, and a 7-10 minute walk to the 125th St. A & C subway stop (in addition to numerous bus stops within a 2 block radius), 1 block away from the hub of 125th St.'s world famous restaurants, such as Sylvia's and the Michelin starred Red Rooster, close access to major retail shopping along 125th St., and a 15 minute walk away from Central Park. Despite being so centrally located, my street remains quiet, peaceful and safe. As one of the historically protected streets in Harlem, you will find a peaceful escape from the hustle and bustle of the city upon entering my block, where you'll enjoy many peaceful walks between beautifully preserved brownstones, trees and urban gardens. In fact, there is actually a neighborhood block association led by residents of my street that maintains the neighborhood's curb appeal, safety and community relations. Just a few steps away from my apartment, you will find Harlem Grown - a neighborhood / community garden that is not only beautiful, but also provides educational programs and practices teaching the art of sustainability in urban farming.

Due to NYC housing and fire codes, gas-powered appliances are not permitted in ground floor apartments. Therefore, while I do not have a full, "normal" sized oven in my kitchen, I do have a large convection oven that works just as well as a conventional one! I also have an induction stovetop built into my kitchen counter and a brand new, full-size stainless steel refrigerator and freezer. I can provide fresh linens, extra blankets and pillows and towels along with the essential personal care items (toilet paper, handsoap, dish soap, shampoo, first aid kit, etc.). There is AC for hot summer months and the apartment is centrally heated throughout the winter. If you tend to get chilly easily (like me!), I also have a portable electric heater that can be plugged in as needed in case you need an extra bit of warmth.
Apartment
High Speed Wifi
Family-friendly
City
Responsibilities & Pets
Minou and Luna don't have any special requirements or medical needs. I do try to adhere to a feeding schedule for them though so that they will be ready to sleep once I'm ready to sleep .. I live in a studio, so if the cats are awake, I'm awake! Feeding them on a schedule avoids having to deal with 2am crazy kitty antics and allows us all to get a good night's sleep (their favorite sleeping spot is curled under my arms) :) By now, they are really well trained and are used to the schedule I have them on which is ideal. They sleep through the night, and go to bed when I go to bed and wake up when I wake up!
Cat(s): Minou is 1 year old (Rescue cat), Luna is 1 year old (Rescue cat)