House and cat sitter for beautiful rural home near Corvallis, Oregon
Alpine, Oregon, United States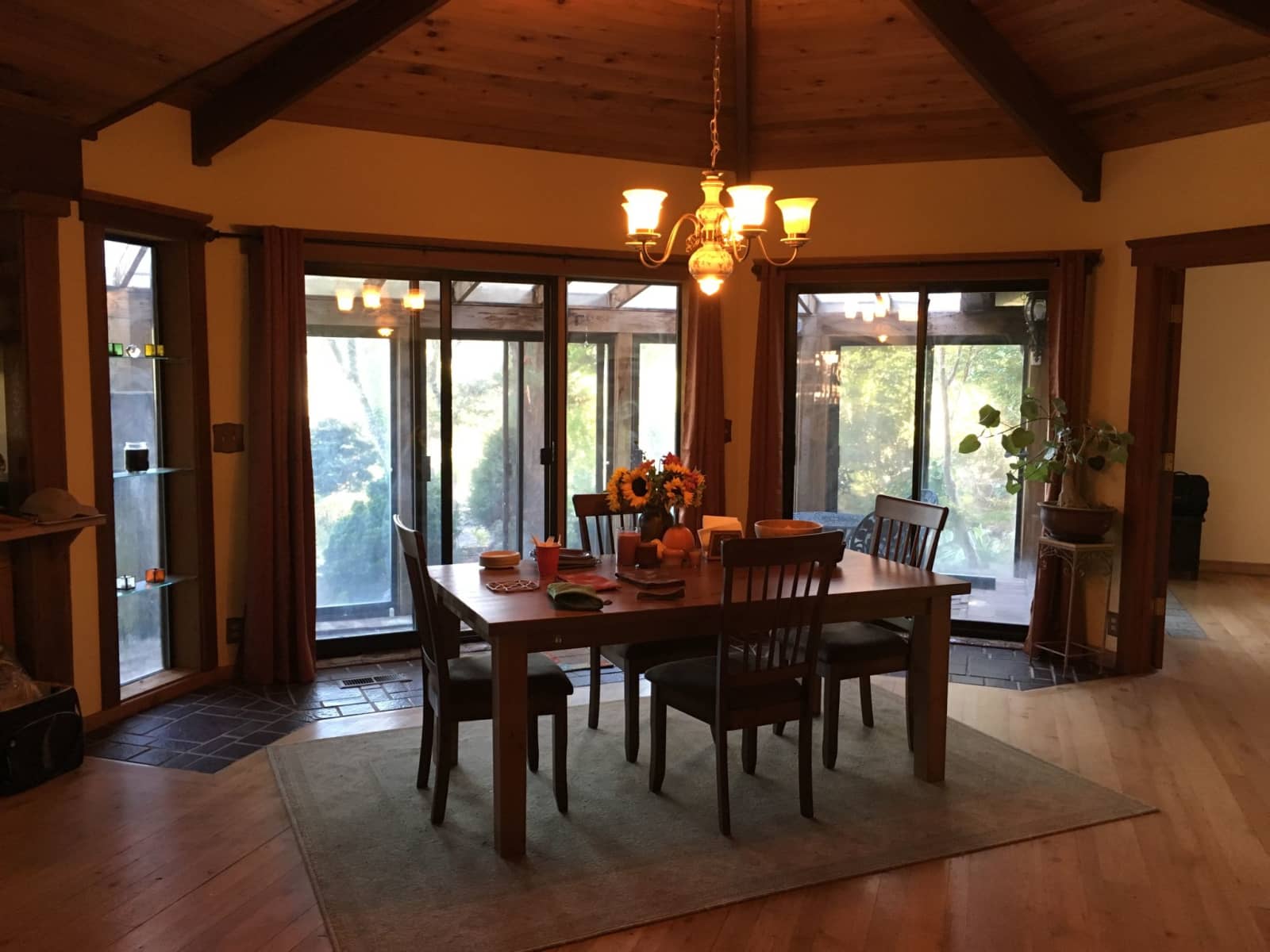 Pets
Cat
Introduction
My husband and I are touring musicians. We have one kitty cat who just needs to be fed and played with and let in and out during the days and most importantly in by dark. We hope to find someone(s) who would enjoy the beautiful home and look after it while we travel, usually for 4-10 days. We try to live as environmentally friendly as possible with recycling and composting, etc.
Our Home & Location
The house is beautiful, 3900 square feet on 10 acres. It's a rural farm area with beautiful views and quietness all around. There are two large balconies, fireplace with wood stove, central heating but the wood stove seems to do nicely. It's a custom home with many amenities, wifi, cable, etc. There is a tiny town 3 miles away called Monroe, with two stores, post office, and library. 10 miles away is Junction City with Safeway, and several other stores and restaurants. We are 17 miles south of Corvallis 20 miles north of Eugene, both wonderful college towns with much to offer. Portland is two hours north. There are wineries all around us, an incredible waterfall called Alsea Falls nearby, other parks and walking areas. The ocean is 40 miles as the crow flies but 70 min. drive. Sometimes there are horses on our land but they are cared for by the owners. You don't have to do anything for them, or for the land. As far as kids go, it's not a good place for small kids, many ledges, deep steps, open balconies, but older kids okay. For the winter months, our climate is still pretty gentle. If it snows it only lasts a day or so. Once in a while, there may be icy road conditions but the roads are maintained well we always know ahead of time so can plan driving around it, it's always pretty brief if that happens. If you use Facebook there is a Monroe Community Watch page that will keep you posted on that.
House
Sitters need a car
High Speed Wifi
Beach
Mountain
City
Countryside
Responsibilities & Pets
We have one furry purry orange cat name Nigel. He is about a year and a half old, a lover and a crazy man who loves people and adores attention and lots of petting. He is very unique and wins the hearts of every house sitter we have. He talks a lot in the mornings, goes in and out during the daytimes but we make sure to get him in by dusk. He comes when you call. He eats a lot, sleeps a lot, he likes to play and be carried around. He is a hunter and he catches critters, mostly mice but you may choose to rescue a lizard, or the rare bird or bunny or tiny snake. We have an atrium with glass windows so you can make sure he doesn't have a critter before you let him in. So, you may have to see critter remains out there or partial bits of mice. (yes he eats them) If we see him playing with a terrified mouse we will rescue the mouse, but its not required. We have the little broom and box to do that or a dustpan ready to discard remains and its pretty easy. Nigel usually likes to sleep at the foot of the master bedroom bed if you don't mind, he is an excellent foot warmer. Otherwise, he has plenty of other places to sleep. We are not on a regular feeding schedule, we just give him a little wet food when he hangs out by his bowl. We keep the dry food bowl filled. He can be alone for a good part of the day if your out and about, but we leave the glass door open so he can get in and out, but not if you'll be gone after dusk. People keep their cats in at night for their safety. There has been occasional bobcat sightings or small fox but since we don't have any chickens or other desirables, we haven't had any issue. In the two years since we have lived here, we have only seen a small bobcat once strolling across the field. There are lots of deer visitations, at night you can hear distant coyotes. So we don't take any chances by letting Nigel be out at night, and hopefully most days he will have you around as it is such a lovely home to be in.
Upcoming sitters
February 2019 | Elizabeth

January 2019 | Carol

December 2018 | Lindsey Kate

November 2018 | Tara and Richard

November 2018 | Cynthia and Alan

October 2018 | Dianne

October 2018 | Katrina

+ Show all upcoming sitters - Hide extra
---
Previous sitters