October in Oregon with cats and chickens!
Eugene, Oregon, United States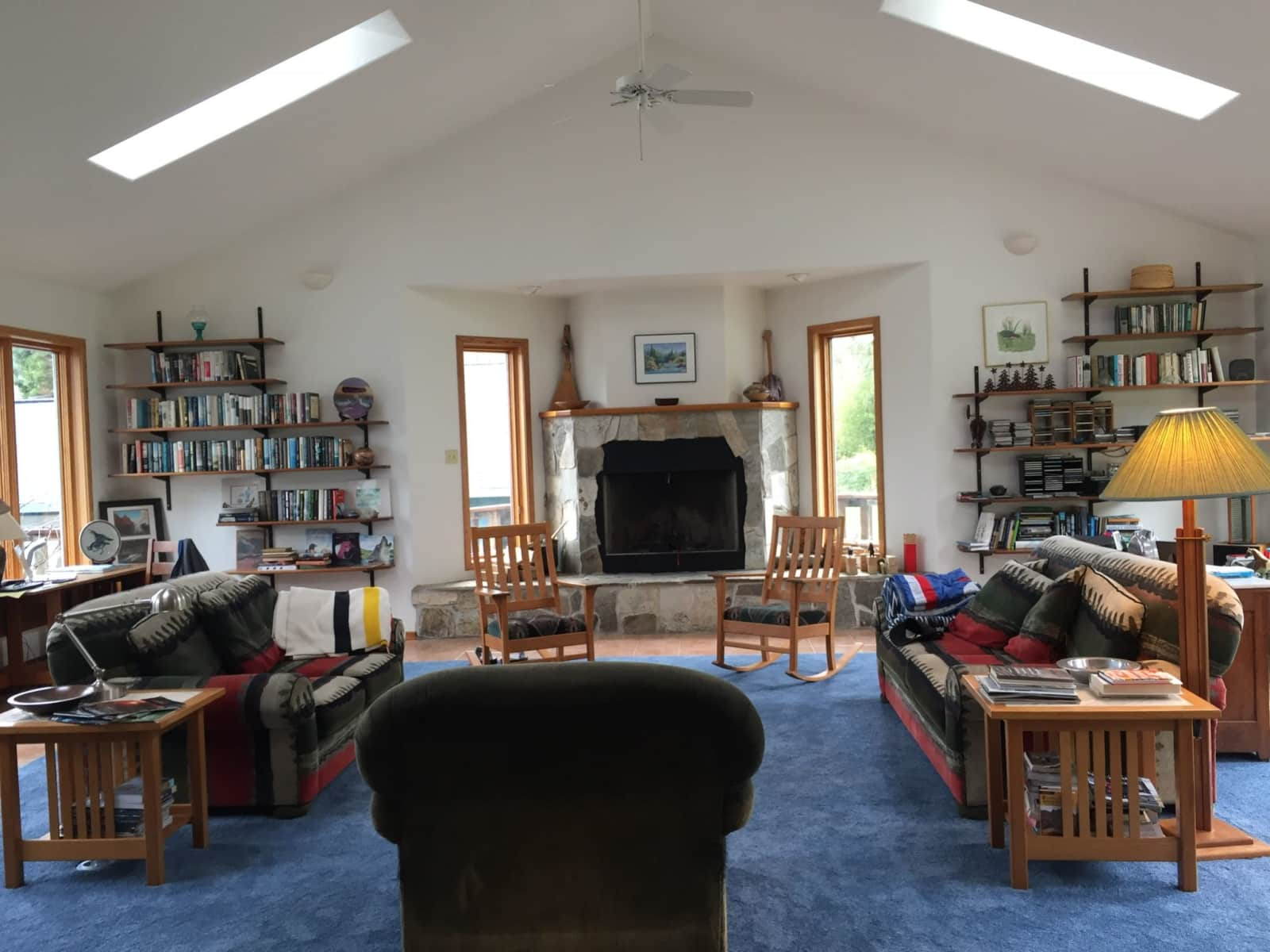 Pets
Cats
Poultry
Introduction
We are retired a wildlife biologist and park ranger, with a new and first grandchild, 4 cats and 6 chickens. We are not perfectionists; we are easy going and hope you are too. Our scene is low maintenance, our animals are healthy and strong, and our neighbors are delightful and helpful always.
Our Home & Location
Our house is 2 plus bedrooms and loft, with a heat pump, on 1.6 acres in a little suburban neighborhood just east of the University of Oregon. The house is bright and airy, with big windows and skylights - lots of natural light. We are a few minutes from the UO, downtown Eugene, and about 1.5 hours from the coast and the Cascade mountains. Numerous vineyards and breweries dot the area. Or, drive to Portland (1.5 hours), Ashland (3 hours), Bend (2.5 hours), or Crater Lake (3 hours). There is a bus line at the street, and excellent bike paths throughout the city and along the river, but we recommend a car to fully explore your surroundings. If you love rivers and lakes, Eugene is near the confluence of the Willamette River, Coast Fork Willamette, and the exquisite McKenzie River, and no fewer than 6 lakes are within 30 minutes drive, including one of the finest sailing lakes in western Oregon (Fern Ridge), and Waldo Lake, a wonder of the world. There are good birding spots close in, and mountain biking is popular, with many trails within an hour's drive, and of course there are miles of running trails along the river. Wilderness areas abound in Oregon, and you are welcome to use our stash of hiking maps and books.
House
Sitters need a car
High Speed Wifi
City
Countryside
Responsibilities & Pets
1. Feed and water 4 cats morning and night. They can sleep indoors or out.
2. Insure that chickens have food and water daily, and that the coop auto door is working (has opened), and collect eggs (and eat them if you like). Coop will need light cleaning once a week or so....
3. Water a couple of house plants and potted plants on deck. Spray my homemade organic deer repellent on a few shrubs.
All day and occasional overnight absence is perfectly fine. + More info
Poultry: Chickens, Currently 6 chickens - only 5 are laying, the black hen is retired. Coop shuts and opens on timer so you will not need to open and close by hand.
Cat(s): Ling Ling is 10 years old, Ferdinand is 10 years old, Luna is 8 years old, Orange Bigly is 8 years old