Keep three coonhounds company during a relaxing visit in the countryside
Mount Pleasant Mills, Pennsylvania, United States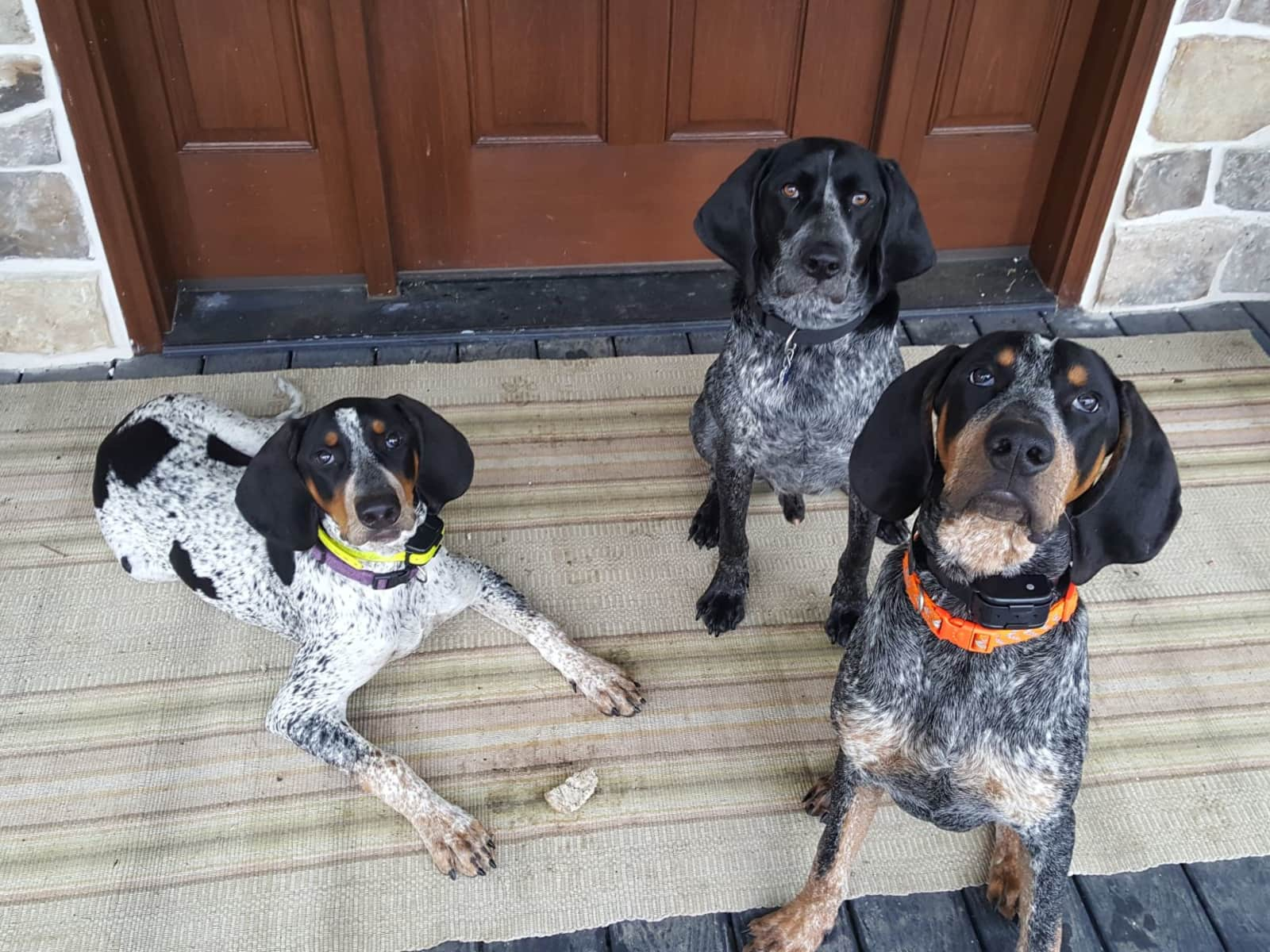 Pets
Dogs
Introduction
My husband Tyler and I are looking for a house sitter to spend time with our three Bluetick Coonhounds while we are out of town. Tyler's parents and brothers all live within a 5 minutes and can assist you with anything you may need while you are staying at our house. We rescued our first BT Coonhound, Buford, last year from a local foster program. We recently rescued two litter mates, Cheyenne and Dakota, which complete our Troup Tribe! These three have become best of friends within the first few days of meeting each other.
Our Home & Location
Our two story, 4 bedroom home sits on 14 acres of quiet countryside. We are surrounded by farms and picturesque central Pennsylvania scenery. The magnificent Susquehanna River offers you activities such as boating, kayaking, and fishing. The woodlands of our state parks offer hiking and birding. With over 800 working farms within the county you'll find fresh produce at farmers markets, Amish stores, and stands along the road. The many family-owned restaurants serve a great selection of "Pennsylvania Dutch" foods.  There are three shopping centers (malls, shopping plazas, chain restaurants, etc.) within an hour drive. You can visit Harrisburg, Hershey Park, Knoebels Amusement Park, or Lancaster area in under a two hour drive!
House
Sitters need a car
Family-friendly
Countryside
Responsibilities & Pets
Spend some time with our three Blue tick coonhounds! Buford (1 1/2 years, 65 lbs.), Dakota (7 months, 40 lbs.), and Cheyenne (7 months, 40 lbs.) are three amigos that love to play and cuddle. This includes feeding them twice a day (morning and evening), making sure they don't run out of water in their water feeder, taking them out to potty (they ring a bell hanging on the door when they need to go), and keeping an eye on them when they are out of their crates! The puppies are chewers and will get into anything and everything imaginable if not supervised! In addition to watching our hounds, there are three house plants to water (not everyday, only when they feel dry), a few hanging baskets on the porch to water every day, and collecting the mail.
Dog(s): Buford is 2 years old (Bluetick Coonhound), Dakota is 1 year old (Bluetick Coonhound), Cheyenne is 1 year old (Bluetick Coonhound)