Overnight dog sitter for 4 dogs and 1 cat
Berwyn, Pennsylvania, United States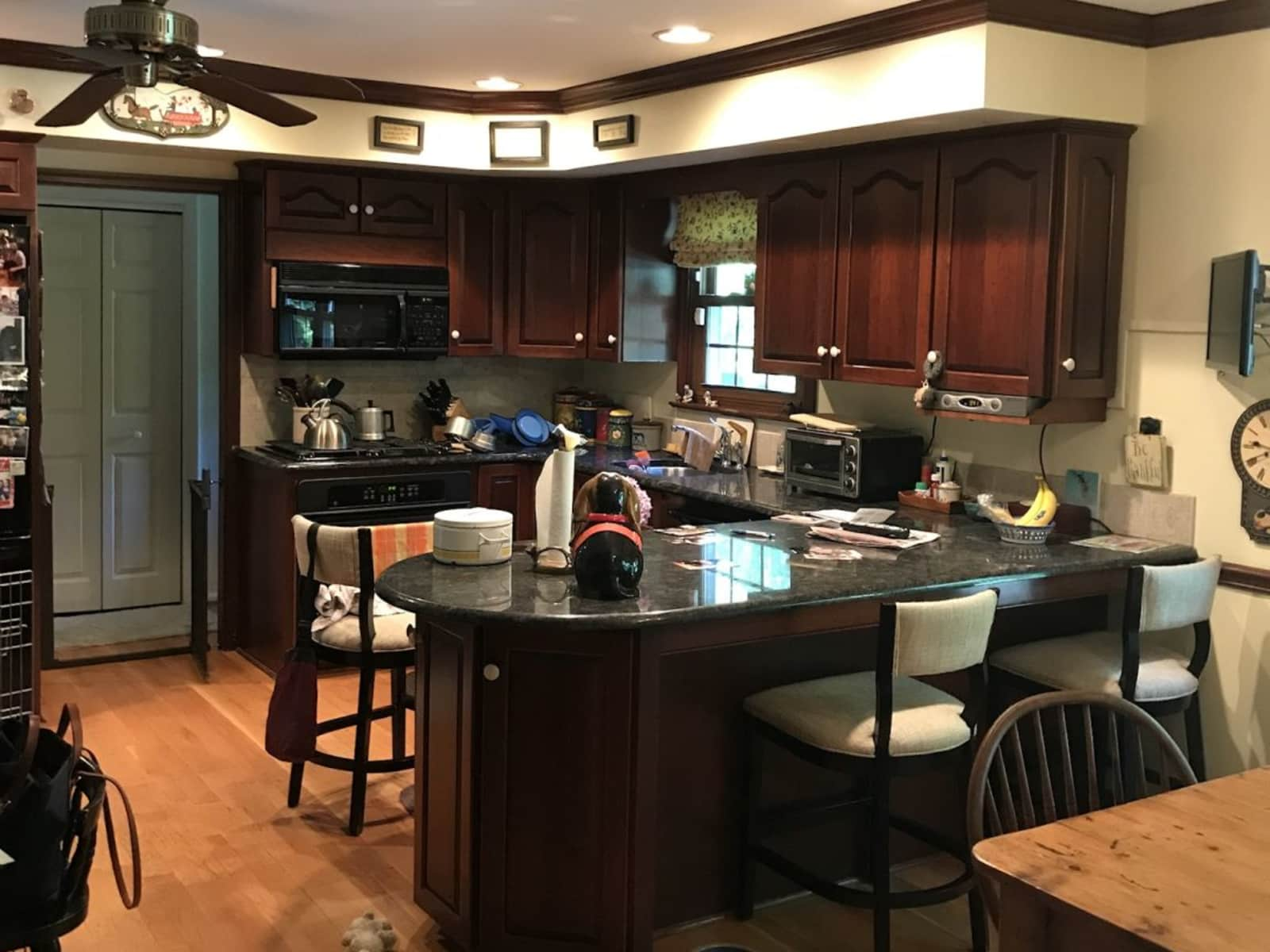 Pets
Dogs
Cat
Introduction
My husband and I are retired and we like to take 1-2 vacations in the winter, usually 10-14 days each. We also go away for 2 weeks in summer. Right now it's the winter vacations we really need a sitter for. Our house sits on almost 2 acres. We have both regular fencing and invisible fencing so the dogs do not have to be walked, just let out to pee every 3 hours or so (except Sully the older beagle/basset who is 2 hours). We have had many sitters and they have all loved our puppies and find the house very comfortable. There are minimal meds that need to be given: Sully gets eye drops, Millie has eye drops and ear cleaning 1x/week. Sully has eye drops because one eye is totally cataracted over and the other one is not great, but he does pretty well with that one eye. However, in summer we cannot let him out back because we have a pool and we fear he might not see it. We have a cleaning woman (who really does a lot more than just clean) 2x/week, each day for 6 hours. She can take total care of dogs while she is here so the sitters often will leave house if they so choose to do whatever. We have a generator that kicks on in about 5 seconds should we lose power AND we have snow plowing available if needed.
Our Home & Location
We live on a street where houses have some distance between them and we have no houses across street. It is very country-like. We are 20-30 minutes driving time to Philadelphia where there is lots of opportunity for sightseeing; a wonderful art museum, waterfront area, and many fabulous restaurants. Our house is less than 10 minutes drive to train station. And the King of Prussia Mall is 15 minutes away. We have a finished basement with treadmill, TV and pool table. The bedroom is on the 2nd floor with newly renovated adjoining bathroom and queen size bed.
House
Sitters need a car
High Speed Wifi
Family-friendly
City
Countryside
Responsibilities & Pets
My dogs are NOT pure breds (except Millie), but the website would not allow me to explain the various mixes: Siggy is a Shih Tzu/Dachsune; Swiffer is a Havenese/poodle; Sully is a beagle/basset weighing 38 lbs. The others all weigh in about 16 lbs.
Cat: Willie is 8 years old (American Shorthair)
Dog(s): Siggy is 6 years old (Shih Tzu), Swiffer is 6 years old (Havanese), Millie is 10 years old (Shih Tzu), Sully is 11 years old (Beagle)