Home Sweet Home in Middle Tennessee
Columbia, Tennessee, United States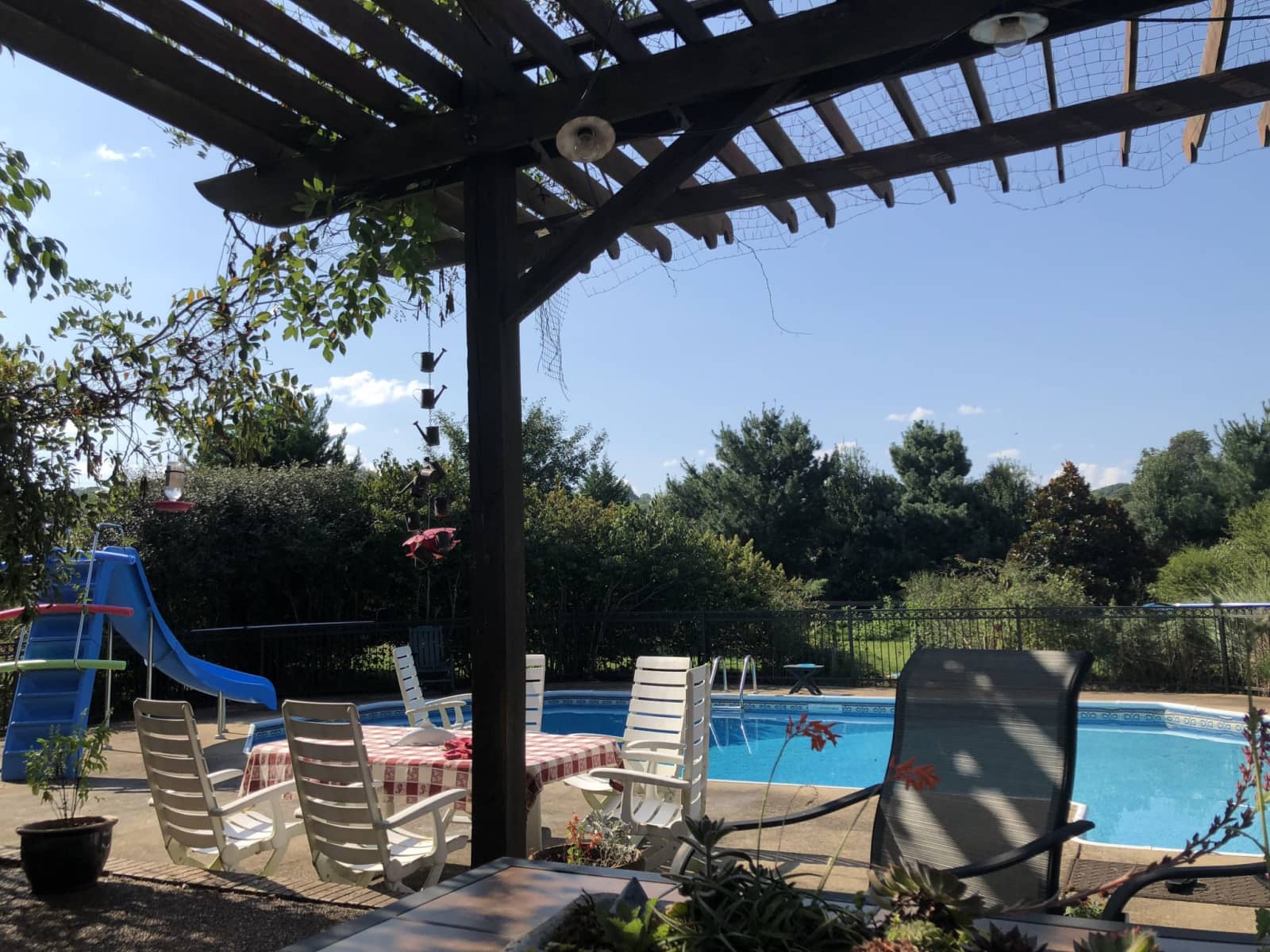 Pets
Dogs
Cats
Poultry
Farm animal
Introduction
We are retired from AT&T and Lucent labs, and moved here to Maury County Tennessee ten years ago. I grew up here and it makes us much closer to family. Doug coaches soccer locally, and also volunteers with the Boys&Girls Club. His "Coolinary Club" is a real hit there. I am a recent graduate of the Tennessee Naturalist Program and find a lot of satisfaction in promoting volunteer activities for the Friends of South Cumberland State Park, a local non-profit. Doug has created a 100-plant vineyard of local muscadines. We have created a native plant thicket in our yard, on what was basically a farm field.
Our Home & Location
Our 19 acre property in Middle Tennessee is a beautiful and nourishing spot for us and for our visitors. We are located within easy driving distance of the musical attractions of Nashville, Tennessee. Our county seat, Columbia, TN has lots of historic and cultural attractions as well as a new brewery in town. The scenic and unspoiled Duck River runs through our county and put-ins for kayaks and canoes are nearby. Many Tennessee state parks are within easy driving distance. Our home is mostly open plan, furnished with obvious influences from our love of books, nature and old family things, with very comfortable beds and great views out most rooms. There are four bedrooms and three baths plus a half-bath. Our kitchen is well-equipped for people who like to cook. A salt-water pool is fun in the hot weather.
House
Sitters need a car
Car included
High Speed Wifi
Family-friendly
City
Countryside
Responsibilities & Pets
The dogs and cats are outdoor animals. They stay close to the house for the most part and guard us from coyotes and deer. The older dog sleeps most of the day but does his job at night. They don't leave the property. You feed dry feed every morning and make sure there is plenty of water in the containers. The cats are fed on the patio within the pool fence.
You let chickens out of the nearby house in the morning; you spread chicken scratch from a container; ; you gather the eggs and put them in our refrigerator. At night it is very important that the door to the house be closed after the chickens go in to protect them from raccoons or the like. The chickens go in by themselves and are there by the time the sun is behind the hills. There are noisy guineas that live here too but we don't feed them. They roost on the pergola.
Poultry: Chickens, Our chickens roam the yard and sleep in a closed hen-house. You feed them chicken scratch as soon as you open the door in the morning. You gather their eggs. You close their door at night after they have gone in by themselves. There are about 10 chickens.
Farm animal
Cat(s): Puzzle is 10 years old, Campbell is 9 years old
Dog(s): Millie is 1 year old (Great Pyrenees), Baggins is 11 years old (Mix-breed), Ladye is 1 year old (Mix-breed)