I'm in search of a trusted pet loving/ house sitter
Georgetown, Texas, United States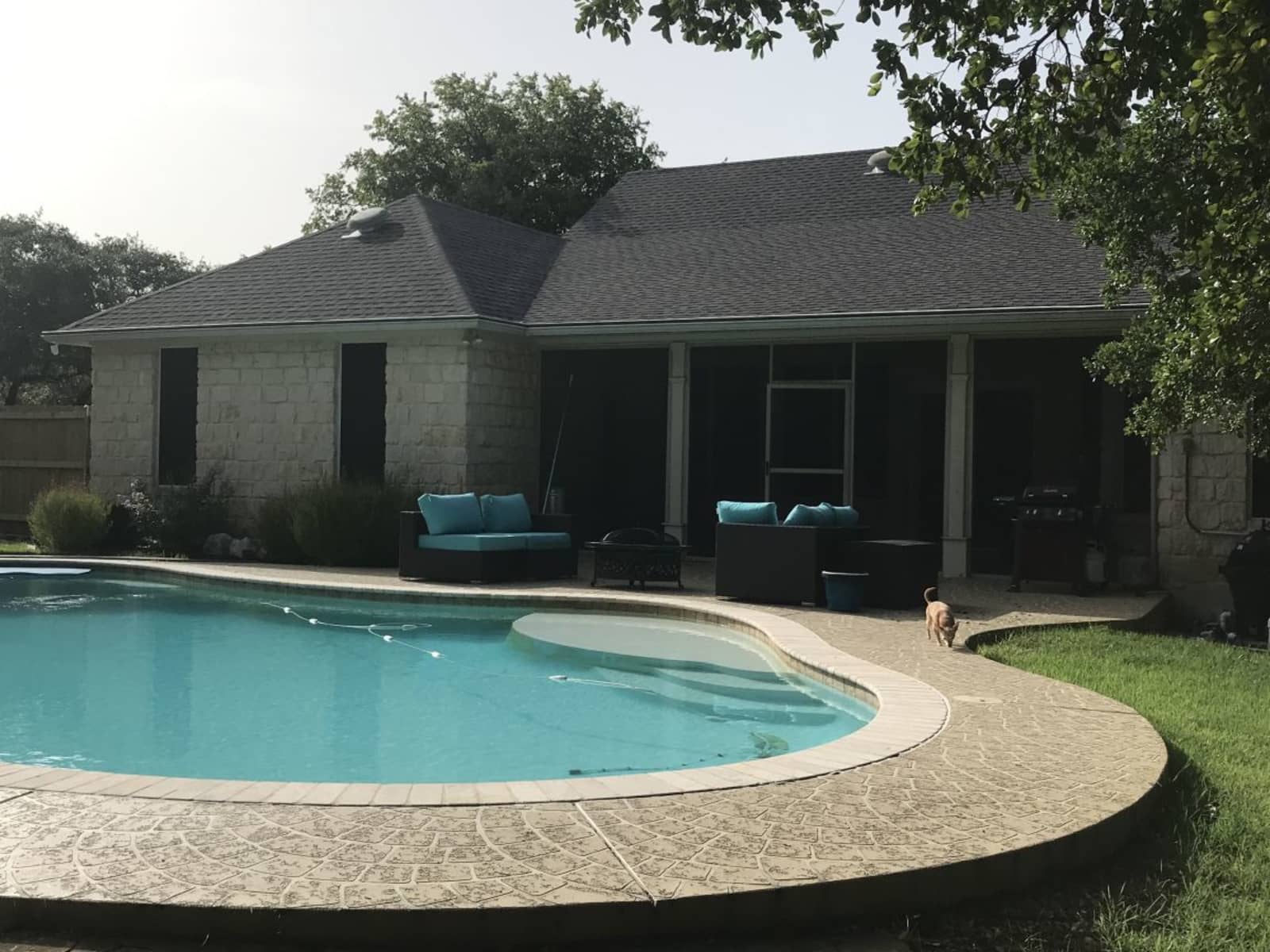 Pets
Dogs
Cat
Introduction
Steve and I are both retirees, Steve from the military after serving in the Marine Corp as a Vietnam veteran and also retired after 20 years in the Army. We have lived in this home for 6 years. We have postponed travel because of concerns for our pets that, for us, they are family. We do not board them and we are reluctant to depend on friends or family. We also like knowing the house is being cared for in our absences.
This is the time for us to realize our travel dreams but to do that we have to feel secure in knowing our pets and home are being looked after in trusted hands.
Our Home & Location
Our home is located in
Williamson County, Georgetown TX in a semi-country like setting called Serenada Country Estates. The house is a two story 3500 sqft home situated on a 1.7 lot with a swimming pool and surrounded by a privacy fence. We have 4 bedrooms and 3 full baths. The community is quiet and we have the luxury of sweet deer that stroll through the property often reclining peacefully on our front lawn. Most here view our deer as pets!...
The area is serene and peaceful. The house is bright and airy. There is a screened attached patio with ceiling fans.
We have 3 pets. Two female chihuahuas both sweet and not the yapping miniature type. Also, we have a senior cat, aloof, independent, indoor cat but she does enjoy going outdoors in the backyard from time to time. Sadly, due to an injury, she has lost one hind leg but she has adapted and does very well on three.
Along with care for our pets, we also have needs for the pool. Experience with pool care is a plus. What is of most concern is during heavy rainstorms when the pool level rises and sometimes necessitates draining some of the water or adjusting the pump etc. Perhaps even "shocking" the pool with pool chemicals. So knowledge of pool care would be a great help. We have no particular landscaping needs with the gardener coming regularly. + More info
House
Sitters need a car
High Speed Wifi
City
Countryside
Responsibilities & Pets
Mia 14 y/o and Lulu 6 y/o are two sweet lovable Chihuahuas. They are fed twice a day between 6 am and 7am then again around 3:30. Our cat PomPom is a senior female amputee with the absence of one hind leg but very mobile and independent. She gets fed several times s day with small portions and sleeps most of the day in our laundry room. She goes outside in the backyard and will let you know she wants to by sitting next to the sliding back door. Mia and Lulu going out for toilet breaks several times a day into the backyard. No taking them on walks. They sleep in baskets in the living room at night. All our pets are water drinkers so their water bowls need to be kept full daily. Beyond this they are sweet and easy to care for. Of course for our cat there is the litter box task :( not the most pleasant duty but I try to provide ways to make it easier.
Cat: PomPom is 18 years old
Dog(s): Mia is 14 years old (Chihuahua), Lulu is 6 years old