Utah Mountains and cuddly fur friends!
Riverton, Utah, United States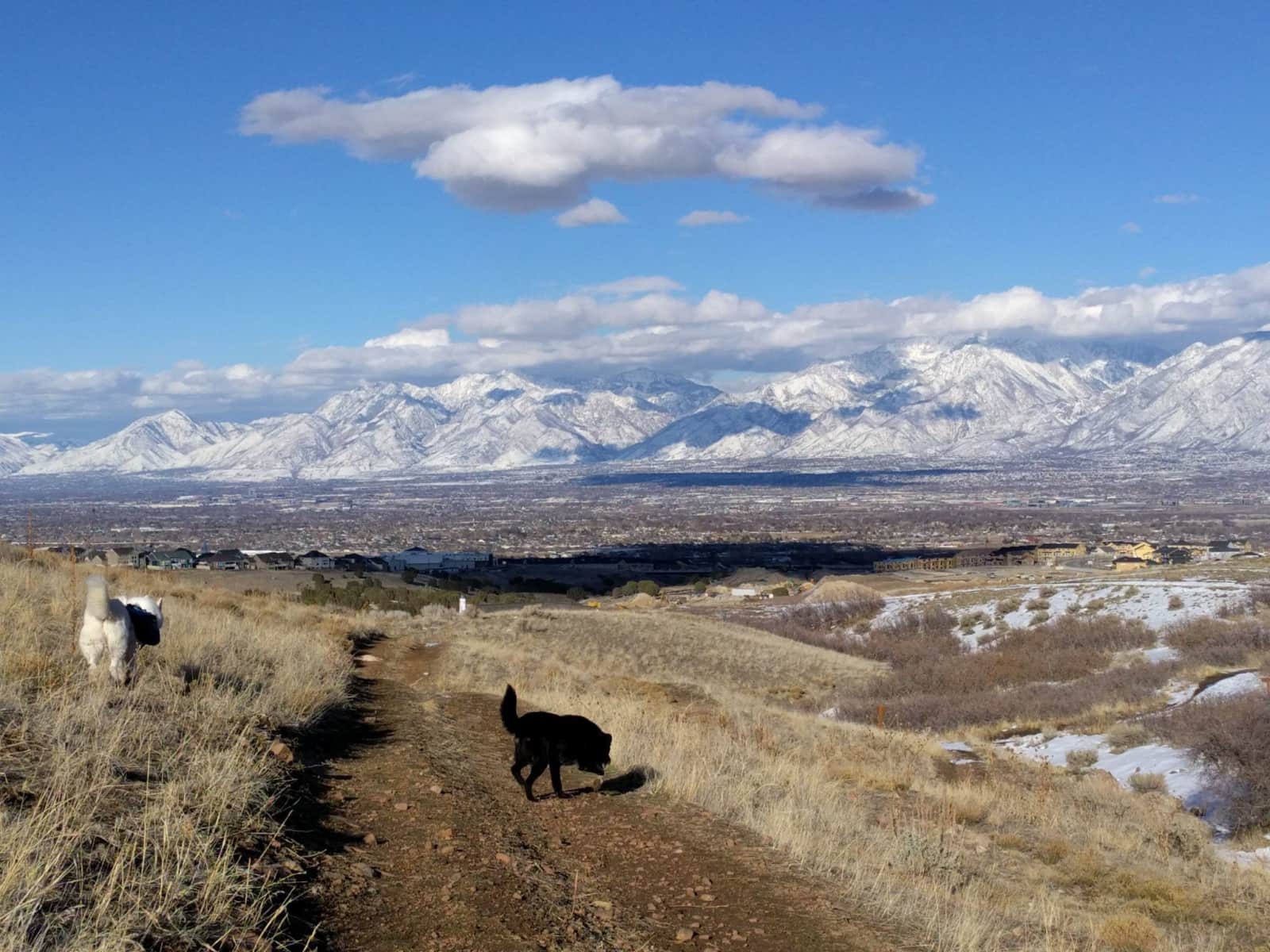 Pets
Dogs
Horse
Poultry
Introduction
My husband and I need a trusted housesitter to care for our happy-go-lucky dogs, easygoing horse, and backyard chickens while we're enjoying time away. We live in a destination for skiing, hiking, biking, camping, horseback riding, and all sorts of outdoor recreation in the Salt Lake City metro area (approx 15 miles south of SLC), making this a great place to base yourself to explore Utah. Our dogs love hiking and would happily accompany you on your adventures!
Our Home & Location
We live in Riverton, on a quiet cul-de-sac street about 2 miles from groceries, chain restaurants, and small parks. The local tram system is a short drive away (about 7 minutes), where you can park for free and take the tram (round trip rides are $5) to downtown Salt Lake City, where there are endless options for great restaurants, bars, shopping, and sightseeing attractions. You can get in a car and drive to the foot of the Wasatch Mountains in about 15 minutes, where there are lots of parks and trailheads. Park City is a 45 minute drive up through a beautiful mountain pass with great views, and hiking options are basically unlimited, including the Bonneville Shoreline Trail, which stretches for miles along the base of the Wasatch Mountains.

Our home is a quiet haven, with beautiful mountain views from the two back decks, where you can grill up your dinner, then sit with a glass of wine and enjoy the cooler evenings on the hammock during the summer months. In the winter, our home is warm and cozy after a day hiking or skiing in the mountains nearby. We have a guest bedroom and bathroom with a comfortable queen size bed, a large kitchen stocked with all the cooking equipment you need to prepare meals, and a TV connected to Netflix, Amazon Prime, and HBO. Utah summer weather is hot and dry, with lots of sunshine. We have central A/C to keep you cool on the hot summer days, but the evenings here are generally very mild, and great for doing evening walks or spending time outdoors. In winter, the snow capped mountains are beautiful to see from the windows in the back of the house, and temperatures vary, sometimes very cold with snow and sometimes sunny and mild. World-class ski resorts in Park City, Alta and Snowbird are a 45 minute drive from our house.
House
Sitters need a car
High Speed Wifi
Family-friendly
Mountain
City
Responsibilities & Pets
Our girls, Willow (Border Collie mix, 12 yrs) and Annie (Siberian husky, 11 yrs) are easygoing and generally love attention and hanging out with people. They are more low key now that they are senior citizens, but they do adore hiking and getting out for walks. We would ask that you walk them or take them out for a walk at least every other day. They need to be fed twice a day (around 6 am and 5 pm, roughly), and should be let outside in the yard at least 3-4 times a day. They enjoy sitting on the deck with people and relaxing :) Unfortunately, our older dog can be unpredictable around strange dogs, so we can't have anyone bring their pup along on this housesit, sorry!

Our horse Eve is an older mare who is very easygoing and friendly. She is fed hay and grain twice a day and you would check on the water trough, but otherwise easy to keep and doesn't require much. Horse experience would be helpful, but isn't strictly required since there it doesn't take much to keep her happy....

Our 6 chickens are very low maintenance, and your duties there will be only to check their food and water, which typically last at least a week. You can collect any eggs you find and cook them up for breakfast - super fresh and delicious. They also love food scraps, so you can give them any leftovers and they'll love it!

You would also gather the mail and any packages that arrive.

Our goal is to have someone that is an animal lover who wants to spend time with our dogs, so they don't feel too lonely. But we want you to have fun and explore as well, so we would welcome you to explore the area with or without them. They are used to spending the day alone (approx. 8-9 hours) while we're at work. So you would have the majority of the day to get out and have adventures while the girls are snoozing the day away. We would ask you to arrive a day early so we can give you a full tour of the house and go over the animals routine with you.

I've had great experiences housesitting through Trusted Housesitters, meeting wonderful people and animals, and now it's my turn to open my home and share it with someone who wants to see what Utah has to offer. Thanks!

Sarah and Dan + More info
Horse: Eve is 23 years old
Poultry: Chickens, 6 hens
Dog(s): Willow is 12 years old, Annie is 11 years old
Upcoming sitters
December 2018 | Zina

November 2018 | Melinda