City Home in a country setting
Washington, D.C., Washington, D.C., United States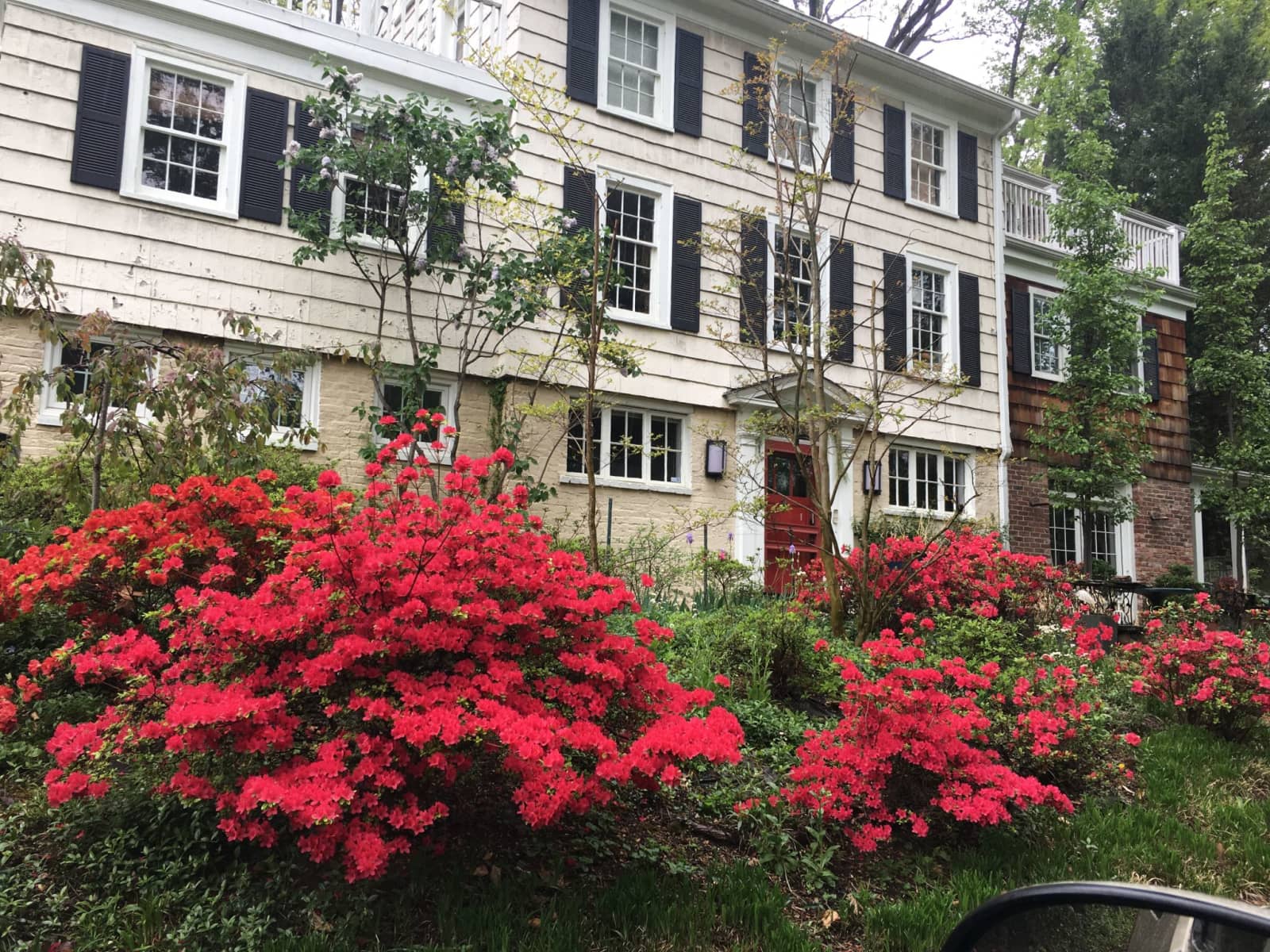 Pets
Dog
Cats
Introduction
Roger and I have a busy life with our work, 2 children, (1 in college, 1 works from home), our Walker's Treeing Coon Hound (looks like a large foxhound), Oliver:"Ollie". Ranger is an active and loving marmalade male cat. Izzy is a crotchety old lady, white cat.
Our pets are part of the family but can't travel with us on trips. They love attention and food. And the house plants need watering.
Our Home & Location
Our old3-story farm house is described as interesting, unique and creative. We have art all over our home, some is rogers, some mine as well as several other artist's works. We feel very lucky to live on a lovely treed piece of land 3 miles from Washington DC. There are buses that are direct to the metro, across the street. There's an organic market 2 blocks away and many other experiences packed into our town. We have an electric fence to keep Ollie happily and safely running around the yard, but he still needs a walk. It's a hilly area with many neighbors close by, bike trails, site seeing, museums, the Birchmere for music, art galleries, a symphony, fabulous dinning and much more.
House
High Speed Wifi
Family-friendly
City
Responsibilities & Pets
Ollie needs a walk or visit to the dog park, 1x/day, 2 meals and let in and out to chase scents in the air, squirrels, foxes on the hill. For breakfast and dinner He gets one scoop of dry food, each (bin under laundry room sink- make sure closed and pushed back under sink). Swish a bit of water in the food. I make him sit while I fix his food. Clean water daily, in the other dish. He will start requesting dinner around 5. Don't feed him before 6:15pm or he will get you up very early for breakfast. No table scraps—gives him diarrhea. I do give him the heel from lettuce and carrots or sweet potatoes. He may have dry treats during the day.
We have an electric fence so that ollie has the run of the yard. He needs to have both collars on-we leave them on all the time. When going for a walk he must be on the leash and his green collar removed by the large maple tree down towards the bottom of the drive. Returning from the walk, keep his leash on until his fence collar is put back on....
When you leave the house, Ollie must be put in his crate. Other wise he steels food, chews on things or gets into trouble. Say place and put a dog treat in the crate. Once in only lock the top latch. We try to make sure he isn't in there more than a few hours at a time. We don't crate him when we are home.
Ranger is fed 1x/ day: 2-½ scoops dry and one can dumped on top of dry. Ollie gets to lick the empty can. Push rangers food back behind the basket so Ollie won't be able to reach it. He can reach very far on a counter. . His water dish is on the counter by the sink- little rectangular glass dish. Just keep it filled. There is a round pan on the floor in the family room. For some reason he was peeing there all the time. Now he will pee in the pan occasionally, just rinse and dry each time. (Paper towels on island)
Ranger loves to play and cuddle. I keep lint rollers on the kitchen desk.
Izzy gets a treat at bed time, fresh water (up in hall by master bedroom on blue bookshelf ) and shaking her food container. Keep the bowl in front of her feeding dish so Ollie won't eat it. She likes to be brushed but go easy so she won't swat you.
FYI-Izzy can be cranky so you just talk to her and walk around her slowly. I keep a water sprayer by her food in case she needs a reminder to be nice.
The house plants may need watering, once per week. If it's summer there may be some garden watering.
I love to cook, so have a super kitchen. Lots of appliances. Please no wooden utensils or good cutting knives in the dishwasher. Also be careful of light weight plastics, they tend to melt.
Taking the trash cans to the curb and back after pick up 1x/week. We have a long steep driveway so you can get a mini workout. Oh, and cleaning the cat boxes please. I will provide a written list and would like you to be here the day before we leave to show you the ropes as well as unique features you'll want to know how to use. + More info
Cat(s): Ranger is 3 years old, Izzy (Isabel Underhill) is 14 years old
Dog: Ollie is 6 years old (American Foxhound)