Cozy apartment just outside Georgetown in Washington DC
Washington, D.C., Washington, D.C., United States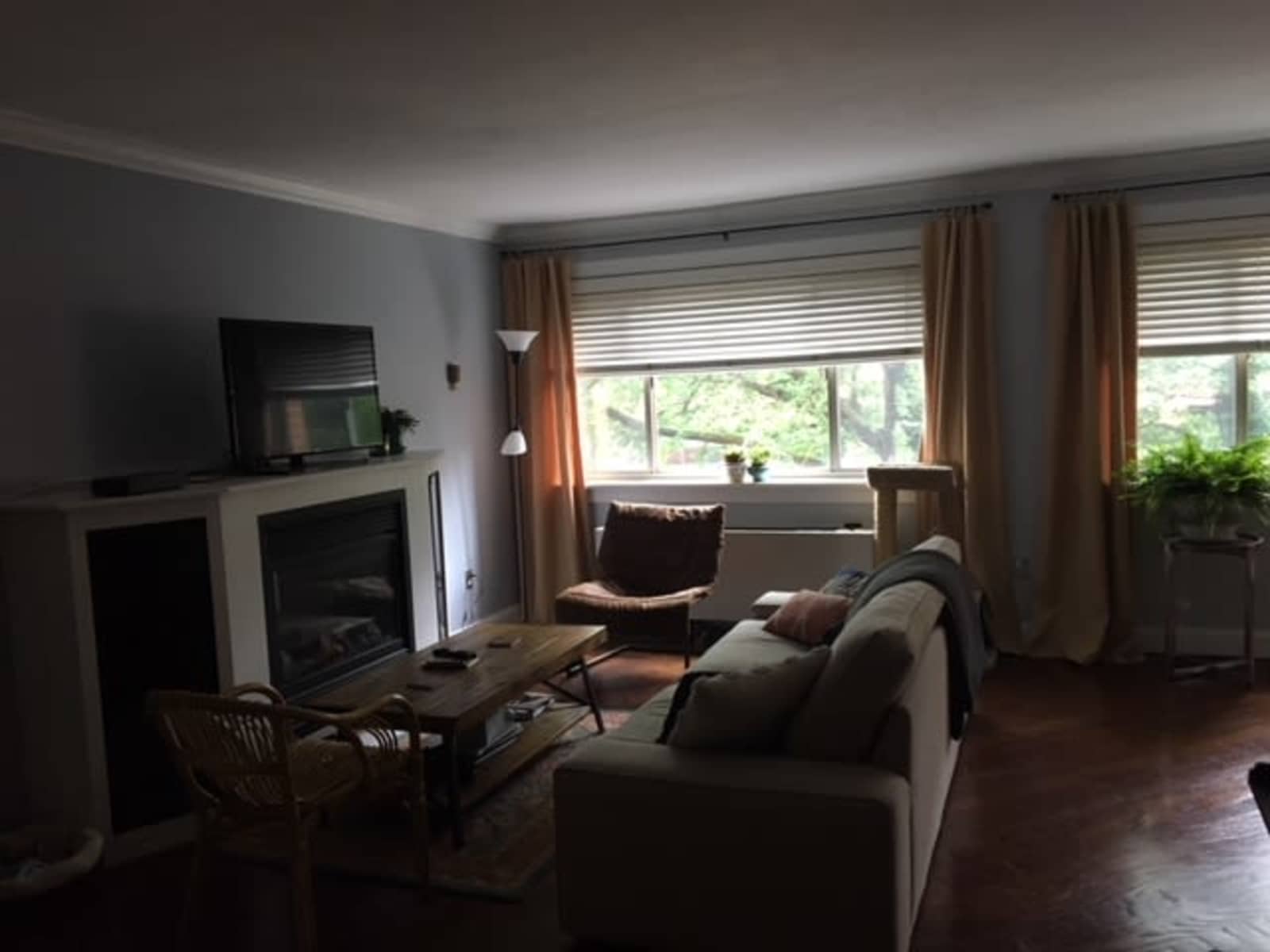 Pets
Cat
Introduction
Hi! My name is Megan and I am a 24 year-old graduate student at Georgetown University. My boyfriend and I live in Glover Park, a family-friendly neighborhood just outside of Georgetown. We have a longer vacation planned for the summer and would like someone to stay with our cat so that he is comfortable and well-cared for while we are away. I am pursuing a Master's in Public Policy and currently intern at the Chesapeake Climate Action Network and my boyfriend works as a Cyber Security Engineer.
Our Home & Location
We live in Glover Park, a quaint neighborhood just outside Georgetown. We are approximately 2 miles from M Street, the bustling shopping area of downtown Georgetown. Here there are great restaurants, coffee shops, stores, the famous Georgetown Cupcake, and the waterfront area that overlooks the Potomac River. Georgetown is extremely beautiful and well-known for its colorful, historical buildings. While we are not near a metro stop, there is a bus stop directly at the back of our complex and it is fairly easy to navigate. We are approximately 25 minutes from downtown DC, where the monuments, museums, and National Mall are located. There is a Safeway, CVS, Starbucks, and many other convenient stores just down the street from our apartment. We can provide food recommendations in Georgetown and in the greater DC area if desired.

Our apartment is a one bedroom, one bathroom space and is approximately 800 square feet. We have a galley kitchen with a dishwasher and a spacious living and dining room. We are conveniently located on the lobby level, as are the washing and drying machines and a small workout room. There is plenty of natural light and in-unit AC. We have wifi, plenty of TV channels, board games, and books to read. I also have some home workout equipment like a TRX band, yoga mat, resistance bands, and pilates ring. There is a trail through Rock Creek park near the apartment that is less than an 8 minute walk from our house and is perfect for a walk through the woods or a jog.
Apartment
Basic Wifi
City
Responsibilities & Pets
While staying at our place, you would be responsible for caring for our cat, Aramis, and watering our plants. Aramis is a very relaxed and friendly cat. He is 1 year old and loves to be around people, play with his mouse toy, and sit on his perch to look out the window. He is extremely fluffy and once he warms up to you will likely follow you around the apartment and curl up next to you. He would need to be fed dry food once in the morning around 9am and wet food at night around 6:30pm. Additionally, you would need to check his litter box 3-4 times a day and dispose of any litter, refill and wash his water fountain every 2-3 days, and just generally play with him and hang around the house for a few hours a day so that he is not lonely. Our plants need to be watered about 3 times a week and need to receive sunlight every day.
Cat: Aramis is 2 years old (Nebelung)