sitter needed for loving my sweet cat in Arlington, VA / DC area
Washington, D.C., Washington, D.C., United States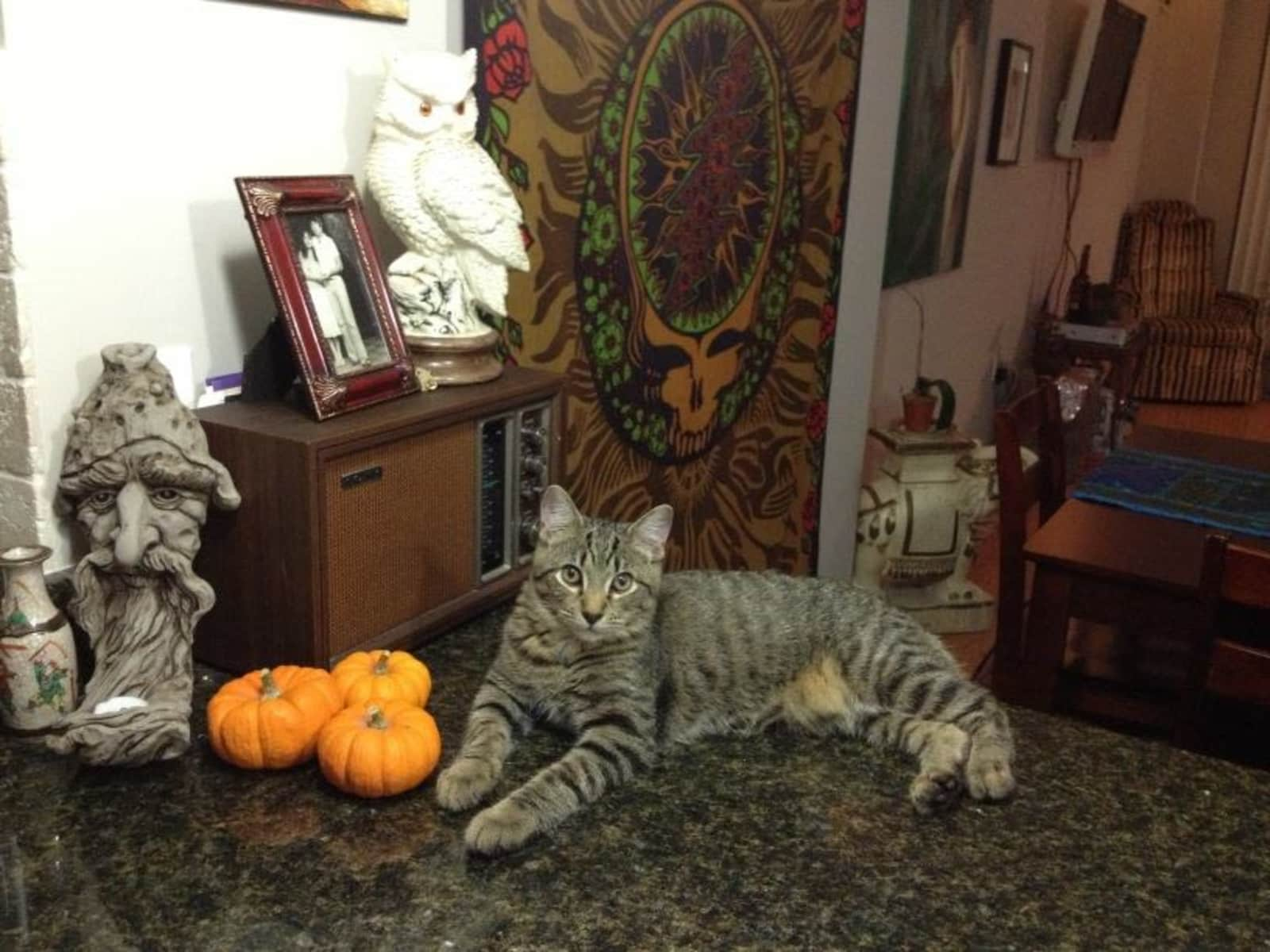 Pets
Cat
Introduction
I am a graphic designer and illustrator from Ellicott City, MD. I love music, traveling, camping, and animals, especially cats!
Our Home & Location
I live in a one bedroom apartment in a secured-entrance building in the heart of Clarendon and I absolutely love it here! I am one block from the Clarendon metro station, 2 blocks from a Trader Joe's, and am within walking distance to tons of restaurants, bars, and shops such as Barnes and Nobles, Apple, Whole Foods, South Moon Under, and many more. I am only a 5-10 minute drive away from Georgetown, DC. I have a cozy bedroom, spacious bathroom, washer and dryer, walk-in closet, high speed Wi-Fi, flat-screen television with roku access, a record player with a decent vinyl collection for music-lovers and a pretty good book collection if you're a bookworm. My apartment is clean, warm, quiet and cozy with two comfy couches in the living room area to lounge on. The town I live in is super nice, safe and conveniently located. If you have a car, metered street parking is available, which is free after 6PM and free on Sundays. The side of my building that faces the kid's playground does have limited free parking spaces at a first come, first-serve basis. Otherwise, there is a parking garage that is directly across from my building which is $10/day. Luckily, the metro station and everything is so easily accessible that you really don't need a car to live here.
Apartment
Disabled access
High Speed Wifi
City
Responsibilities & Pets
Responsibilities include feeding and playing with Vincent every day, refreshing his water bowl(s), and cleaning his litter box. Vincent, like most cats, sleeps a lot during the day, but he is definitely very social and playful. He definitely requires attention and play time and likes listening to soft, relaxing classical music as well, especially when he's sleeping or relaxing. Vincent is on a prescription diet due to a past urethral obstruction. He never eats in one sitting, rather, he grazes throughout the day. I usually give him one cup of dry kibbles in his food bowl, which usually lasts a day or two, and then just refill as needed. I also give him a small can of wet food once every few days. On the days that I give him his wet food, I just put a little less kibbles in his bowl, but he never really over eats either way. Vincent loves knocking things off of table tops and surfaces, including his water bowls, so I place multiple water bowls for him in the apartment, one in each sink and a pot of water on the stove top, just in case. These water bowls should be refilled every day. Recently, his favorite toys have been playing with a tape measure (which someone has to whip and drag around for him to chase), and he also loves popping bubbles. He is a very sweet and loving cat but can sometimes be a little feisty. (i.e. he mostly wants you to pet him on HIS terms, like many cats). However, after he's gotten to know you a little, he almost always lets you hold him and pet him for a while when you first come home...and then he's usually ready to play! Vincent will often tap you with his paw to let you know that he wants your attention or wants to play.
Cat: Vincent is 7 years old
Previous sitters
January 2019 | Kelsey