Methow Valley Spring Flowers and Small Farm needs Sitter(s)
Twisp, Washington, United States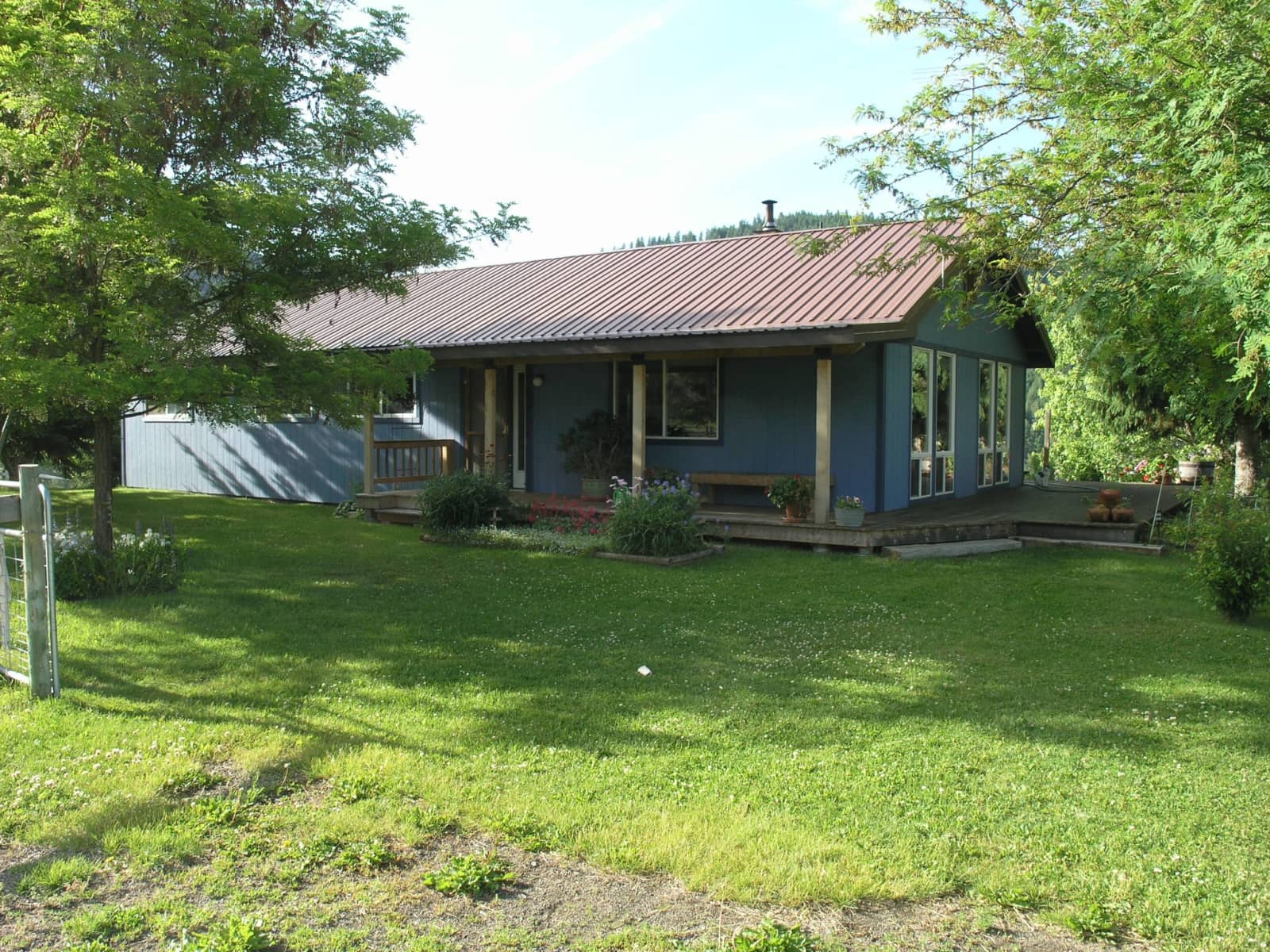 Pets
Dogs
Cats
Horses
Poultry
Introduction
Pete and Therese are both retired Forest Service. Therese worked as a Botanist/Plant Ecologist and Pete was a Fire Ecologist. We have lived in our home for over 25 years. It is 2 miles from the town of Twisp. Twisp is a full service community. The nearest hospital is an hour away, however. The nearest airport is in Wenatchee, a 2 hr drive from here. Our house is not fancy, but comfortable. We heat mostly with wood, but have back up forced air also. It is a 2 bedroom, 2 bath house with a daylight basement. The back deck over looks the Twisp River and is a place you will want to spend lots of time. The property is fenced and gated. There is a dog door allowing the cats and dogs to come and go. It is a close knit neighborhood and we all look out for each other. So there are lots of resources close at hand, if you would need some help. We keep a garden and put up most of our own food. Our 9 acres is irrigated. Our dogs are loving and gentle. Both are very sensitive and mind well on the trail. The dogs love to play with each other and any dog they meet. The cats love each other and love to snuggle each other and hang out with you. Being retired, they don't get left alone a lot, but don't always get to go either. The horses are Therese's love and both are like big dogs, gentle, well behaved ground manors, but always looking for treats and love. The chickens free range and live in the barn.

Twisp sits in the center of the Methow Valley nestled up against the east side of the North Cascades. It hosts the largest cross country ski trail network in North America and is a mountain biker's heaven in the summer. Over 80% of the valley is in public ownership and hiking, biking, birding opportunities are endless. The Methow River is a popular river rafting destination all summer.
Our Home & Location
As mentioned above, the area is an outdoor enthusiast's playground year round. The Lake Chelan Sawtooth wilderness is 18 miles up the road from the house. North Cascades NP and Pasayten Wilderness provide lots of opportunity for nearby day hikes. The scenic N Cascades hwy is open during the summer season, providing a second route over to the west side and the Seattle area, but is closed during the winter months. The area survives on tourism and host several good restaurants, bakeries, and coffee shops. And of course lots of little novelty shops. In the winter we often get between 3 and 5 feet of snow. Snow clearing is needed -- we have a snow blower for the driveway (it is a short one) and keeping paths open to the barn -- we can arrange for help with this, but gates and around the house will need shoveling.
House
Sitters need a car
High Speed Wifi
Family-friendly
Mountain
Countryside
Responsibilities & Pets
Cats: no cat box to clean - they come and go via the dog door. They have a kibble bowl we keep filled on the drier and they get treats if they show up when the dogs are fed. The dogs get fed twice a day -- Kibble with a little canned food. Abby has allergies and asthma. She is under the care of a naturopathic vet in Twisp and needs several supplements on her food during the allergy season. Horses are feed twice a day, once a day with some supplemental vitamins and with limited pasture time. You may be asked to put them out to pasture for an hour or two on most days. During the irrigation season, sprinklers need to be tended once a day and garden watered. Between mid May and Sept 1 we have about a dozen lambs we raise for a friend. They only need water and maybe a gate opened to a new pasture. chickens free range - no need to lock them up. Give them scratch in the am and collect the eggs.
Horse(s): Ella is 11 years old (American Quarter Horse), Jodi is 21 years old (American Quarter Horse)
Poultry: Chickens, 1 very nice Blue Ice Bar Rooster and 5 hens that free range in the barn with the horses
Cat(s): Smokey is 5 years old, Alvin is 12 years old, Obbie is 10 years old
Dog(s): Gracie is 2 years old, Abby is 8 years old