Small home, great back yard deck in Ravenna neighborhood of Seattle WA
Seattle, Washington, United States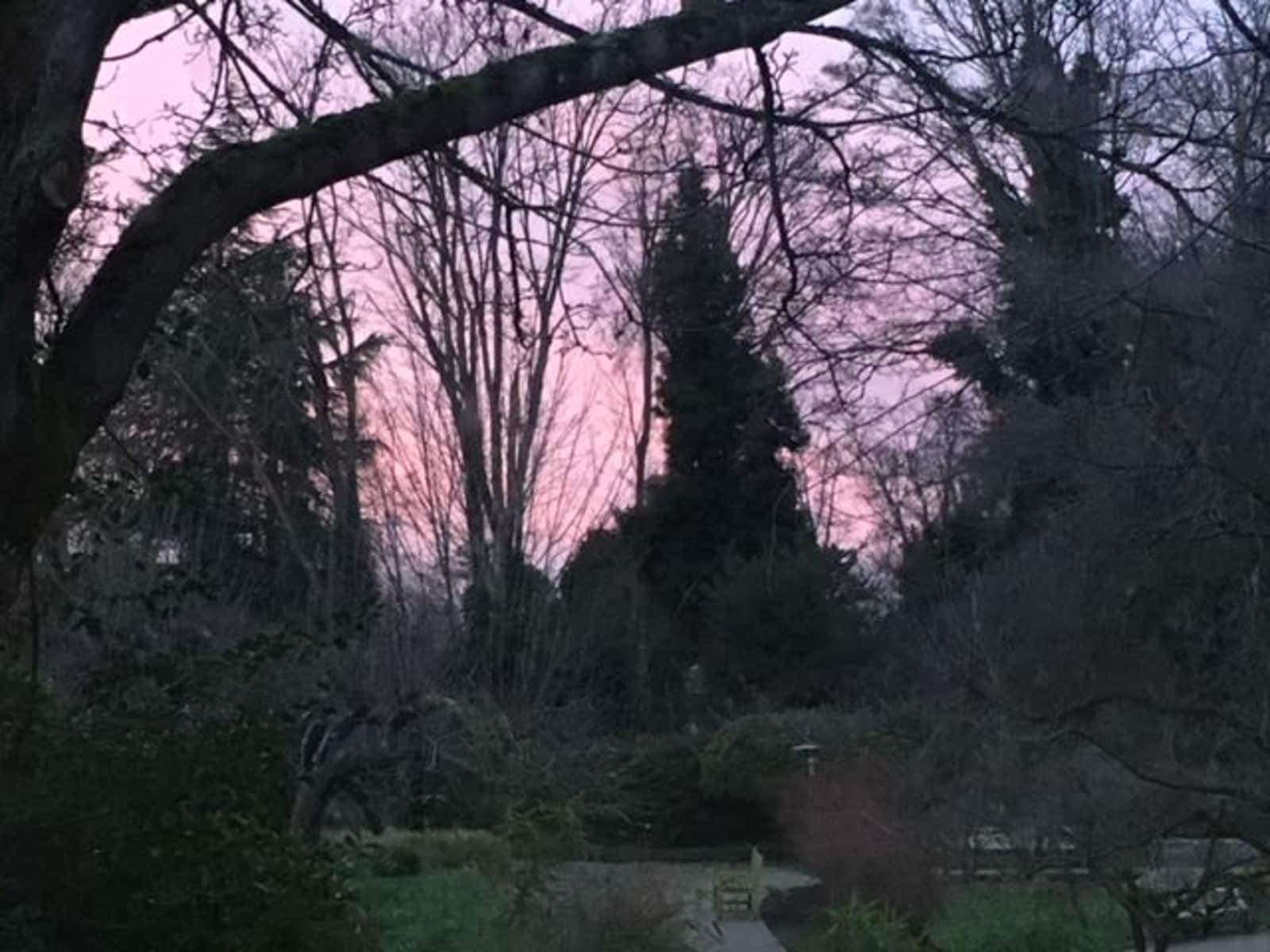 Pets
Dogs
Cats
Introduction
Come visit Seattle this February. My home is in the Ravenna area of Seattle. Close to the city and the Ballard Locks. This time of year we have hellebores in bloom, fragrant witch hazel and other blooming shrubs such as beautiful sarcococca. Getting to the mountains for day or night skying is just an hour away.

I have two dogs and three cats that need a sitter from Feb. 1-15th. They are able to be left alone during business hours, as they are used to me being at the office....

My home is a small charming 1926 build in north Seattle.

There are fabulous restaurants, two of which won the James Beard award, on the cross street at the top of the block.

The neighborhood is fun to walk and near shopping and many transit options. With no traffic, the city is seven minutes away.
My backyard abuts the back yard of a retirement home, which is pristine and park like. Apparently the term is borrowed landscape, and is very pretty.

There is a deck and a patio area in the backyard. + More info
Our Home & Location
Small home in the Ravenna neighborhood with two bedrooms one bathroom.
Great back deck and patio area....
We have a piano, and all the other things expected in a home, t.v., full kitchen, washer & dryer.
The house is a no smoking area - the back yard is ok to smoke in.
There are seven stairs to the house, and stairs to the second bedroom, master bedroom and all other rooms are on the first floor. + More info
House
High Speed Wifi
Mountain
City
Responsibilities & Pets
There are three cats and two dogs here, and they don't mix. There is a gate that keeps the dogs from getting to the kitty side of the house, which is the bedrooms and upstairs area. The dogs get the living room, kitchen and back yard.
The kitties are indoor only, and pretty shy. You may not even notice them. But they do need food to be put out, and boxes to be cleaned and fresh water.
One of the dogs, a small standard poodle, is ancient. She's 14, but still thinks she's a puppy.
The other dog, some adorable mutt that looks like a teddy bear, is 8 and also thinks he's a puppy.
As sweet and charming and beautiful as the poodle is, she is also other dog aggressive: not with her brother.... So I cross the street and hold her leash tight if there is another dog out when we walk.

Also, they may not be this way if I am not there, but they bark at guests for a bit. They settle down and just want to be pet pretty quickly, but they are dogs.....
Cat(s): Jasper is 8 years old, Nahla is 8 years old, Kindle is 8 years old
Dog(s): Blue is 15 years old (Poodle), Jake, AKA Puppy is 9 years old