The festive season is officially upon us, and as we know, the fun and excitement of the season isn't just for humans; but pets as well. From delicious smells, inviting decorations, sparkly trees and lots of food, there are lots of treats that can be irresistible to our pets. 
Unfortunately, the festive decorations and food we enjoy at this time of the year could be harmful to pets. Luckily, as part of your TrustedHousesitters membership, you have access to your 24/7 Vet Advice Line if an accident does happen to occur. However, awareness is key –– keep playful paws safe and happy this holiday season and be mindful of the following traditional festive treats…
Fake snow
Fake Snow can contain alcohol or substances such as antifreeze, which if eaten can be extremely toxic to pets –– especially cats. Be aware of fake snow on decorations, Christmas trees or in cans or sprays. 
Tinsel
Love it or hate it, tinsel is everywhere at Christmas. It may be irresistible to playful pups and kitties, but if they ingest it can cause intestinal blockages. So keep the sparkly stuff out of their reach, and try and discourage them from playing with it.
Wrapping paper, string and tape
Again, these stationery items may be seen as top toys for your pet, but if consumed in large amounts they can also cause obstructions in the stomach. When wrapping up gifts, make sure it's kept out of their reach, and once the presents have been unwrapped, pop discarded tape, ribbon and paper in a secure bin.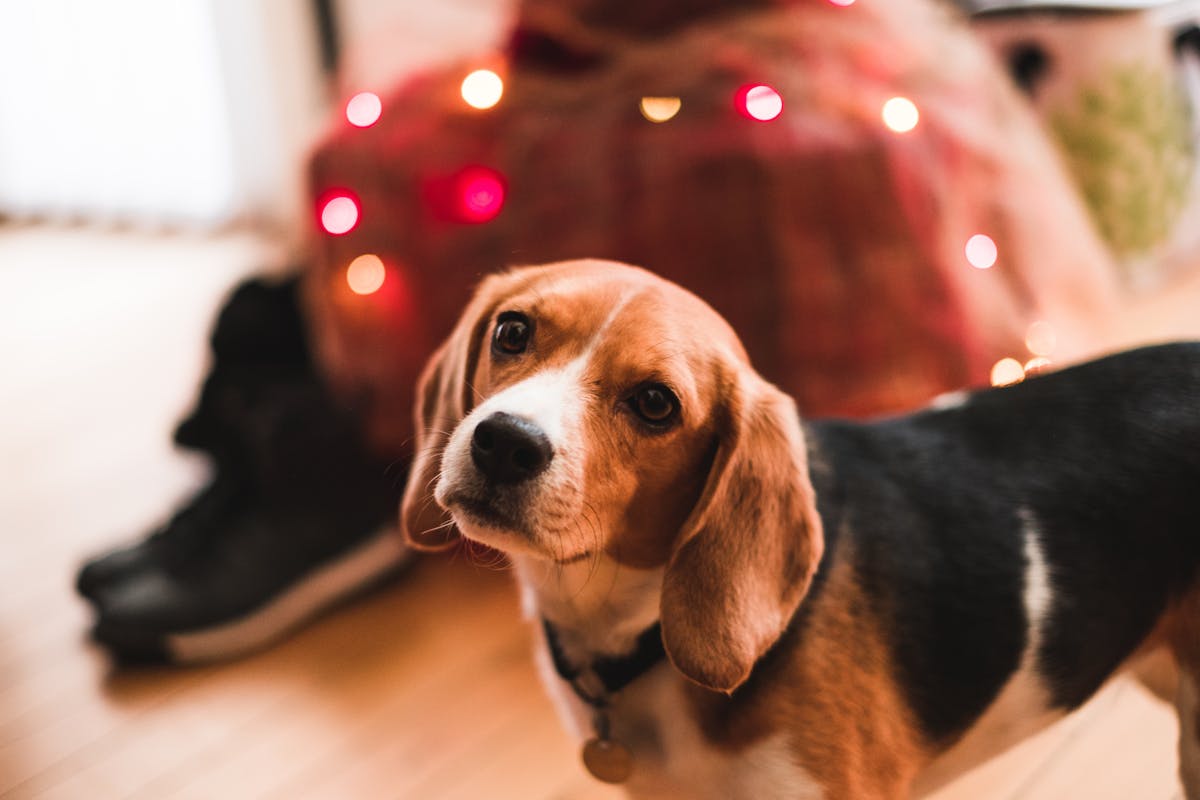 Candles
There's nothing more festive than a cosy candle lit room. However, candle flames can burn curious paws and noses and can easily be knocked over by wagging tails. Likewise, scented wax can be enticing to pets and they may try to lick it, which can burn tongues and be toxic if ingested in large amounts.
Raisins and grapes 
This includes mince pies, Christmas pudding and things that contain them...
They may be a staple ingredient for some of our favorite festive snacks, but all grapes, currants, raisins and sultanas are toxic to cats and dogs. They can cause issues such as serious kidney failure. Although, it's not known how many it takes to be harmful, it's best to ensure pets steer well clear of them entirely. 
Chocolate
Chocolate contains a stimulant called theobromine, similar to caffeine, however, this is highly toxic to cats and dogs. Various things can affect the toxicity level including type of chocolate and the weight of your pet. If your pet manages to sneak a chocolate or two, it's worth contacting Vetline to ask for advice. 
Blue cheese
Blue Cheese contains roquefortine C, which dogs are extremely sensitive to –– if consumed, it'll give them a very upset tummy, which is both unpleasant for you and them! 
Festive plants including poinsettia, mistletoe, holly, ivy and tree pine needles
Although they may look very pretty when placed around your home, these types of plant are mildly toxic to cats and dogs. If ingested, they can cause upset tummies, and could cause damage if swallowed too.
Festive food, decorations and even plants: there are a lot of notorious holiday items to be mindful of when it comes to taking care of your pet over Christmas. However, it's unfortunately impossible to keep an eye out at all times –– so, whether you're taking care of someone else's beloved pet this Christmas, or staying with your own, if you find that your curious pawed, clawed, beaked or scaled friend has consumed something they shouldn't, don't hesitate to call your 24/7 Vet Advice Line.