House Sitting
- Sydney, Australia
2 house sits - Sydney, Australia
>
>
>
Don't miss out!

Get new sits you want delivered to your inbox in:

As a member you'll be FIRST to hear about new house sits 24 hours before they appear on the website.

Join Now!

Completed House Sits

We're a couple living in Ashfield and working in the city of Sydney. Ben works in the ...

Sydney, New South Wales, Australia

We have a 3 year Labrador, a fish tank and plants in the front and back yard ...

This time we just need a very short cat-sit. Three nights only while we go to a ...

Hi, we are Stephen and Odette! We decided to exchange the rainy Dutch weather for sunny Australia ...

My partner and I have two adorable cats who are brother and sister. We are traveling to ...

We are a couple in our 30s looking for a house sitter for our 2 shy but ...

Dizzy is a gorgeous elderly Brittany Spaniel. She is a little unsteady on her feet. She needs ...

Older style place above a cafe in the inner city, taking good care of a beautiful, affectionate, ...
More on Sydney, Australia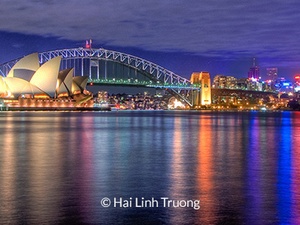 Searching for free accommodation in Sydney, NSW, Australia? Perhaps you're considering an alternative destination because you just can't find any budget accommodation in Sydney that inspires your desire to visit. Did you know that securing a house sitting assignment in Sydney could provide you with free accommodation for the duration of your visit?
Secure rent free accommodation in Sydney through TrustedHousesitters.com, and live for less in one of the world's most iconic cities. Instead of paying for high priced hotel rooms, spend your travel fund on tickets to a performance at the Sydney Opera House, invest in a once in a lifetime activity such as climbing Sydney Harbour Bridge, or buy an Aboriginal dot painting to remind of your visit Down Under.
By registering with TrustedHousesitters.com you can search through the wide variety of house and pet sitting assignments in Sydney, and then apply for those you think best suit your travel plans. By minding a house in Sydney you can live rent free and explore the city on a greatly reduced daily budget.
Take a look at the Sydney house sitting assignments in the list below. If you spot an opportunity that fits with your travel plans, sign-up to TrustedHousesitters.com today for the chance to connect with the home owner offering rent free accommodation in Sydney.
Whether you're looking for an apartment close to the markets of bohemian Balmain, or you're keen to soak in the artistic elegance of cosmopolitan suburb Paddington, TrustedHousesitters.com can help you live like a local in Sydney.
House sitting allows you to tap into local knowledge and can provide you with an experience far removed from that of a tourist. Chat to your new neighbours and ask them to show you their favourite places in Sydney.
Your new found local knowledge could provide memorable experiences such as watching the latest blockbuster under the stars at the Moonlight Cinema in Centennial Park, skydiving over Wollongong, or exploring the abandoned railway tunnels of Old Helensburgh.
Need more inspiration? Scroll through our interactive map to find a house sitting assignment in Sydney, and secure free accommodation with the help of TrustedHousesitters.com.
DISCOVER THE WORLD
Near or far with TrustedHousesitters