In late February, directly following the devastating loss of our own beloved dog, we saw new horizons beckoning from the enticing pages of the TrustedHousesitters Website.
We joined immediately, throwing ourselves into the mix of detailed profile compilation, reference gathering and fantastic dreaming about all the possibilities ahead. Where could we go? What lovely pets could we befriend? Who would we meet?
Well "nowhere, none and no one" turned out to be the answer to that, thanks to COVID-19 and Lock Down. We couldn't have joined at the worst moment in the history of housesitting; there was just no possibility of doing anything, especially as we are in Italy and had become the pariahs of Europe almost overnight. For 16 long weeks, we waited at home like good citizens, doubly depressed by the loss of our best friend and the inability even to go outside to distract ourselves.
Finding our perfect sit 
Then, once restrictions were eased, we saw our perfect first sit. We had already marked the owners previous advert as a favourite. It was close to home and had dogs to look after, lots and lots of dogs. We compiled our application with much fretting over completeness versus speed and before long we got the "Ursula has chosen you" message that signified our first-ever sitting adventure.  Not ones to shy away from a challenge we had applied to look after five large two-year-old Saluki brothers in suburban Rome for five nights. 
 Now the day after getting home from that first experience we don't even want to unpack in case we can embark on another adventure.  Ursula and Massimo were welcome and reassurance personified.  We could not have created a better first house sitting stay if we had tried.  They gave us clear, but not onerous requirements, we all kept in touch and the sit went smoothly. There were no traumas, no events to recount or amazing tales to tell but the isn't the point of this little story now.  The point is that things are getting better, sitting is becoming possible again and opportunities are starting to appear.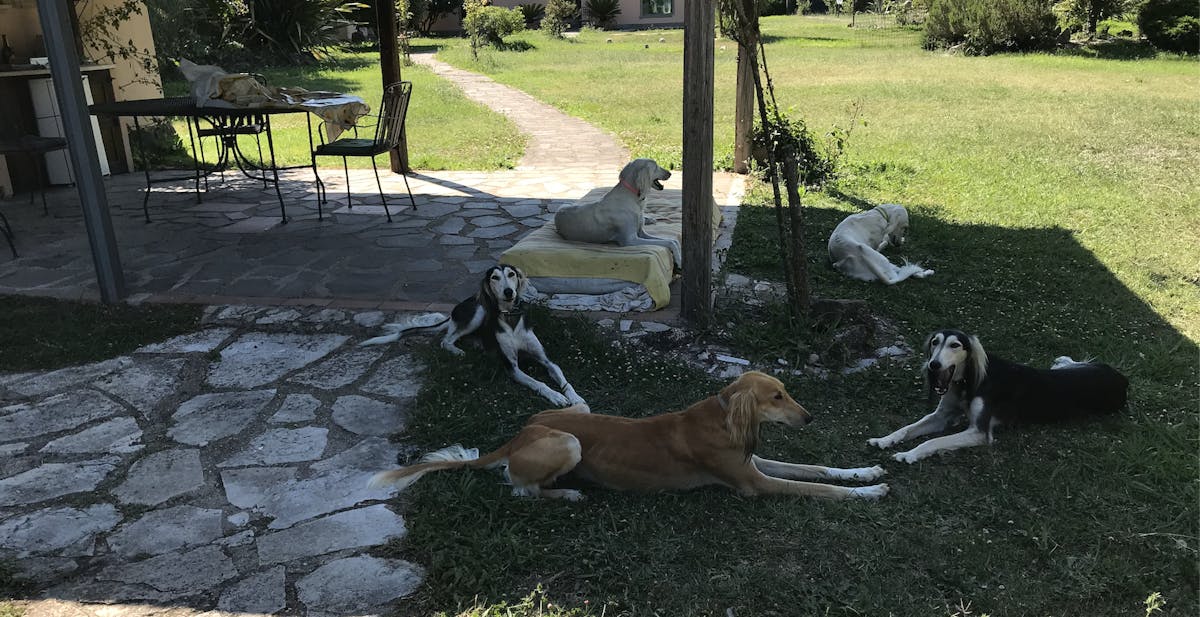 Encouraging first-time sitters 
Normally we wouldn't have written this unremarkable account of a sit where nothing happened but after receiving  Matthew Prior's ( letter yesterday we thought we might encourage others, particularly first-timers like us, maybe to look for a local sit that you wouldn't have considered before. To refine and keep making applications for sits and to have the confidence that safe assignments are not only possible but the new way forward. Your own Ursula and Massimo are on the website somewhere.  
Owners who enter into the trusting spirit of the community and are prepared to give newbies their first chance.  Pioneers who will get back out into the world with necessary precautions and make the house and pet sitting community thrive once more and the are thrilled to announce that we are now active members of that community.