Whether you celebrate the spooky day or not, spoil your canine companions with our tantalisingly tasty –– and healthy –– homemade Halloween dog treats.
Try out our recipes for pumpkin-based treats that are spookily easy to assemble. Plus, most of the ingredients are likely to already be in your cupboard.
Spooky Pup-kin Balls
Ingredients:
Makes approx. 30 balls.
Preparation time: 15 minutes
2 1/2 cups (200g) Rolled Oats 
1/2 cup (90g) Peanut Butter
1 cup (180g) Pumpkin, organic (not pie filling)
3 tbsp. Honey
1 tsp. Cinnamon
You'll also need:
A baking sheet
Parchment paper 
Directions:
Place parchment paper on a baking sheet and set aside.
Add the rolled oats, peanut butter, pumpkin, honey and cinnamon to a bowl. Mix well until combined. 
Take a small amount of the mixture, and using your hands, roll the mixture to make small balls about the size of golf balls. Place onto the parchment paper and baking sheet. 
Place the baking sheet in the fridge to let the balls harden a bit, then store in the refrigerator in an airtight container for up to three weeks or place in the freezer for up to three months (defrost before serving). 
If your pup has been a particularly good boy or girl this year, why not treat them to some of these tail-waggingly tasty Halloween treats?
Spooky Skeleton Bones
Makes approx. 20 medium-sized bone-shaped treats.
Preparation time: 10 minutes. 
Baking time: 15 minutes.
Ingredients
2 1/2 cups (200 grams) tinned pumpkin puree (make sure this is plain, tinned pumpkin puree and not dessert pumpkin as this often contains added sugar, fat and seasonings)
Approx. 1 ¾ cups (225 grams) wholemeal flour
1 tbspn (7 grams) dry yeast
1 ½ tsp olive oil
⅓ cup (50 grams) grated parmesan
You'll also need:
A clean hand towel
A cooling rack
Instructions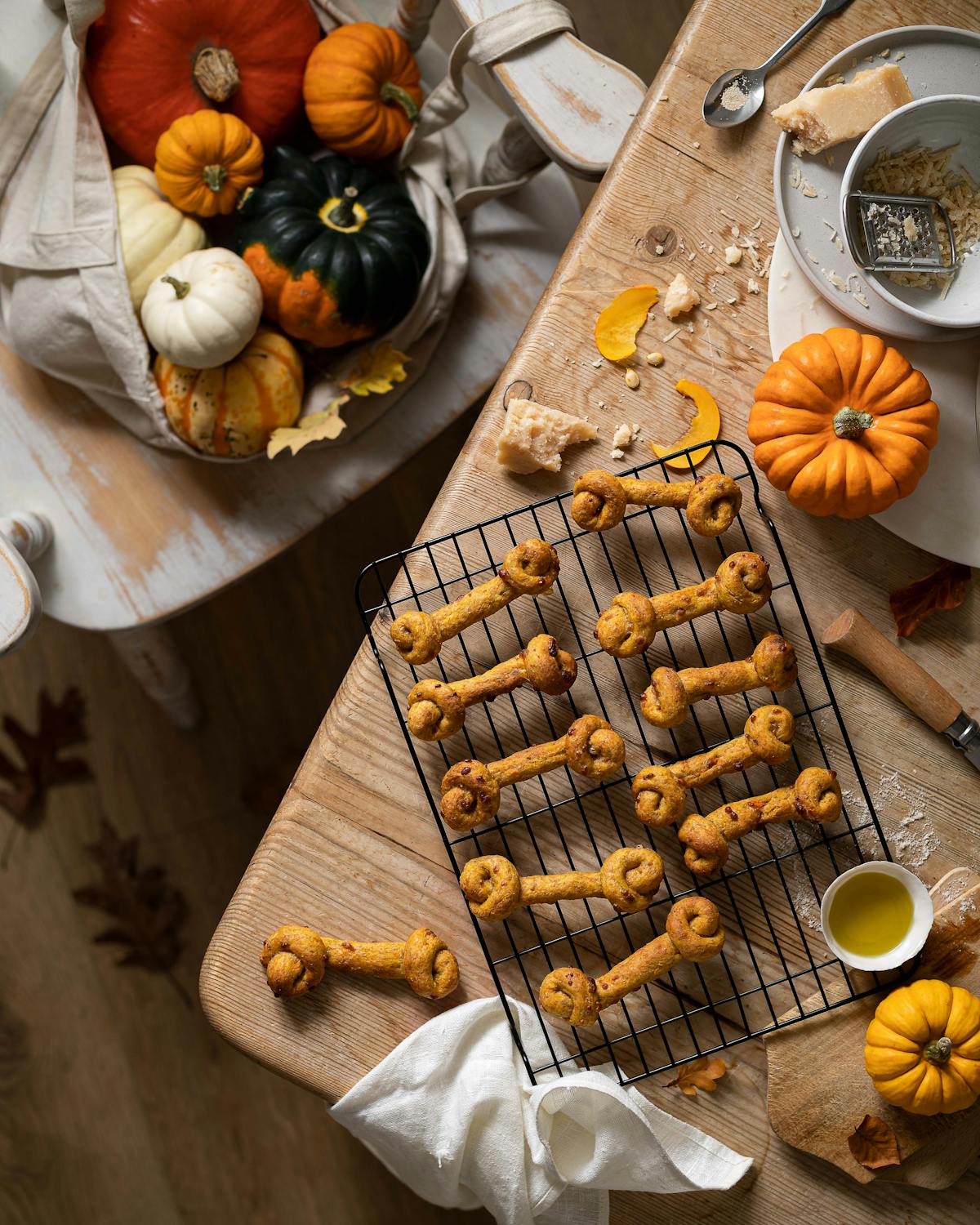 Lastly, if you're looking for something super quick and easy to make, try these pumpkin and apple frozen dog treats. And these don't have to be used just for Halloween –– you can make them in bulk and store them, ready to give your beloved pup a treat after a clever trick or two. 
Pumpkin Apple Frozen Dog Treats
For this recipe, you'll need a silicone mold or ice cube tray to. If you're sticking with the spooky theme, you could use a pumpkin, skull or bone-shaped mold.
Preparation time: 15 minutes. 
Ingredients:
3/4 cup (approx. 96 grams) pumpkin puree
1 small apple, peeled with core removed and chopped
1 tbsp. coconut oil
1 tsp. honey (raw honey is the best option for dogs)
Water
You'll also need
A silicone mold or ice cube tray to set the treats. If you're sticking with the spooky theme, you could use a pumpkin, skull or bone-shaped mold.
Instructions
Put the pumpkin puree, apple, coconut oil, and honey into a blender.
Add water a little at a time and blend. Repeat this process until the mixture is smooth, but liquefied.
Spoon the mixture into your mold and freeze until the treats are solid.
Although all of the treats are made using natural sugars and dog-friendly ingredients,  they're best consumed after a long walk so that your beloved pup stays as healthy as possible.
Let us know how your dog enjoys their spooky treats and, as always, please share a picture of your cute pets with us. You may have heard of our monthly #TrustedTales Instagram competition. All you need to do is post your pet looking cute on Instagram using the hashtag #TrustedTales to be in with a chance of winning prizes every month.
And remember, it's not just dogs we like to see — we want to see all your furry, feathered and scaled friends, so keep on sharing.